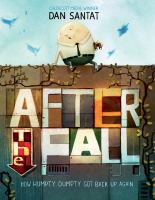 School Library Journal
(c) Copyright Library Journals LLC, a wholly owned subsidiary of Media Source, Inc. No redistribution permitted.

PreS-Gr 2-Humpty Dumpty, a spindly-limbed pale egg, copes with anxiety after his "Great Fall." Though his shell has mostly healed, a newfound fear of heights prevents him from enjoying his birdwatching, and even from choosing the delicious cereal on the top shelf at the store. But he still yearns for the skies, and Santat employs a variety of striking perspectives to help readers appreciate the enormity of Humpty's isolation and distance from his goal. Determined not to give up his favorite hobby, Humpty builds a model plane-Santat milks the humor of the frustrated, fastidious egg during a design sequence-that soars across the sky. When another, lesser accident occurs, Humpty must conquer his nerves or give up on flying. Santat's straightforward language throughout acknowledges the gravity of Humpty's fears without edging into melodrama; the short, declarative sentences that mark his anxious climb back onto the wall are rousing in their simplicity. (The backlit egg's triumphant posture doubles down on the text.) Many readers might have considered the ascent an adequate end, but Santat indulges in one more high note when the reformed shell cracks anew and releases an exultant bird. VERDICT Santat's precise illustrations and sensitive text combine for more emotional depth than the typical nursery rhyme remix. A terrific redemptive read-aloud for storytime and classroom sharing.-Robbin E. Friedman, Chappaqua Library, NY © Copyright 2017. Library Journals LLC, a wholly owned subsidiary of Media Source, Inc. No redistribution permitted.
---
Book list
From Booklist, Copyright © American Library Association. Used with permission.

*Starred Review* Thanks to modern medicine, Humpty does get put back together again. But he's a shell of his former self: the trauma leaves him afraid of heights, and so, unable to watch the birds from his old vantage. Searching for a rewarding alternative, he crafts a wonderful flying bird from paper that immediately gets stuck atop the very wall from which he fell. What to do? Santat depicts his rotund narrator with mobile, expressive features, and places him in a sparely detailed urban setting. Lighting and visual cues (including a truly heartbreaking view of grocery shelves on which the bright, enticing cereal packages are on high shelves and only drab brands like Flax and Sad Clown are in reach) communicate the depressed Dumpty's emotional landscape effectively. Ultimately, Humpty screws his courage to the sticking place and scales the wall. No sooner does he realize that his fear is gone than he starts to crack and, with an apotheosis that soars literally as well as figuratively, reminds us what eggs are for. The author gives wings to both his protagonist and his message about the importance of getting back up after a fall, and the realization that recovering from a trauma takes time.--Peters, John Copyright 2017 Booklist
---
Publishers Weekly
(c) Copyright PWxyz, LLC. All rights reserved

What happened to Humpty Dumpty after his great fall? Santat's tale about facing fear imagines a long recovery. Humpty's lofty perch was his favorite: "I loved being close to the birds." But after his accident, he's scared of heights. Caldecott Medalist Santat (The Adventures of Beekle) paints him sleeping on the floor because his bunk bed is too high; sugary cereals on the topmost grocery shelf are sadly out of reach. The story is set in an otherworldly urban cityscape where billboards and telephone lines frame the spreads; emotional lows are underscored with dim shadows, while high moments are filled with warm, golden light. Humpty finds some consolation in making and flying paper airplanes, but when his plane sails over his wall, he resolves to scale it. Santat places viewers right behind Humpty during his moment of triumph, allowing them to share in it. When fear is conquered, we don't just endure the experience, Santat contends; we become new beings. More than a nursery rhyme remix, Santat's story speaks boldly to the grip of fear and trauma, and to the exhilaration of mastering it. Ages 4-8. Agent: Jodi Reamer, Writers House. (Oct.) © Copyright PWxyz, LLC. All rights reserved.
---
Horn Book
(c) Copyright The Horn Book, Inc., a wholly owned subsidiary of Media Source, Inc. No redistribution permitted.

The king's men manage to put Humpty Dumpty back together again, but he's now afraid of heights. But when his paper-airplane bird gets stuck atop the wall he fell from, Humpty climbs it and--over the course of several thrilling page turns--reveals his true, triumphant self. Bold horizontal, vertical, and diagonal compositions dominate most spreads, reinforcing the wall's extraordinary height and, therefore, the challenge that Humpty must scale. (c) Copyright 2018. The Horn Book, Inc., a wholly owned subsidiary of Media Source, Inc. No redistribution permitted.
---
Kirkus
Copyright © Kirkus Reviews, used with permission.

Humpty Dumpty, classically portrayed as an egg, recounts what happened after he fell off the wall in Santat's latest. An avid ornithophile, Humpty had loved being atop a high wall to be close to the birds, but after his fall and reassembly by the king's men, high placeseven his lofted bedbecome intolerable. As he puts it, "There were some parts that couldn't be healed with bandages and glue." Although fear bars Humpty from many of his passions, it is the birds he misses the most, and he painstakingly builds (after several papercut-punctuated attempts) a beautiful paper plane to fly among them. But when the plane lands on the very wall Humpty has so doggedly been avoiding, he faces the choice of continuing to follow his fear or to break free of it, which he does, going from cracked egg to powerful flight in a sequence of stunning spreads. Santat applies his considerable talent for intertwining visual and textual, whimsy and gravity to his consideration of trauma and the oft-overlooked importance of self-determined recovery. While this newest addition to Santat's successes will inevitably (and deservedly) be lauded, younger readers may not notice the de-emphasis of an equally important part of recovery: that it is not compulsoryit is OK not to be OK. A validating and breathtaking next chapter of a Mother Goose favorite. (Picture book. 4-8) Copyright Kirkus Reviews, used with permission.