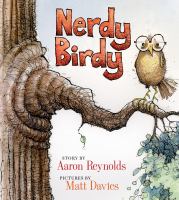 Kirkus
Copyright © Kirkus Reviews, used with permission.

A small, bespectacled bird struggles with friendship. Nerdy Birdy, with his too-small wings, is unlike the cool birds. They have impressive attributes: "abs of steel" for Eagle, "glossy red attire" for Cardinal, and "worm-fed physique" for Robin. Nerdy Birdy, allergic to birdseed, wears glasses that are too big. He likes reading and video games (he's especially devoted to World of Wormcraft). He's not cool, and it's "awfully lonely not being a cool birdy." So he's delighted to discover other nerdy birds: "Their glasses were too big. Their wings were too small. At least half of them had inhalers." And there are "way more nerdy birdies than cool birdies." Now he has friends. The story could have ended there, but instead it ever so sweetly takes flight. A large vulture moves into the neighborhood. While the cool birds find her unacceptable, Nerdy Birdy has confidence in his friends: "Being cool is exhausting. You should hang around with us," he tells her. Though that's not exactly what happens, clearly Nerdy Birdy understands the heart of friendship. Davies' nicely frayed lines and ink-and-watercolor cartoon illustrations create a perfect hybrid of bird and, well, nerd. Reynolds' gently ironic tone will appeal to elementary-age readers who face similar friendship conundrumsand who might draw confidence from Nerdy Birdy. Very funny and full of hopeand feathers. (Picture book. 4-8) Copyright Kirkus Reviews, used with permission.
---
Publishers Weekly
(c) Copyright PWxyz, LLC. All rights reserved

In this ornithologically themed story of social hierarchy and acceptance, it's Eagle, Robin, and Cardinal's world-all the other birds just live in it. Bespectacled, allergic-to-birdseed Nerdy Birdy is resigned to being dissed or dismissed until he discovers a band of "nerdy birdies" just like him-"At least half of them had inhalers," writes Reynolds (Here Comes Destructosaurus!). "And most of them liked to play World of Wormcraft." But when a hulking female vulture shows up, Nerdy Birdy discovers that his fellow outcasts can be just as clannish and snobbish as the cool guys ("Where are her glasses?" "And have you heard what she eats? Blecch!!"). There's no missing the messages about groupthink and staying true to oneself, but Reynolds also includes lots of fine, goofy jokes at the bro birds' expense (Eagle's talents include throwing a football, while Cardinal excels at posing). And Davies (Ben Draws Trouble) draws laughs throughout with page after page of witty, Searle-esque drawings; his elegant, scraggly artwork has a comic timing all its own. Ages 4-8. Agent: Paul Rodeen, Rodeen Literary Management. (Sept.) © Copyright PWxyz, LLC. All rights reserved.
---
Book list
From Booklist, Copyright © American Library Association. Used with permission.

The author of Creepy Carrots! (2012) takes a humorous look at avian friendships. The cool birdies (with their abs of steel, superior vision, and sculpted chest muscles) will have nothing to do with bespectacled, tiny-winged, allergic Nerdy Birdy, so he joins the other nerdy birds, who spend their time reading and playing World of Wormcraft. Then Vulture moves into the neighborhood, and neither group wants to hang out with the carrion-eating creature. Remembering what it's like to be lonely, Nerdy Birdy extends the wing of friendship and discovers that even though he and Vulture have few common interests, they like each other. Davies' detailed and slightly satirical illustrations reflect the influence of his years as an editorial cartoonist, especially in the spreads depicting the cool birdies demonstrating their impressive (labeled) attributes. This will work best as a one-on-one so that readers have a chance to fully absorb the illustrative details. Pair with Philip C. Stead's Hello, My Name Is Ruby (2013) for a different approach to bird friendships.--Weisman, Kay Copyright 2015 Booklist
---
Horn Book
(c) Copyright The Horn Book, Inc., a wholly owned subsidiary of Media Source, Inc. No redistribution permitted.

Nerdy Birdy wants to fit in with the talented, attractive "cool birdies." When they make fun of his allergies and obsession with books, he finds a new crowd but eventually learns it's much cooler to celebrate others' differences. Cartoonish pen-and-ink and watercolor illustrations portray birds of different feathers while emphasizing the story's important themes of avoiding labels and the need for honest friendship. (c) Copyright 2016. The Horn Book, Inc., a wholly owned subsidiary of Media Source, Inc. No redistribution permitted.