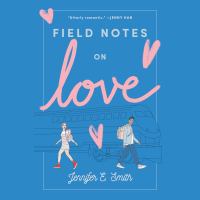 Horn Book
(c) Copyright The Horn Book, Inc., a wholly owned subsidiary of Media Source, Inc. No redistribution permitted.

Hugo's girlfriend dumps him right before their pre-college train trip across America. He's got the tickets, but he needs someone with his girlfriend's name to get him on the train. Mae answers his ad; unexpected romance ensues. Although Hugo is a British sextuplet looking for his own identity and Mae's an American film student, their alternating narratives share an appealing mix of reflection and buoyancy. (c) Copyright 2019. The Horn Book, Inc., a wholly owned subsidiary of Media Source, Inc. No redistribution permitted.
---
Kirkus
Copyright © Kirkus Reviews, used with permission.

Hugo Wilkinson, one of the "Surrey Six" sextuplets from Surrey, England, has been looking forward to a train trip across America with his girlfriend, Margaret Campbell. It would be a rare moment away from his siblings and the public scrutiny that will only get worse when they all enter university on a scholarship from a wealthy alumnus. But Hugo is blindsided when Margaret breaks up with him and he realizes her name is the only one on all their nonrefundable, nontransferable tickets and reservations. Margaret "Mae" Campbell lives in Hudson Valley, New York, with two loving gay dads and a doting Nana and was rejected by her dream film school. Discovering Hugo's post seeking another Margaret Campbell to travel with, she applies to join him. After some initial awkwardness, the two form a connection. Hugo is loyal to his siblings, but he secretly wants something different for himself. Mae, who appears confident, has kept a part of herself hidden. As they travel, she interviews passengers, and their revelations spark a change in her. This warm, romantic, never overly sentimental story is told with humor and heart, the cinematic narrative easily moving between the two likable, charming protagonists. The well-portrayed supporting cast members, especially Hugo's siblings and Mae's Nana, appear in texts and video calls, providing insight into the protagonists. Hugo is biracial (black and white), and Mae is white.A deeply satisfying read about a life-changing journey full of poignant moments. (Romance. 12-18) Copyright Kirkus Reviews, used with permission.