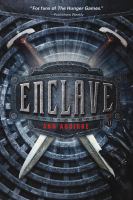 Publishers Weekly
(c) Copyright PWxyz, LLC. All rights reserved

In this skilled though violent postapocalyptic thriller, Deuce has newly earned the rank of Huntress, after years of training have taught her to "wield a knife or a club with equal proficiency." It's her duty to provide meat for her loveless, draconian enclave, deep beneath the streets of a ruined city, as well as to defend it against cannibalistic Freaks, who are gradually eliminating the scattered human survivors of a vaguely remembered plague. Deuce's is a world of terrifying encounters in near-complete darkness, but she's very good at what she does. Then Deuce stands up for a friend unfairly accused of hoarding and, accompanied only by her talented but unpopular partner, Fade, is soon exiled with little chance of survival either in the lightless and dangerous sewers or Topside. In her first young adult novel, Aguirre (the Sirantha Jax series) has created a gritty and highly competent heroine, an equally deadly sidekick/love interest, and a fascinating if unpleasant civilization. This series is likely to hold considerable appeal for fans of The Hunger Games. Ages 12-up. (Apr.) (c) Copyright PWxyz, LLC. All rights reserved.
---
Horn Book
(c) Copyright The Horn Book, Inc., a wholly owned subsidiary of Media Source, Inc. No redistribution permitted.

Deuce the Huntress understands the need for the brutal order that lets the members of her underground enclave survive in their post-apocalyptic world. But when she is exiled Topside, she learns that everything her leaders taught her is a lie. Dark and unblinkingly bloody, this tough tale relies on the strength of its characters to reach a hopeful ending. (c) Copyright 2011. The Horn Book, Inc., a wholly owned subsidiary of Media Source, Inc. No redistribution permitted.
---
School Library Journal
(c) Copyright Library Journals LLC, a wholly owned subsidiary of Media Source, Inc. No redistribution permitted.

Gr 8-10-Ann Aquirre's dystopian novel (Feiwell & Friends, 2011), set after war and plague destroyed New York City and most of civilization relocated to enclaves underground, becomes all the more convincing through Emily Bauer's deliberate narration. Each character is fully realized, from Deuce, who at her naming ceremony becomes a Huntress, the role she has long coveted but in which she never feels completely "at home" because she worries about her breeder tendencies (to show compassion and be concerned about others), to Fade, the mysterious partner Deuce resents at first but ultimately grows to love. Then there are her friends in her highly regulated community and the Elders who refuse to believe any ideas that differ from the status quo. There are graphic descriptions of horrific battles with the Freaks, the flesh eating enemies of Deuce's underground community, and Deuce's increasing realization that these enemies are becoming more devious and rational. When she is banished to the "upper world" after protecting a weaker friend, Fade chooses to go with her, claiming that he lived Topside once before. Listeners will identify with Deuce's amazement as she discovers sunlight, sunsets, rain, and snow. Ann Bauer's voice perfectly reflects her amazement as she encounters things like canned food and flush toilets for the first time. While the upper world has its own set of enemies, it also offers safety and possibility, the note on which this book, the first in a projected series, ends.-Edie Ching, The University of Maryland, College Park (c) Copyright 2011. Library Journals LLC, a wholly owned subsidiary of Media Source, Inc. No redistribution permitted.
---
Book list
From Booklist, Copyright © American Library Association. Used with permission.

Aguirre's young adult debut is a gripping survival story set in an apocalyptic future. At her naming ceremony, Deuce receives triple slashes on each arm, signifying her status as a Huntress, an elite warrior who protects their underground enclave. She is paired with Fade, a scarred, taciturn veteran who claims to have lived Topside and chafes under their exacting rules. When they find proof that the mutant Freaks who share the tunnels are banding together, they are exiled to silence their warnings. Forced Topside, the pair heads toward a settlement Fade has only heard stories about, picking up two others: Stalker, a violent gang leader, and Tegan, a brutally abused girl. This is a tense, action-packed dystopian story with intriguingly gray characters, much more thriller than romance although Aguirre teases at a future love triangle, it never intrudes. While the enclave's elders are initially presented as morally corrupt antagonists, Aguirre's gritty future is not so simple; like Deuce, readers must weigh the comparative values of law and freedom in a functioning society.--Hutley, Krista Copyright 2010 Booklist
---
School Library Journal
(c) Copyright Library Journals LLC, a wholly owned subsidiary of Media Source, Inc. No redistribution permitted.

Gr 8-10-Deuce gets her name when she is declared Huntress and protector of College, the enclave where the survivors of "the second holocaust" dwell. They live in abandoned subway tunnels, never venturing Topside; the stories of aboveground dangers are enough to keep everyone below. Deuce and her partner, the enigmatic Fade, bring news of the destruction of enclave Nassau by the mutant cannibal Freaks and are banished Topside for their trouble. Once there Deuce recognizes the treachery of the College enclave elders and must face the real dangers-and wonders-of a long-ruined New York City. Joined by vicious ganger Stalker and abused Breeder Tegan, the four young adults make their way North to fabled safety. While the pace is quick, the characterizations are flat, and without a personality on which to hang an empathetic hat, there is little to involve readers emotionally. Continuity problems and some contradictions in logic result in world-building that does not fare well under scrutiny: the inhabitants of College lack knowledge of their own environs and the people who dwell there despite constant patrolling and occasional trading; the gangs who take over the city never range beyond its boundaries, and no one in the finally reached safety of the aboveground enclave returns to the city, despite apparently frequent trade-runs elsewhere. The familiar tropes of postapocalyptic fiction get no new handling here, but those looking for a "Hunger Games" read-alike might be willing to accept this lukewarm offering.-Janice M. Del Negro, GSLIS Dominican University, River Forest, IL (c) Copyright 2011. Library Journals LLC, a wholly owned subsidiary of Media Source, Inc. No redistribution permitted.
---
Kirkus
Copyright © Kirkus Reviews, used with permission.

A standard post-apocalyptic dystopia with enough rich worldbuilding to appeal to most lovers of the genre. Deuce is a Huntress trainee in the tunnels beneath the long-fallen ruins of New York City. Like the rest of the Hunters, Deuce wants only to provide her city with meat and protect it from the subhuman, zombielike Freaks. So why, oh, why did they need to appoint that weirdo Fade her hunting partner? He's from outside the enclave and never learned how to fit in the way Deuce wants to. With Fade by her side, Deuce can't help seeing cracks in the elders' faade of benevolent protectiveness. Soon the two must embark on a new adventure, to the not-so-abandoned city Topside. Up here, they need a whole new set of survival skills to protect them against everything from sunlight to violent gangs of rapists and thugsnot to mention the ever-present and growing packs of Freaks. The well-developed tension is marred only by recurring inexplicable references to what readers seem to be expected to recognize as one of the more obscure stories of Victorian fantasist George MacDonald, but these are only mild stumbling blocks. All in all, this well-paced zombie-esque adventure in an urban wasteland will keep fans happy.(Science fiction. 13-15)]] Copyright Kirkus Reviews, used with permission.