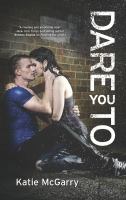 School Library Journal
(c) Copyright Library Journals LLC, a wholly owned subsidiary of Media Source, Inc. No redistribution permitted.

Gr 10 Up-Narrated from alternating viewpoints, this contemporary novel tells the story of 17-year-old Beth, a troubled "skater girl" with a hard past, and Ryan, a high school jock with a seemingly perfect life. It all starts at a Taco Bell in Louisville, Kentucky, when Ryan's friends dare him to get Beth's phone number, and she turns him down. Their lives become intertwined after she is uprooted from her abusive home by her uncle and is forced to move to a small town and transfer to Ryan's school. At first he sees it as an opportunity to win the dare, but she resists his offers of friendship. Nonetheless, the two gradually fall in love and learn to trust each other with their secrets, which is equally difficult for both of them. The characters are well developed. The use of drugs, profanity, and violence make this title edgier than a typical teen romance. The plot often feels drawn out, and Beth's constant attempts to run away throughout the book will likely frustrate readers. However, young romantics should find the story engaging.-Candyce Pruitt-Goddard, Hartford Public Library, CT (c) Copyright 2013. Library Journals LLC, a wholly owned subsidiary of Media Source, Inc. No redistribution permitted.
---
Book list
From Booklist, Copyright © American Library Association. Used with permission.

Beth is living on the edges of her mother's drama of addiction and abusive relationships when her uncle rescues her and whisks her off to tony Bullitt County High. There she collides with Ryan, a star athlete whose family is socially and politically prominent, and sparks fly. Using the same setting from her previous book, Pushing the Limits (2013), and including some of the same characters, McGarry revisits the concept of star-crossed love with teens that have vastly different secrets to hide. (Ryan's Instagram-perfect life is darker than it seems.) The gritty details of Beth's mom's drug-and-alcohol addiction will draw in readers of Ellen Hopkins' similarly themed titles, and those who love tangled romance will find plenty to enjoy. While the titular dare that draws Ryan and Beth together is fleeting, their connection is anything but. Recommend this one to fans of Simone Elkeles' Perfect Chemistry series.--Howerton, Erin Downey Copyright 2010 Booklist
---
Kirkus
Copyright © Kirkus Reviews, used with permission.

A hard-bitten street girl and a seemingly perfect baseball hero fall for each other. Through alternating chapters, readers immerse themselves in the lives of Ryan and Beth. Ryan lives in a small town outside Louisville, Ky., where he's an ace baseball pitcher with real prospects for a professional career. Beth, 17, has been taking care of her addled, drug-addicted mother ever since they moved to Louisville when she was a child. Beth has found solace with two friends, Isaiah and Noah, avoiding her mother's squalid apartment and her mom's violent boyfriend. When events lead to Beth's arrest, her wealthy, retired baseball-pro uncle Scott takes custody of her, bringing her into Ryan's orbit. Despite an inauspicious start, the two begin a secret romance in defiance of their families and friends, until circumstances lead to a crisis. McGarry incorporates the two main characters from her debut, Pushing the Limits (2012), Noah and Echo, and mirrors its approach. (The author plans a third book that will follow Isaiah.) At first, readers may find Beth's story the more compelling, but as Ryan's too-perfect-to-be-true, community-leader family and controlling father reveal themselves, both characters spring to life. As in the first book, these two protagonists differ on the surface but have many similarities under the skin. Everything--setting, characters, romance--about this novel works and works well. (Fiction. 12 up)]] Copyright Kirkus Reviews, used with permission.
---
Publishers Weekly
(c) Copyright PWxyz, LLC. All rights reserved

Tattooed, pierced "skater girl" Beth and high school baseball star Ryan narrate alternating chapters of this coming-of-age love story that begins with a dare and escalates into a gritty and erotic trust-building exercise. The staid suburbs of Louisville, Ky., and the city's perilous underbelly provide divergent backdrops to the story's emotional and physical dangers. Raised on opposite sides of the tracks, both teens contend with selfish, manipulative parents who use their children to satisfy their own desires; both also have mentors and family members offering guidance and support. While threats to undermine the couple's growing affection come in multiple forms (Ryan's appearance-obsessed community, Beth's compulsive efforts to rescue her drug-addicted mother) McGarry (Pushing the Limits) captures their greatest obstacle: the aching vulnerability underlying Beth's tough exterior: "Fairy-tales happen, just not to me. Time to tell the prince he rescued the wrong girl." Sex, drugs, profanity, and violence, as well as subplots about loved ones who escaped town for emotional survival, heighten the dramatic tension but don't disguise the wholesome, girl-next-door quality of this well-paced, satisfying romance. Ages 14-up. Agent: Kevan Lyon, Marsal Lyon Literary Agency. (June) (c) Copyright PWxyz, LLC. All rights reserved.
---
Horn Book
(c) Copyright The Horn Book, Inc., a wholly owned subsidiary of Media Source, Inc. No redistribution permitted.

He is a prince. I'm not a princess, but I can help with his happily ever after before I leave his life for good." Ryan is a clean-cut baseball star with a reputation to maintain. Beth is a reluctant new girl desperate to save her mother from self-destruction. There isn't much depth to the book, but there's plenty of angsty, steamy romance. (c) Copyright 2014. The Horn Book, Inc., a wholly owned subsidiary of Media Source, Inc. No redistribution permitted.