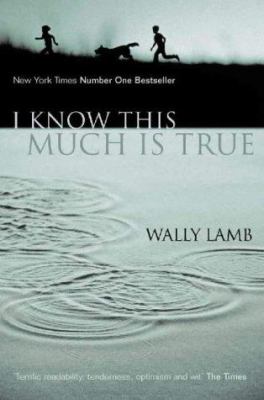 I Know This Much is True
by Wally Lamb


Book list In this long-winded successor to Lamb's She's Come Undone (1992), the novel that created much ballyhoo after being named an Oprah book, 40-year-old housepainter Dominick is facing many obstacles to happiness. He doesn't know who his real father is, his own marriage is defunct, and his current relationship with the woman in his life is tricky. However, these problems pale in comparison to the much bigger situation he has to deal with: his schizophrenic twin brother, Thomas. Having already presented Dominick with a lifetime of problems, Thomas has now mutilated himself; he severed his own hand out of some misplaced notion of religious sacrifice and political protest. Interspersed with the narrative history of the many awful situations Thomas' mental instability has forced the two to face over the years is the story of the twins' grandfather, whom Dominick learns about from the old man's memoir. Through the help of a counselor, Dominick comes to realize that the manuscript can be read as a "parable of failure" that can teach him how to get free of an abiding self-pity. The reader aches for Dominick to find peace, but this empathy is certainly tested over the novel's many, many pages. This overly long story would have been more pungent in a more succinct form. But expect high demand from the many readers of the author's previous novel. --Brad Hooper
From Booklist, Copyright © American Library Association. Used with permission.
Library Journal After reading the book twice and listening to 32 hours of this recording, I still can't express what it is that one is missing if they have not experienced this saga from the author of She's Come Undone. Maybe the plot is so all-encompassing as to be like "real" life; maybe the characters are so engrossing that you can relate to them as "real" people; and maybe the knowledge that you come away with about the human condition and nature vs. nurture makes you more sympathetic, therefore, a better person. George Guidall, an extremely accomplished reader, gives a performance worthy of "Best Audio of the Year." His fully voiced range of characters complements the text perfectly. Very highly recommended.ÄKristin M. Jacobi, Eastern Connecticut State Univ., Willimantic (c) Copyright 2010. Library Journals LLC, a wholly owned subsidiary of Media Source, Inc. No redistribution permitted.
(c) Copyright Library Journals LLC, a wholly owned subsidiary of Media Source, Inc. No redistribution permitted.
Library Journal In his second novel (after She's Come Undone, LJ 5/1/92), Lamb details the pain and perversions of generations of dysfunctional families in the struggle between twin brothers at midlife. The Birdsey brothers are as different in nature as they are identical in appearance: Thomas, the sweet one, favors their meek, harelipped mother, while Dominick is strong and angry like the Sicilian grandfather for whom he was named. When paranoid schizophrenic Thomas, believing himself an agent of God, cuts off his right arm in the public library to try to avert war in the Persian Gulf, DominickÄhis love for Thomas tainted by guilt and resentmentÄonce again becomes his brother's protector. But the psychologist treating Thomas sees Dominick as the twin who might be saved, and together they examine Dominick's childhood with a bullying stepfather, the marriage that failed after the death of an infant daughter, and the newly recovered autobiography of his grandfather. Lamb's craftsmanship and characterizations are exceptional, but this litany of suffering is overwhelming, leavened only slightly by the last few pages, and the ongoing analysis leaves little for thoughtful readers to ponder or discuss. Fine work, relentless in its effect.ÄMichele Leber, Fairfax Cty. P.L., Arlington, VA (c) Copyright 2010. Library Journals LLC, a wholly owned subsidiary of Media Source, Inc. No redistribution permitted.
(c) Copyright Library Journals LLC, a wholly owned subsidiary of Media Source, Inc. No redistribution permitted.
Publishers Weekly This much is true for sure: Lamb's second novel (after the bestselling, Oprah-selected She's Come Undone) is a hefty read. Some may be daunted by its length, its seemingly obsessive inclusion of background details and its many digressions. The topics it unflinchingly exploresÄmental illness, dysfunctional families, domestic abuseÄare rendered with unsparing candor. But thanks to well-sustained dramatic tension, funky gallows humor and some shocking surprises, this sinuous story of one family's dark secrets and recurring patterns of behavior largely succeeds in its ambitious reach. The narrative explores the theme of sibling responsibility, depicting the moral and emotional conundrum of an identical twin whose love for his afflicted brother is mixed with resentment, bitterness and guilt. Narrator Dominick Birdsey, once a high-school history teacher and now, at 40, a housepainter in upstate Connecticut, relates the process that led to his twin Thomas's schizophrenic paranoia and the resulting chaos in both their lives. The book opens with a horrific scene in which Thomas slices off his right hand, declaring it a sacrifice demanded by God. Flashbacks illuminate the boys' difficult childhoods: illegitimate, they never knew their father; diffident, gentle Thomas was verbally and physically abused by their bullying stepfather, who also terrorized their ineffectual mother. Scenes from the pivotal summer of 1969, when Dominick betrayed Thomas and others in crucial ways, are juxtaposed with his current life: his frustrating relationship with his scatterbrained live-in, Joy; his enduring love for his ex-wife, Dessa; his memories of their baby's death and of his mother's sad and terrified existence. All of this unfolds against his urgent need to release Thomas from a mental institution and the psychiatric sessions that finally force Dominick to acknowledge his own self-destructive impulses. Lamb takes major risks in spreading his narrative over more than 900 pages. Long stretches are filled with the raunchy, foul-mouthed humor of teenaged Dominick and his friends. Yet the details of working-class life, particularly the prevalence of self-righteous male machismo and domestic brutality, ring absolutely true. Though the inclusion of a diary written by the twins' Sicilian immigrant grandfather may seem an unnecessary digression at first, its revelations add depth and texture to the narrative. Lastly, what seems a minor subplot turns out to hold the key to many secrets. In tracing Dominick's helplessness against the abuse of power on many levels, Lamb creates a nuanced picture of a flawed but decent man. And the questions that suspensefully permeate the novelÄthe identity of the twins' father; the mystery of the inscription on their grandfather's tomb; the likelihood of Dominick's reconciliation with his ex-wifeÄcontribute to a fully developed and triumphantly resolved exploration of one man's suffering and redemption. BOMC main selection; author tour; simultaneous audio. (June) (c) Copyright PWxyz, LLC. All rights reserved
(c) Copyright PWxyz, LLC. All rights reserved
Library Journal Actor Ken Howard gives an excellent reading of Lamb's (She's Come Undone, Audio Reviews, LJ 5/15/97) gripping drama. Dominick and Thomas Birdsey are identical twin brothers born on New Year's Eve 1949-50. By the late 1960s, Thomas is a paranoid schizophrenic both loved and hated by Dominick. Lamb's novel presents the twins' story set against the twists and turns of late-20th-century America. Thomas's illness coupled with the Birdseys' upbringing with an abusive father and passive mother profoundly shape Dominick's life. However, Thomas's self-mutilation on the eve of the Persian Gulf War sets his brother on the path of coming to terms with his family, the loss of his daughter, and a reconciliation with his former wife. This is not an easy novel to hear, but it is engrossing from the start. Recommended for all collections.?Stephen L. Hupp, Univ. of Pittsburgh at Johnstown Lib., PA (c) Copyright 2010. Library Journals LLC, a wholly owned subsidiary of Media Source, Inc. No redistribution permitted.
(c) Copyright Library Journals LLC, a wholly owned subsidiary of Media Source, Inc. No redistribution permitted.
Kirkus Both a moving character study and a gripping story of family conflict are hidden somewhere inside the daunting bulk of this annoyingly slick second novel by Lamb (the popular Oprah selection She's Come Undone, 1992). The character (and narrator) is Dominick Birdsey, a 40-year-old housepainter whose subdued life in his hometown of Three Rivers, Connecticut, is disturbed in 1990 when his identical twin brother Thomas, a paranoid schizophrenic whose condition is complicated by religious mania, commits a shocking act of self-mutilation. The story is that of the embattled Birdseys, as recalled in Dominick's elaborated memory-flashbacks and in the ``autobiography'' (juxtaposed against the primary narrative) of the twins' maternal grandfather, Italian immigrant (and tyrannical patriarch) Domenico Tempesta. But Lamb combines these promising materials with overattenuated accounts of Dominick's crippled past (the torments inflicted on him and Thomas by an abusive stepfather, a luckless marriage, the crib death of his infant daughter), and with a heavy emphasis on the long-concealed identity of the twins' real father--a mystery eventually solved, not, as Dominick and we expect, in Domenico' self-aggrandizing story, but by a most surprising confession. This novel is derivative (of both Pat Conroy's The Prince of Tides and the film Dominick and Eugene), it pushes all the appropriate topical buttons (child abuse, AIDS, New Age psychobabble, Native American dignity, and others), and it works a little too hard at wringing tears. But it's by no means negligible. Lamb writes crisp, tender-tough dialogue, and his portrayal of the decent, conflicted Dominick (who is forced, and blessed, to acknowledge that ``We were all, in a way, each other'') is convincing. The pathetic, destroyed figure of Thomas is, by virtue of its very opacity, both haunting and troubling. A probable commercial bonanza, but both twice as long and not as much as it should have been. (Book-of-the-Month Club main selection; author tour)
Copyright © Kirkus Reviews, used with permission.