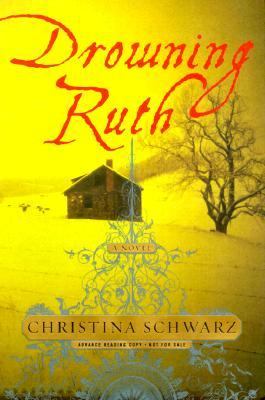 Drowning Ruth
by Christina Schwarz


Library Journal Why did Ruth's mother, Mathilda, drown on that fateful night in 1919 and Ruth survive? That is the central question that this novel sets out to answer. Mathilda's sister, Amanda, who has been nursing soldiers in Milwaukee (it is right after World War I), has returned to the family farm in rural Wisconsin. Mathilda and Ruth are there to help her return to a normal life. Yet a year later, Mathilda's husband returns from the war to find his wife drowned and his sister-in-law raising his daughter. So continues the tale through 1941, as we watch Ruth grow up and try to remember what happened that winter night. Along the way, Ruth befriends Imogene, who has a closer connection to the family than Ruth can imagine. The story is recounted partly through flashback and moves from first-person to third-person narrative. What results is a gripping tale of sisterly rivalry, family loyalty, and secret histories. Already optioned for a film by Miramax, to be directed by Wes Craven, this first novel is an engrossing read. Recommended for all public libraries.DRobin Nesbitt, Columbus Metropolitan Lib., OH Copyright 2000 Cahners Business Information.
Copyright © Reed Business Information, a division of Reed Elsevier Inc. All rights reserved.
Book list With all the realism of a Victorian morality play, this much-hyped first novel plays the tropes of dark family ties and darker family secrets, tied to a particular place. In Milwaukee, Amanda has been nursing soldiers home from World War I, but she returns, neurasthenic and tight-lipped, to the family farm on a lake. Her sister Matilda's husband, Carl, is off at war, and Mandy fits into Mattie's life with a fierce attachment to her and to her baby daughter, Ruth. But as the story moves back and forth in time, we learn that Mattie drowned in the lake one icy night; that Ruth remembers but Mandy denies her memories; and that Mandy has been mother to Ruth, filling her longing to have someone of her own. Carl's memories of his wife grow weak and suspicious; as Ruth gets older, other secrets Mandy holds grow in sinister importance. The tale is narrated in many voices and from multiple points of view, with every plotline and small detail coming round again. Unfortunately, the writing is stiff, and the armature of the plot is all too visible. Wes Craven may have a fierce old time turning this into a movie--rights have been optioned--but it isn't nearly of the intensity of, for example, Beth Gutcheon's More Than You Know [BKL F 15 00]. Buy as demand requires. --GraceAnne A. DeCandido
From Booklist, Copyright © American Library Association. Used with permission.
Publishers Weekly "Ruth remembered drowning." The first sentence of this brilliantly understated psychological thriller leaps off the page and captures the reader's imagination. In Schwarz's debut novel, brutal Wisconsin weather and WWI drama color a tale of family rivalry, madness, secrets and obsessive love. By March 1919, Nurse Amanda Starkey has come undone. She convinces herself that her daily exposure to the wounded soldiers in the Milwaukee hospital where she works is the cause of her hallucinations, fainting spells and accidents. Amanda journeys home to the family farm in Nagawaukee, where her sister, Mathilda (Mattie), lives with her three-year-old daughter Ruth, awaiting the return of her war-injured husband, Carl Neumann. Mattie's ebullient welcome convinces Amanda she can mend there. But then Mattie drowns in the lake that surrounds the sisters' island house and, in a rush of confusion and anguish, Amanda assumes care of Ruth. After Carl comes home, Amanda and he manage to work together on the farm and parent Ruth, but their arrangement is strained: Amanda has a breakdown and recuperates at a sanatorium. As time passes, Ruth grows into an odd, guarded child who clings to perplexing memories of the night her mother drowned. Why does Amanda have that little circle of scars on her hand? What is Amanda's connection to Ruth's friend Imogene and why does she fear Imogene's marriage to Clement Owen's son? Schwarz deftly uses first-person narration to heighten the drama. Her prose is spare but bewitching, and she juggles the speakers and time periods with the surety of a seasoned novelist. Rather than attempting a trumped-up suspenseful finale, Schwarz ends her novel gently, underscoring the delicate power of her tale. Agent, Jennifer R. Walsh at the Writers Shop. Literary Guild, Doubleday Book Club, Teen People and Mango Book Club main selections; film rights optioned by Miramax, Wes Craven to direct; foreign rights sold in Germany, France, the U.K., Japan, Italy, the Netherlands, Finland, Sweden and Denmark. (Aug.) Copyright 2000 Cahners Business Information.
Copyright © Reed Business Information, a division of Reed Elsevier Inc. All rights reserved.
School Library Journal YA-A wonderfully constructed gothic suspense novel set on a stark Wisconsin farm in 1919. The story goes backward and forward in time and is told by Amanda, her niece Ruth, and an omniscient narrator. The ties that bind the two women are as fragile as they are fierce and have their origin in the relationship of two sisters, Amanda and her sister Mattie, Ruth's mother. The narrative begins with Amanda as she recounts her childhood and the responsibility she came to feel for her younger sister and the parents who favored her younger sibling. Amanda finally wrests herself away from home to become a nurse, but her independence is short-lived. Overwhelmed and sickened by the care of the wounded, and heartsick over the love of a married man, she suffers a nervous breakdown and seeks solace by returning to the farm to help Mattie care for her tiny daughter as they await the return of Mattie's husband from World War I. But tragedy follows with Mattie's mysterious drowning during a winter blizzard and guilty lies soon engulf Amanda and threaten to change the lives of several others in the small rural community. A compelling complex tale of psychological mystery and maddeningly destructive provincial attitudes.-Jackie Gropman, Kings Park Library, Fairfax, VA Copyright 2000 Cahners Business Information.
Copyright © Reed Business Information, a division of Reed Elsevier Inc. All rights reserved.