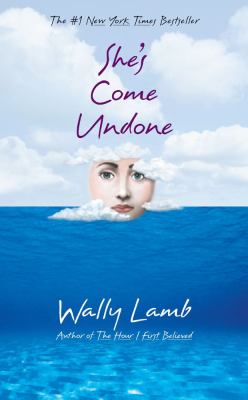 She's Come Undone
by Wally Lamb


Kirkus A tremendously likable first novel about the catastrophe- marked childhood, youth, and mangled adulthood of a tough-fibered woman who almost beaches herself in guilt and grief. Terrible things are about to happen to Dolores Price, only child of brittle, vulnerable Bernice and weak, randomly abusive Tony. Tony leaves Bernice sometime after the stillbirth of their son, and after a week playing with little Dolores in a new backyard pool, when the child expects a lifetime of floating with Daddy. Then Bernice completely flips out and goes to a mental hospital; Dolores is taken to live with Grandma in Rhode Island on Pierce Street (which ``smelled of car exhaust and frying food. Glass shattered, people screamed, kids threw rocks''). Later, Ma returns and works collecting tolls on the Newport Bridge, while friendless Dolores attends a corrosive parochial school. But all welcome Grandma's new tenant, dazzling Jack, a radio DJ who, when Dolores is 13, rapes her in a dog pound. The person Dolores runs to is heart-of-gold Roberta, empress of the Peacock Tattoo Emporium across the street. In spite of the strangled but loyal love of Ma and Grandma, the palship of Roberta, and the kindness of a gentle gay guidance-counsellor, Dolores is about to go under. She becomes a mountain of fat, and soon is convinced that she's responsible for the death of Jack's baby--but also of Bernice, who's killed by a car. At a Pennsylvania college, Dolores knows that her destiny is to ``kill what people love.'' There's some good psychiatry and a bad marriage before the peaceful and upbeat close. Lamb has a broad satiric touch with some satisfying fat targets (the warfare of Pierce Street, etc.). And in spite of hard, hard times and crazy coincidences, Dolores' career is a pleasure to follow, as she barrels through--with a killer mouth and the guts of a sea lion. A warmblooded, enveloping tale of survival, done up loose and cheering.
Copyright © Kirkus Reviews, used with permission.
Library Journal An award-winning creative writing teacher has created a compelling first novel whose heroine reflects on her troubled journey from childhood to middle age. Bruised by her parents' divorce, her mother's breakdown, and brutal betrayal by a neighbor, Dolores Price tries to retreat from life. Overwhelming anger and defiance frequently blind her to the needs of others, yet even in despair she battles for love and acceptance, supported by some delightfully unconventional friends. There are no simple solutions, but from the shattered remains of her dysfunctional family, she binds together a new beginning. Her struggles to understand pain and achieve forgiveness resonate with a sense of life's complexities. Dolores is not always likable, but her story combines sorrow and wonder in a remarkable way. Recommended for most fiction collections.-- Jan Blodgett, St. Mary's Cty. Records Ctr. & Archives, Leonardtown, Md. (c) Copyright 2010. Library Journals LLC, a wholly owned subsidiary of Media Source, Inc. No redistribution permitted.
(c) Copyright Library Journals LLC, a wholly owned subsidiary of Media Source, Inc. No redistribution permitted.
Book list "She" is Dolores Price, a character few readers will soon forget. In this first novel by an award-winning short-story writer and teacher of writing, Dolores tells her own story from age four in 1956 to the present. Tragedy stalks Dolores and the people she loves: desertion, divorce, madness, rape, isolation, disease, and death, plus the routine cruelties and ordinary betrayals of daily life. But there are lifelines in Dolores' world: her fragile but gritty mother and repressed but caring grandmother; a closeted gay high school counsellor who sees potential behind the adolescent Dolores' smart-aleck talk and layers of fat; an eccentric, resilient tattoo-artist neighbor; a hippie family she encounters as it takes off for Woodstock; the psychiatrist whose strong commitment helps Dolores move, over several years, from withdrawal and attempted suicide to reengagement with reality; the man she selects as her first love and then outgrows; the man who insists on becoming her second love. Somehow, unaccountably, Lamb has managed to climb inside the head of a troubled young woman and watch the passing show through her eyes; every twist and turn in her hilarious, horrifying, emotionally wrenching journey seems inevitable. She's Come Undone is a novel worth reading by a writer worth watching. ~--Mary Carroll
From Booklist, Copyright © American Library Association. Used with permission.
Library Journal Lamb's fine debut novel about the travails of a troubled young woman was originally published in 1992. After quietly drifting into obscurity, She's Come Undone today sits atop the best sellers lists thanks to Oprah Winfrey's on-air endorsement. Lovable loser Dolores Price bounces from one tragedy to the next, retaining only her cynical sense of humor. Abandoned as a child by her father (who later tries to make amends, only to be met with Dolores's stubborn rejection), raped by a trusted adult, and later married to a philandering husband, Dolores nonetheless evolves into a cautious, wry adult. Kathy Najimy's sprightly reading is particularly strong when the narrative hits Dolores's adolescent years. For most popular collections.?Mark Annichiarico, "Library Journal" (c) Copyright 2010. Library Journals LLC, a wholly owned subsidiary of Media Source, Inc. No redistribution permitted.
(c) Copyright Library Journals LLC, a wholly owned subsidiary of Media Source, Inc. No redistribution permitted.
Publishers Weekly In this engaging first novel, narrator Dolores Price recounts her life story from age four to age 40. The troubled product of a stormy marriage, she is already sipping Maalox in grade school. Then her father walks out on her mother, who suffers a nervous collapse, and Dolores moves to her repressive grandmother's house in Rhode Island. By the time she reaches eighth grade, she has only one friend: a boarder who eventually rapes her. Anesthetizing herself with junk food and soap operas, Dolores becomes an obese, isolated young woman who attempts suicide during her first semester in college and spends seven years in a mental institution. Oddly enough, this relentless parade of disasters makes for interesting reading. The author keenly evokes his protagonist's profound alienation and self-loathing, endowing Dolores with a bleak sense of humor that keeps readers rooting for her. Ironically, the book itself ``comes undone'' as its heroine develops self-esteem, at which point an absorbing portrait of a woman on a collision course with her problems turns into a disappointing series of cliches about love, forgiveness and Dolores's ticking biological clock. Nonetheless, this is a promising debut. ( July ) (c) Copyright PWxyz, LLC. All rights reserved
(c) Copyright PWxyz, LLC. All rights reserved
Publishers Weekly In this engaging first novel, narrator Dolores Price recounts her life story from age four to age 40; her relentless parade of disasters makes for interesting reading. (Apr.) (c) Copyright PWxyz, LLC. All rights reserved
(c) Copyright PWxyz, LLC. All rights reserved