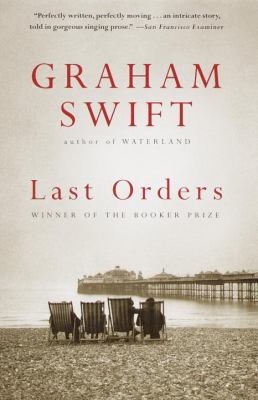 Last Orders
by Graham Swift


Kirkus Britisher Swift's sixth novel (Ever After, 1992 etc.) and fourth to appear here is a slow-to-start but then captivating tale of English working-class families in the four decades following WW II. When Jack Dodds dies suddenly of cancer after years of running a butcher shop in London, he leaves a strange request--namely, that his ashes be scattered off Margate pier into the sea. And who could better be suited to fulfill this wish than his three oldest drinking buddies--insurance man Ray, vegetable seller Lenny, and undertaker Vic, all of whom, like Jack himself, fought also as soldiers or sailors in the long-ago world war. Swift's narrative start, with its potential for the melodramatic, is developed instead with an economy, heart, and eye that release (through the characters' own voices, one after another) the story's humanity and depth instead of its schmaltz. The jokes may be weak and self- conscious when the three old friends meet at their local pub in the company of the urn holding Jack's ashes; but once the group gets on the road, in an expensive car driven by Jack's adoptive son, Vince, the story starts gradually to move forward, cohere, and deepen. The reader learns in time why it is that no wife comes along, why three marriages out of three broke apart, and why Vince always hated his stepfather Jack and still does--or so he thinks. There will be stories of innocent youth, suffering wives, early loves, lost daughters, secret affairs, and old antagonisms--including a fistfight over the dead on an English hilltop, and a strewing of Jack's ashes into roiling seawaves that will draw up feelings perhaps unexpectedly strong. Without affectation, Swift listens closely to the lives that are his subject and creates a songbook of voices part lyric, part epic, part working-class social realism--with, in all, the ring to it of the honest, human, and true.
Copyright © Kirkus Reviews, used with permission.
Library Journal In Swift's latest work, following Ever After (LJ 3/1/92), a group of men bound together by their experiences in World War II and their efforts to scrape by afterward join to take the ashes of friend Jack to Margate and toss them in the sea. In flashbacks, the intertwining stories of the men's lives are neatly unfolded, told staccato fashion in the intimate, slangy patois of working-class Britain. We learn that Jack and Amy's daughter was born defective, that they adopted Vince as a baby when his parents were killed by a German bomb, that Vince has twisted and resisted the family tie, and that the family struggled to better itself to no avail. This and more is told at times rather too elliptically, but the story is affecting. Big tragedies can make a grand show, but it is the little tragedies we can all relate to that break our hearts. Recommended for literary collections.-Barbara Hoffert, "Library Journal" (c) Copyright 2010. Library Journals LLC, a wholly owned subsidiary of Media Source, Inc. No redistribution permitted.
(c) Copyright Library Journals LLC, a wholly owned subsidiary of Media Source, Inc. No redistribution permitted.
Publishers Weekly On a bleak spring day, four men meet in their favorite pub in a working-class London neighborhood. They are about to begin a pilgrimage to scatter the ashes of a fifth man, Jack Dodds, friend since WWII of three of them, adoptive father to the fourth. By the time they reach the seaside town where Jack's "last orders" have sent them, the tangled relationship among the men, their wives and their children has obliquely been revealed. Swift's lean, suspenseful and ultimately quite moving narrative is propelled by vernacular dialogue and elliptical internal monologues. Through the men's richly differentiated voices, the reader gradually understands the bonds of friendship, loyalty and love, and the undercurrents of greed, adulterous betrayal, parental guilt, anger and resentment that run through their intertwined lives. Each of them, it turns out, has a guilty secret, and the ironies compound as the quiet dramas of their lives are revealed. Amy, Jack's widow, does not accompany the men; she chooses instead to visit her and Jack's profoundly handicapped daughter in an institution, as she has done twice a week for 50 years. Swift plumbs the existentialist questions of identity and the meaning of existence while remaining true to the vocabulary, social circumstances and point of view of his proletarian characters. Written with impeccable honesty and paced with unflagging momentum, the novel ends with a scene of transcendent understanding. (Apr.) (c) Copyright PWxyz, LLC. All rights reserved
(c) Copyright PWxyz, LLC. All rights reserved