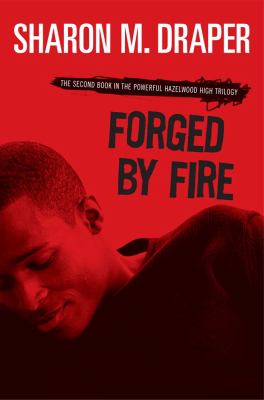 Forged by Fire
by Sharon Draper


Book list Gr. 7^-10. Gerald Nickelby, a minor character in Tears of a Tiger (1994), emerges full-fledged and courageous in this companion story. His stable life with a firm but loving aunt (who is caring for him while his mother serves a prison sentence for child neglect) is shattered when his mother returns to claim him on his ninth birthday. With her is a young daughter, Angel, to whom Gerald is drawn, and her husband, Jordan, whom Gerald instinctively dislikes. When Gerald learns that Jordan is sexually abusing Angel, he risks physical assault and public embarrassment to rescue her. Although written in a more conventional form than the earlier novel, the dialogue is still convincing, and the affection between Angel and Gerald rings true. With so much tragedy here (the car crash and death of Gerald's friend Rob in Tears are again recounted, though Draper, thankfully, stops before Andy Jackson's suicide), there is some danger of overloading the reader. Nevertheless, Draper faces some big issues (abuse, death, drugs) and provides concrete options and a positive African American role model in Gerald. --Candace Smith
From Booklist, Copyright © American Library Association. Used with permission.
School Library Journal Gr 7-10?Gerald, a battered and neglected African-American child, is severely burned in a fire at the age of three, having been left home alone by his single mother, Monique. Upon leaving the hospital he goes to live with his warm and caring Aunt Queen. When he is nine, his mother reenters his life for the first time since the accident. Monique introduces him to Angel, his four-year-old half-sister, and Jordan Sparks, Angel's surly father. When Aunt Queen dies suddenly of a heart attack, Gerald is returned to his mother and takes on the role of loving protector of his little sister. He soon learns that Sparks, who mentally and physically abuses all of the family, is sexually abusing Angel. Gerald and Angel's testimony helps send Sparks to prison, but upon his release six years later, he returns to the family, with the blessing of Monique, whose own life is checkered with bouts of substance abuse. A terse confrontation erupts into a fiery climax when Sparks again attempts to molest Angel. The riveting first chapter was originally published as a short story in Ebony magazine under the title "One Small Touch." While the rest of the book does not sustain the mood and pace of the initial chapter, Forged by Fire is a grim look at an inner-city home where abuse and addiction are a way of life and the children are the victims. There's no all's-well ending, but readers will have hope for Gerald and Angel, who have survived a number of gut-wrenching ordeals by relying on their constant love and caring for one another.?Tom S. Hurlburt, La Crosse Public Library, WI
Copyright © Reed Business Information, a division of Reed Elsevier Inc. All rights reserved.