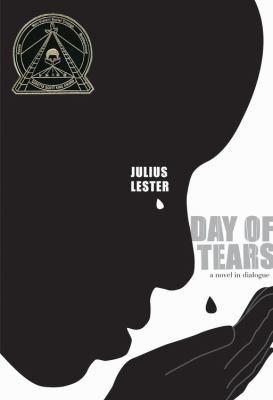 Day of Tears: A Novel in Dialogue
by Julius Lester


Book list Gr. 6-9. From his first book, To Be a Slave (1968), Lester has told the history of slavery through personal accounts that relay the dehumanizing message of the perpetrators. Here he draws on historical sources to fictionalize a real event: the biggest slave auction in American history, which took place in Savannah, Georgia, in 1859. He imagines the individual voices of many who were there, adults and kids, including several slaves up for sale, the auctioneer, and the white masters and their families buying and selling the valuable merchandise. The huge cast speaks in the present tense and sometimes from the future looking back. A note fills in the facts. The horror of the auction and its aftermath is unforgettable; individuals whom the reader has come to know are handled like animals, wrenched from family, friends, and love. Then there's a sales list with names, ages, and the amount taken in for each person. Brave runaways speak; so does an abolitionist who helps them. Those who are not heroic are here, too, and the racism is virulent (there's widespread use of the n-word). The personal voices make this a stirring text for group discussion. Older readers may want to go on from here to the nonfiction narratives in Growing Up in Slavery (see adjacent review). --Hazel Rochman Copyright 2005 Booklist
From Booklist, Copyright © American Library Association. Used with permission.
School Library Journal Gr 6-9-This powerful and engaging historical novel is told in dialogue and through monologues. It also moves around in time, from the period when the story takes place to "interludes," in which the various characters look back on these events years later. It begins with a factual event-the largest slave auction in United States history that took place in 1859 on Pierce Butler's plantation in Georgia. The book introduces Butler, his abolitionist ex-wife Fanny Kemble, their two daughters, the auctioneer, and a number of slaves sold to pay off Butler's gambling debts. Emma, a fictional house slave, is the centerpiece of the novel. She cares for the master's daughters and has been promised that she will never be sold. On the last day of the auction, Butler impulsively sells her to a woman from Kentucky. There she marries, runs away, and eventually gains her freedom in Canada. Lester has done an admirable job of portraying the simmering anger and aching sadness that the slaves must have felt. Each character is well drawn and believable. Both blacks and whites liberally use the word "nigger," which will be jarring to modern-day students. The text itself is easy to read and flows nicely. Different typefaces distinguish the characters' monologues, their dialogues with one another, and their memories. Still, middle school readers may have some difficulty following the plot until they get used to the unusual format. Altogether this novel does a superb job of showing the inhumanity of slavery. It begs to be read aloud, and it could be used in sections to produce some stunning reader's theatre.-Bruce Anne Shook, Mendenhall Middle School, Greensboro, NC Copyright 2005 Reed Business Information.
Copyright © Reed Business Information, a division of Reed Elsevier Inc. All rights reserved.
Publishers Weekly Unfolding like a play, Lester's novel in dialogue-based on actual events-cannot help but be informed by his research and writing for his 1969 Newbery Honor book, To Be a Slave. In many ways, the scenes here beg to be dramatized upon a stage; many sections read like monologues, but each contributes to a powerful whole. Some readers may initially have trouble connecting Emma, the children's nursemaid, to her parents, Mattie and Will, the master's manservant. As the book progresses, however, the relationships become crystal clear. The book opens as, in Mattie's words, "The rain is coming down as hard as regret." Master Butler is about to hold an auction to sell off 429 slaves in order to repay a gambling debt. Other details unfold, as Will mentions how he and Master Butler grew up together ("He used to look up to me like I was his big brother"); Emma mentions that Mistress Fannie left her husband a year before, and an author's note explains that Fannie Kemble, who opposed slavery, married Pierce Butler not knowing that he owned slaves. The ultimate betrayal occurs when Master Butler agrees to sell Emma, the only person whom Sara, his oldest child, trusts. Lester poignantly conveys how the auction polarizes the two sisters: Sara who detests slavery, and Frances who sides with her father. Some of the flashback sections (particularly that of the "slave-seller") interrupt the flow of events, but the novel provides a compelling opportunity for children to step into the shoes of those whose lives were torn apart by slavery. Ages 9-13. (Apr.) Copyright 2005 Reed Business Information.
Copyright © Reed Business Information, a division of Reed Elsevier Inc. All rights reserved.