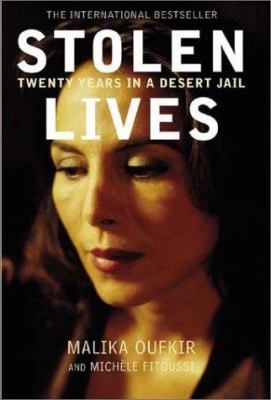 Stolen Lives: Twenty Years in a Desert Jail
by Malika Oufkir


Publishers Weekly While accounts of the unjust arrest and torture of political prisoners are by now common, we expect such victims to come with a just cause. Here, Oufkir tells of the 20-year imprisonment of her upper-class Moroccan family following a 1972 coup attempt against King Hassan II by her father, a close military aide. After her father's execution, Oufkir, her mother and five siblings were carted off to a series of desert barracks, along with their books, toys and French designer clothes in the family's Vuitton luggage. At their first posting, they complained that they were short on butter and sweets. Over the years, subsequent placements brought isolation cells and inadequate, vermin-infested rations. Finally, starving and suicidal, the innocents realized they had been left to die. They dug a tunnel and escaped. Recapture led to another five years of various forms of imprisonment before the family was finally granted freedom. Oufkir's experience does not fit easily into current perceptions of political prisoners victimized for their beliefs or actions. In fact, she was the adopted daughter of King Muhammad V, Hassan II's father, sent by her parents at age five to be raised in the court with the king's daughter as her companion and equal. Beyond horrifying images such as mice nibbling at a rich girl's face, this erstwhile princess's memoir will fascinate readers with its singular tale of two kindly fathers, political struggles in a strict monarchy and a family's survival of cruel, prolonged deprivation. (Apr.) Forecast: A bestseller in France, where Morocco is always a hot issue, this oddly gripping book should also do well here thanks to Oufkir's appearance soon on 60 Minutes and a five-city tour. Film adaptation is a distinct possibility, especially given the book's publisher. Copyright 2001 Cahners Business Information.
Copyright © Reed Business Information, a division of Reed Elsevier Inc. All rights reserved.
Library Journal Oufkir, the child of a general, was adopted at the age of five by King Mohammed and brought up as a companion to his daughter. Eleven years later, she returned home to a three-year adolescence of wealth and privilege, where she consorted with movie stars and royalty. In 1961, Hassin II succeeded his father as king, and Oufkir's father was executed after staging a coup against the new regime. For the next 15 years, Oufkir, her mother, and her five siblings were confined to a desert prison and subjected to inhuman conditions. Oufkir's description of their day-to-day survival during these years is the heart of the book. The family finally escaped by digging a tunnel, were recaptured, and today live in Paris, where Oufkir eventually found love and marriage with a French architect. A best seller in France, this riveting story will find an audience here, but just how much of an audience is yet to be determined. Recommended for all general collections. Frances Sandiford, Green Haven Correctional Facility Lib., Stormville, NY Copyright 2001 Cahners Business Information.
Copyright © Reed Business Information, a division of Reed Elsevier Inc. All rights reserved.
Book list The ways that people hurt one another are always hard to fathom, and why they do so is another mystery. It is true that General Oufkir probably led the 1972 attempted coup and assassination of King Hassan of Morocco. However, Oufkir's wife and children, including Malika, found out about it only after his execution. Still, guilt by association condemned them, without a trial, to more than 20 years of imprisonment, including more than a decade of near starvation and torture. What makes all this harder to understand is that Malika had been adopted by then king Mohammed when she was five. As the primary playmate of the king's beloved daughter, she was surrounded by luxury and treated as royalty. After the coup attempt, Malika and other members of her family were exiled to an abandoned fort in the countryside. Within four years they were moved to the Bir-Jdid prison, where their worst torment began. They would not see one another or sunlight for more than a decade. The physical toll of years of this treatment was bad enough, but the emotional toll was far more devastating. By the time they dug their way to freedom in 1987, they were emaciated skeletons. However, even then it would be another nine years before they were totally free. The question of why it happened is never really answered, but this is an extremely effective and graphic picture of what evil is like from the vantage point of its most innocent victims. --Marlene Chamberlain
From Booklist, Copyright © American Library Association. Used with permission.