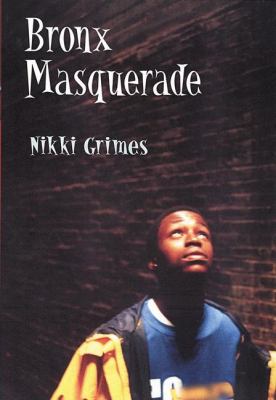 Bronx Masquerade
by Nikki Grimes


School Library Journal Gr 8 Up-A flowing, rhythmic portrait of the diversity and individuality of teen characters in a classroom in Anywhere, U.S.A. Each teen's story is told by combining his or her poetry with snippets of narration. Readers meet Tyrone, an aspiring songwriter who sees no use for school; Lupe, who thinks that becoming a mother would give her the love she lacks in her life; and Janelle, who is struggling with her body image. As their stories unfold and intertwine with those of their classmates, readers are able to observe changes in them and watch the group evolve into a more cohesive unit. Grimes's style is reminiscent of Mel Glenn's poetry novels, but by telling these stories in both poetry and narration, the author adds a new twist. Competent and reluctant readers alike will recognize and empathize with these teens. As always, Grimes gives young people exactly what they're looking for-real characters who show them they are not alone.-Lynn Evarts, Sauk Prairie High School, Prairie du Sac, WI Copyright 2001 Cahners Business Information.
Copyright © Reed Business Information, a division of Reed Elsevier Inc. All rights reserved.
Publishers Weekly When a high school teacher in the Bronx begins to host open-mike poetry in his classroom on Fridays, his students find a forum to express their identity issues and forge unexpected connections with one another. Grimes's (Jazmin's Notebook) creative, contemporary premise will hook teens, and the poems may even inspire readers to try a few of their own. The poetic forms range from lyrics penned by aspiring rapper Tyrone to the concrete poem of a budding Puerto Rican painter Raul (titled "Zorro" and formed as the letter "Z"). Ultimately, though, there may be too many characters for the audience to penetrate deeply. The students in Mr. Ward's English class experience everything from dyslexia and low self-esteem to teenage motherhood and physical abuse. The narrators trade off quickly, offering only a glimpse into their lives. Not even Tyrone, who breaks in after each student's poem to offer some commentary, comes fully to life. The students' poems, however, provide some lasting images (e.g., overweight Janelle, who is teased for her "thick casing," writes, "I am coconut,/ and the heart of me/ is sweeter/ than you know"). Any one of these students could likely dominate a novel of his or her own, they simply get too little time to hold the floor here. Ages 12-up. (Jan.) Copyright 2001 Cahners Business Information.
Copyright © Reed Business Information, a division of Reed Elsevier Inc. All rights reserved.
Book list Gr. 7-12. Tyrone Bittings doesn't believe in a future: "Life is cold . . . What I've got is right here, right now, with my homeys." But an English-class open mike changes everything. Grimes' first novel since Jazmin's Notebook (1998) comprises brief monologues in the voices of students and their poems. Funny and painful, awkward and abstract, the poems talk about race, abuse, parental love, neglect, death, and body image ("Don't any of these girls like the way they look?" asks Tyrone). Most of all, they try to reveal the individuals beyond the stereotypes. With such short vignettes, the characters are never fully realized, and the message about poetry's ability to move beyond color and cultural boundaries is anything but subtle. Even so, readers will enjoy the lively, smart voices that talk bravely about real issues and secret fears. A fantastic choice for readers' theater. --Gillian Engberg
From Booklist, Copyright © American Library Association. Used with permission.