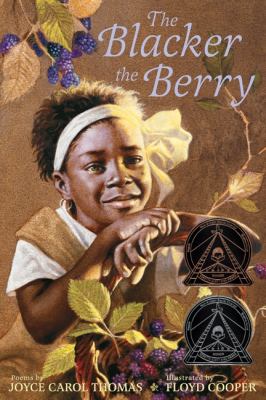 The blacker the berry : poems
by by Joyce Carol Thomas ; illustrated by Floyd Cooper.


Book list Black comes in all shades from dark to light, and each is rich and beautiful in this collection of simple, joyful poems and glowing portraits that show African American diversity and connections. In the title poem, a smiling girl says, Because I am dark, the moon and stars shine brighter. Other pages have fun with terms, such as skin deep and night shade. A grandma turns Coffee will make you black   from a warning into something great. A boy is proud to be raspberry black as he reads his great-great-grandmother's journal about her love for her Seminole Indian husband. A girl says she is cranberry red from her father's Irish ancestry. In the final, joyful double-page spread, the kids celebrate their individual identities and laugh together. Many families will want to talk about this and their own family roots: We count who we are / And add to all who came before us. --Rochman, Hazel Copyright 2008 Booklist
From Booklist, Copyright © American Library Association. Used with permission.
School Library Journal Gr 1-4-The varieties of African-American ethnic heritage are often rendered invisible by the rigid construction of racial identity that insists on polarities. This collection of 12 poems makes the complexities of a layered heritage visible and the many skin shades celebrated. Read-aloud-sized spreads offer luminous artwork that complements the verses in which children speak of their various hues: "I am midnight and berries..." a child says in the title poem. In another selection, a boy recalls his Seminole grandmother who has given him the color of "red raspberries stirred into blackberries." In "Cranberry Red," a child asserts that "it's my Irish ancestors/Who reddened the Africa in my face," understanding that "When we measure who we are/We don't leave anybody out." The large illustrations match the lyrical poetry's emotional range. Cooper's method includes "pulling" the drawing out from a background of oil paint and glazes. With his subtractive method, he captures the joy of these children-the sparkle of an eye, the width of a grin, the lovely depths of their skin, and the light that radiates from within. This book complements titles that explore identity, such as Katie Kissinger's All the Colors We Are (Redleaf, 1994).-Teresa Pfeifer, Alfred Zanetti Montessori Magnet School, Springfield, MA (c) Copyright 2010. Library Journals LLC, a wholly owned subsidiary of Media Source, Inc. No redistribution permitted.
(c) Copyright Library Journals LLC, a wholly owned subsidiary of Media Source, Inc. No redistribution permitted.