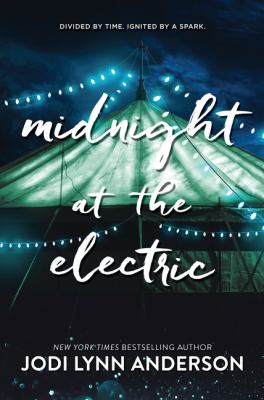 Midnight at the Electric
by Anderson, Jodi Lynn


Publishers Weekly Anderson (The Vanishing Season) interweaves the stories of three tenacious young women in this sprawling saga. In 2065, orphan Adri Ortiz has been accepted into a prestigious Mars colony program, where she will work to create a livable extraterrestrial world. In the weeks before relocation, she is set up to live with a long-lost relative, a lively and opinionated centenarian in Kansas. After discovering a cryptic postcard that dates back to the 1920s, Adri is drawn into a mystery involving an ancient tortoise-still alive and well-and a mystery woman. In 1934, Catherine Goodspeed finds the same postcard among her mother's possessions; Catherine's journal recounts her worries about the discovery, her younger sister's declining health, and the dust storms raging around her. And in 1919 England, Lenore Allstock writes letters to her estranged childhood friend as she mourns the death of her brother during WWI. Each character's resilience and independence shines brightly, creating a thread that ties them together even before the intersections of their lives are fully revealed. Anderson's piercing prose ensures that these remarkable women will leave a lasting mark on readers. Ages 14-up. Agent: Rosemary Stimola, Stimola Literary Studio. (June) © Copyright PWxyz, LLC. All rights reserved.
(c) Copyright PWxyz, LLC. All rights reserved
School Library Journal Gr 9 Up-Adri's, Catherine's, and Lenore's lives are intertwined but not in the way that one would think. Adri lives in 2065 Kansas, Catherine lives in 1930s Kansas, and Lenore lives in England in 1919. As Adri is preparing to go to Mars, she stays with her cousin in Kansas, where the training takes place. Upon settling in, she comes across letters written from Lenore to Beth. Through journals and, later, letters, Catherine narrates her own story of being in Kansas during the Dust Bowl. Told through straight prose, letters, and journal entries, the novel is engrossing and will engage even reluctant readers. This beautiful work expertly blends historical and futuristic fiction genres. The author threads mystery into each teen's story, keeping an even pace as she reveals secrets, betrayals, and heartbreak. Anderson deftly tackles love, friendship, and grief in this touching exploration of resilience and hope. VERDICT A must-have for all YA collections.-Erin Holt, Williamson City Public Library, Franklin, TN © Copyright 2017. Library Journals LLC, a wholly owned subsidiary of Media Source, Inc. No redistribution permitted.
(c) Copyright Library Journals LLC, a wholly owned subsidiary of Media Source, Inc. No redistribution permitted.
Book list *Starred Review* All her life, 17-year-old Adri's been preparing to be a Mars colonist, so when she must leave behind her home in Miami, thanks to rising ocean levels, she doesn't mourn too much, since she's been ready to leave the whole planet behind for years. Her sense of detachment wavers, though, when she's placed with Lily, her elderly, last living relative, in the months leading up to her one-way trip to Mars. In Lily's ancient Kansas farmhouse, Adri finds shreds of clues about her past, including enigmatic letters and journals and, oddly, a Galápagos tortoise. Now cold, prickly Adri finds herself fixated on where she came from particularly the stories of two women, Catherine, who lived in Lily's house during the Dust Bowl, and Lenore, who lived in England during WWI just as she's about to leave it all behind for good. As Anderson beautifully weaves together Adri's, Catherine's, and Lenore's stories, each of the three women come vividly to life through distinct voices and behaviors. Their stories have parallels environmental devastation, leaving home behind, and finding a new one but they're all deployed with determined subtlety, and the resolutions, while never tidy, are tantalizingly satisfying. With quietly evocative writing, compellingly drawn characters, and captivating secrets to unearth, this thought-provoking, lyrical novel explores the importance of pinning down the past before launching into the mystery of the future.--Hunter, Sarah Copyright 2017 Booklist
From Booklist, Copyright © American Library Association. Used with permission.