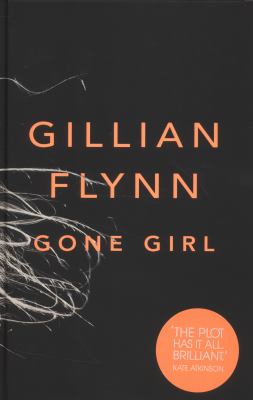 Gone Girl
by Gillian Flynn


Library Journal With her third novel (after the acclaimed Sharp Objects and Dark Places), Flynn cements her place among that elite group of mystery/thriller writers who unfailingly deliver the goods. On the day of her fifth wedding anniversary, Amy Dunne vanishes from her home under suspicious circumstances. Through a narrative that alternates between Amy's diary entries and her husband Nick's real-time experiences in the aftermath of her disappearance, the complicated relationship that was their marriage unfolds, leaving the reader with a growing list of scenarios, suspects, and motives to consider. Meanwhile, the police, the press, and the public focus intently on Nick, the journalist-turned-bar owner who uprooted Amy from her comfortable New York life to return to his Missouri hometown. VERDICT Once again Flynn has written an intelligent, gripping tour de force, mixing a riveting plot and psychological intrigue with a compelling prose style that unobtrusively yet forcefully carries the reader from page to page. [See Prepub Alert, 12/19/11.]-Nancy McNicol, Hamden P.L., CT (c) Copyright 2012. Library Journals LLC, a wholly owned subsidiary of Media Source, Inc. No redistribution permitted.
(c) Copyright Library Journals LLC, a wholly owned subsidiary of Media Source, Inc. No redistribution permitted.
Publishers Weekly Flynn's bestselling novel is a dark and cynical treatise on how malignant a marriage can become when the wrong people say "I do." The book begins with Nick Dunne's first-person account of wife Amy's disappearance on their fifth wedding anniversary and his subsequent encounters with the local North Carthage, Miss., homicide detectives who suspect him of murder. Interspersed throughout the book are Amy's diary entries, which chart her possibly unreliable version of her and Nick's meeting, marriage, and eventual growing apart. This literary setup is perfect for the dueling narration provided by Julia Whelan and Kirby Heyborne. The latter has a soft, youthful delivery that registers a vague sincerity that could also be interpreted as sarcasm-just the sort of voice one might expect from an intelligent, oddly disaffected, potential wife killer. Whelan's version of Amy is filled with entitlement, egotism, and the edgy anger of a genuine or imagined victim. The combined narration of Whelan and Heyborne infuse Flynn's bestseller with an energy that audio fans will find even more satisfying. A Crown hardcover. (July) (c) Copyright PWxyz, LLC. All rights reserved.
(c) Copyright PWxyz, LLC. All rights reserved
Publishers Weekly There's the evil you can see coming-and then there's Amy Elliott. Superficially, this privileged Gotham golden girl, inspiration for her psychologist-parents' bestselling series of children's books, couldn't be further from the disturbingly damaged women of Edgar-finalist Flynn's first two books, Sharp Objects and Dark Places. But as Amy's husband, Nick Dunne, starts to realize after she disappears from their rented mansion in his Missouri hometown on their fifth anniversary-and he becomes the prime suspect in her presumed murder-underestimating Amy's sick genius and twisted gamesmanship could prove fatal. Then again, charmer Nick may not be quite the corn-fed innocent he initially appears. Flynn masterfully lets this tale of a marriage gone toxically wrong gradually emerge through alternating accounts by Nick and Amy, both unreliable narrators in their own ways. The reader comes to discover their layers of deceit through a process similar to that at work in the imploding relationship. Compulsively readable, creepily unforgettable, this is a must read for any fan of bad girls and good writing. Agent: Stephanie Rostan, Levine Greenberg. (June) (c) Copyright PWxyz, LLC. All rights reserved.
(c) Copyright PWxyz, LLC. All rights reserved
Book list *Starred Review* When Nick Dunne's beautiful and clever wife, Amy, goes missing on their fifth wedding anniversary, the media descend on the Dunnes' Missouri McMansion with all the fury of a Dateline episode. And Nick stumbles badly, for, as it turns out, he has plenty to hide, and under the pressure of police questioning and media scrutiny, he tells one lie after another. Juxtaposed with Nick's first-person narration of events are excerpts from Amy's diary, which completely contradict Nick's story and depict a woman who is afraid of her husband, has recently found out she's pregnant, and had been looking to buy a gun for protection. In addition, Amy is famous as the model for her parents' long-running and beloved children's series, Amazing Amy. But what looks like a straighforward case of a husband killing his wife to free himself from a bad marriage morphs into something entirely different in Flynn's hands. As evidenced by her previous work (Sharp Objects, 2006, and Dark Places, 2009), she possesses a disturbing worldview, one considerably amped up by her twisted sense of humor. Both a compelling thriller and a searing portrait of marriage, this could well be Flynn's breakout novel. It contains so many twists and turns that the outcome is impossible to predict.--Wilkinson, Joanne Copyright 2010 Booklist
From Booklist, Copyright © American Library Association. Used with permission.