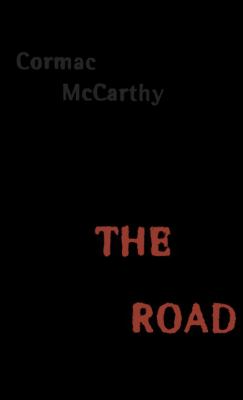 The Road
by Cormac McCarthy


Publishers Weekly Violence, in McCarthy's postapocalyptic tour de force, has been visited worldwide in the form of a "long shear of light and then a series of low concussions" that leaves cities and forests burned, birds and fish dead and the earth shrouded in gray clouds of ash. In this landscape, an unnamed man and his young son journey down a road to get to the sea. (The man's wife, who gave birth to the boy after calamity struck, has killed herself.) They carry blankets and scavenged food in a shopping cart, and the man is armed with a revolver loaded with his last two bullets. Beyond the ever-present possibility of starvation lies the threat of roving bands of cannibalistic thugs. The man assures the boy that the two of them are "good guys," but from the way his father treats other stray survivors the boy sees that his father has turned into an amoral survivalist, tenuously attached to the morality of the past by his fierce love for his son. McCarthy establishes himself here as the closest thing in American literature to an Old Testament prophet, trolling the blackest registers of human emotion to create a haunting and grim novel about civilization's slow death after the power goes out. 250,000 announced first printing; BOMC main selection. (Oct.) Copyright 2006 Reed Business Information.
Copyright © Reed Business Information, a division of Reed Elsevier Inc. All rights reserved.
Book list A man and a boy, father and son, each the other's world entire, walk a road in the ashes of the late world. In this stunning departure from his previous work, McCarthy ( No Country for Old Men, 2005) envisions a postapocalyptic scenario. Cities have been destroyed, plants and animals have died, and few humans survive. The sun is hidden by ash, and it is winter. With every scrap of food looted, many of the living have turned to cannibalism. The man and the boy plod toward the sea. The man remembers the world before; as his memories die, so, too dies that world. The boy was born after everything changed. The man, dying, has a fierce paternal love and will to survive--yet he saves his last two bullets for himself and his son. Although the holocaust is never explained, this is the kind of grim warning that leads to nightmares. Its spare, precise language is rich with other explorations, too: hope in the face of hopelessness, the ephemeral nature of our existence, the vanishing worlds we all carry within us. McCarthy evokes Beckett, using repetition and negation to crushing effect, showing us by their absence the things we will miss. Hypnotic and haunting, relentlessly dark, this is a novel to read in late-night solitude. Though the focus never leaves the two travelers, they carry our humanity, and we can't help but feel the world hangs in the balance of their hopeless quest. A masterpiece. --Keir Graff Copyright 2006 Booklist
From Booklist, Copyright © American Library Association. Used with permission.
Library Journal New territory for McCarthy: a postapocalyptic landscape where readers meet a man who recalls a better world and a boy who doesn't. Copyright 2006 Reed Business Information.
Copyright © Reed Business Information, a division of Reed Elsevier Inc. All rights reserved.
Library Journal Winner of the National Book Award and the National Book Critics Circle Award, McCarthy (All the Pretty Horses) here offers a prescient account of a man and his son trying to survive in a devastated country where food is scarce and everyone has become a scavenger. The term survival of the fittest rings true here-very few people remain, and friends are extinct. Essentially, this is a story about nature vs. nurture, commitment and promises, and though there aren't many characters, there is abundant life in the prose. We are reminded how McCarthy has mastered the world outside of our domestic and social circles, with each description reading as if he had pulled a scene from the landscape and pasted it in the book. He uses metaphors the way some writers use punctuation, sprinkling them about with an artist's eye, showing us that literature from the heart still exists. Recommended for all libraries. [See Prepub Alert, LJ 5/1/06.]-Stephen Morrow, Columbus, OH Copyright 2006 Reed Business Information.
Copyright © Reed Business Information, a division of Reed Elsevier Inc. All rights reserved.