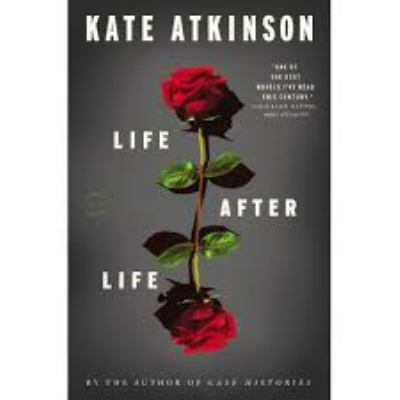 Life After Life
by Kate Atkinson


Publishers Weekly Atkinson's new novel (after Started Early, Took My Dog) opens twice: first in Germany in 1930 with an English woman taking a shot at Hitler, then in England in 1910 when a baby arrives, stillborn. And then it opens again: still in 1910, still in England, but this time the baby lives. That baby is Ursula Todd, and as she grows up, she dies and lives repeatedly. Watching Atkinson bring Ursula into the world yet again initially feels like a not terribly interesting trick: we know authors have the power of life and death. But as Ursula and the century age, and war and epidemic and war come again, the fact of death, of "darkness," as Atkinson calls it, falling on cities and people-now Ursula, now someone else, now Ursula again-turns out to be central. At heart this is a war story; half the book is given over to Ursula's activities during WWII, and in its focus on the women and civilians usually overlooked or downplayed, it gives the Blitz its full measure of terror. By the end, which takes us back to that moment in 1930 and beyond, it's clear that Atkinson's not playing tricks; rather, through Ursula's many lives and the accretion of what T.S. Eliot called "visions and revisions," she's found an inventive way to make both the war's toll and the pull of alternate history, of darkness avoided or diminished, fresh. Agent: Kim Witherspoon, Inkwell Management. (Apr. 2) (c) Copyright PWxyz, LLC. All rights reserved.
(c) Copyright PWxyz, LLC. All rights reserved
Book list *Starred Review* In a radical departure from her Jackson Brodie mystery series, Atkinson delivers a wildly inventive novel about Ursula Todd, born in 1910 and doomed to die and be reborn over and over again. She drowns, falls off a roof, and is beaten to death by an abusive husband but is always reborn back into the same loving family, sometimes with the knowledge that allows her to escape past poor decisions, sometimes not. As Atkinson subtly delineates all the pathways a life or a country might take, she also delivers a harrowing set piece on the Blitz as Ursula, working as a warden on a rescue team, encounters horrifying tableaux encompassing mangled bodies and whole families covered in ash, preserved just like the victims of Pompeii. Alternately mournful and celebratory, deeply empathic and scathingly funny, Atkinson shows what it is like to face the horrors of war and yet still find the determination to go on, with her wholly British characters often reducing the Third Reich to a fuss. From her deeply human characters to her comical dialogue to her meticulous plotting, Atkinson is working at the very top of her game. An audacious, thought-provoking novel from one of our most talented writers. HIGH-DEMAND BACKSTORY: Atkinson's publisher is pulling out all the stops in marketing her latest, which will no doubt draw in many new readers in addition to her Jackson Brodie fans.--Wilkinson, Joanne Copyright 2010 Booklist
From Booklist, Copyright © American Library Association. Used with permission.
Library Journal Life after life after life: Atkinson's telling title suggests not some glorious afterworld but the structure of this remarkable novel, about an English girl born in February, 1910. In fact, Ursula is stillborn in an opening chapter but emerges a lusty babe in the next; Whitbread Award winner Atkinson (Behind the Scenes at the Museum) then hopscotches through time, circling back to offer alternate versions of Ursula's life. Did Ursula endure an unwanted pregnancy, see her brother die of influenza, enter into a sour marriage-or not? Did she survive World War II Britain or instead marry a German and face down Hitler, a gun in her hand? One brief passage shows Ursula musing with a doctor about her fugue states, but Atkinson doesn't waste time belaboring the idea, instead delivering a clear understanding that one life can take different avenues-and what a difference that can make. Atkinson works both large and small, capturing the sweep of history while perfectly rendering the dynamics of Ursula's loving, contentious family: gentle father Hugh, disappointed mother Sylvie, generous sister Pamela, and more. VERDICT Highly recommended. [See Prepub Alert, 10/28/12 and Editors' Picks, LJ 2/15/13, "Editors' Spring Picks."]-Barbara Hoffert, Library Journal (c) Copyright 2013. Library Journals LLC, a wholly owned subsidiary of Media Source, Inc. No redistribution permitted.
(c) Copyright 2010. Library Journals LLC, a wholly owned subsidiary of Media Source, Inc. No redistribution permitted.