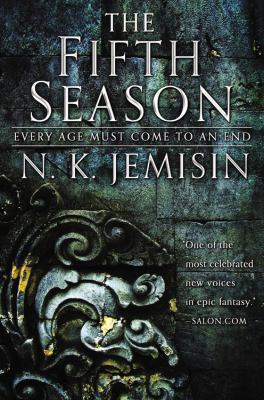 The Fifth Season
by N. K. Jemisin


Library Journal In a world plagued by cataclysmic tectonic activity, the only way to survive is to constantly prepare for the next fifth season. But no one is ready for the scope of the disaster that strikes when the capital city of a continent-wide empire is subsumed in a massive rift that spreads hundreds of miles. Using alternating points of view, Jemisen explores the lives of several characters in the years leading up to the cataclysmic disaster. -VERDICT Multiaward winner Jemisen breaks uncharted ground with this long-awaited title that introduces a fresh world and trilogy, creating a completely realized society inhabited by three varieties of humans and a nonhuman species that lives inside the earth. With Jemisen's record of prestigious literary honors, plus her strong following, this is a must-buy for all speculative fiction collections and an excellent recommendation for fans of Brandon Sanderson's "Mistborn" trilogy.-JM © Copyright 2015. Library Journals LLC, a wholly owned subsidiary of Media Source, Inc. No redistribution permitted.
(c) Copyright Library Journals LLC, a wholly owned subsidiary of Media Source, Inc. No redistribution permitted.
Publishers Weekly Humans struggle to survive on a ruined world in this elegiac, complex, and intriguing story, the first in the Broken Earth series from acclaimed author Jemisin (the Inheritance Trilogy). The Stillness is a quiet and bitter land, sparsely populated by subsistence communities called comms. Essun lived quietly in a comm with her husband and children until her secret got out: she-and her children-are orogenes, those who have the ability to control Earth forces. They can quell or start earthquakes, open veins of magma, and generally cause or rein in geological chaos. Authorities keep a brutal hold on orogenes, controlling everything about their lives, including whom they breed with. Those who escape servitude and seek safety in the comms face expulsion and execution at the hands of the fearful. Soon after Essun's secret is revealed, her husband kills their son, and her daughter goes missing. Essun sets off to find the girl, undertaking a journey that will force her to face unfinished business from her own secret past. Jemisin's graceful prose and gritty setting provide the perfect backdrop for this fascinating tale of determined characters fighting to save a doomed world. Readers hungry for the next installment will also find ample satisfaction in rereading this one. Agent: Lucienne Diver, Knight Agency. (Aug.) © Copyright PWxyz, LLC. All rights reserved.
(c) Copyright PWxyz, LLC. All rights reserved