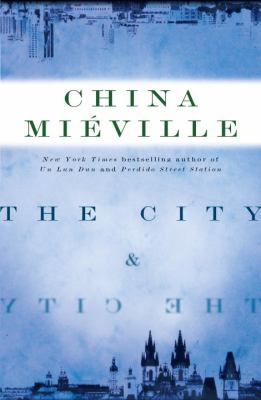 The City and The City
by China Mieville


School Library Journal Adult/High School-A blend of near-future science fiction and police procedural, this novel is a successful example of the hybrid genre so popular of late. In a contemporary time period, two fantastical cities somewhere between Europe and Asia exist, not adjacent to one another, but by literally occupying the same area. Forbidden to acknowledge the existence of one another-a discipline imposed by the shadowy and terrifying entity known as Breach-residents in both cities have honed the ability to "unsee" people, places, and events existing in the other realm. This ticklish balance ruptures when Inspector Tyador Borl of the Extreme Crime Squad must investigate the murder of a foreign archaeological student. Long after the book's satisfying conclusion, astute readers will have much to ponder, such as the facility with which Authority can manipulate and repress a population and the attendant ills that life in such a society inevitably generate. Add in the novel's highly effective cover art and the result is a book that may appeal as much to a young, new-to-Mieville audience as it will to his loyal fans.-Dori DeSpain, formerly at Fairfax County Public Library, VA Copyright 2009 Reed Business Information.
(c) Copyright 2010. Library Journals LLC, a wholly owned subsidiary of Media Source, Inc. No redistribution permitted.
Book list *Starred Review* Fantasy author Mieville (Looking for Jake, 2005) puts his own unique spin on the detective story. Inspector Tyador Borlu, a lonely police detective, is assigned to the murder of a young woman found dumped in a park on the edge of Beszel, an old city, decaying and mostly forgotten, situated in an unspecified area on the southeastern fringes of Europe. But Beszel does not exist alone; it shares much of the same physical space with Ul Qoma. Each city retains a distinct culture and style, and the citizenry of both places has elaborate rules and rituals to avoid the dreaded Breach, which separates the two across space and time. This unique setting becomes one of the most important and well-developed characters in the novel, playing a pivotal role in the mystery when Tyador discovers that his murder case is much more complex than a dumped body, requiring international cooperation with the Ul Qoman authorities. Eschewing the preliminary world-building techniques of many fantasy books, Mieville dumps the reader straight into Tyador's world of crosshatching and unseeing, only gradually developing and explaining his one-of-a kind setting. Suggest to readers who enjoyed Michael Chabon's alternate-history mystery, The Yiddish Policemen's Union (2007), or to fans of the futuristic urban setting in A. L. Martinez's Automatic Detective (2008). An excellent police procedural and a fascinating urban fantasy, this is essential reading for all mystery and fantasy fans.--Moyer, Jessica Copyright 2009 Booklist
From Booklist, Copyright © American Library Association. Used with permission.
Library Journal Mieville (Un Lun Dun; Perdido Street Station) tells vivid stories in the borderlands of literary fantasy, science fiction, and horror, and here he adds noir crime to the mix. Fittingly, his tale is set in the borderlands, creating a mysterious pair of cities somewhere on Europe's eastern edge. Beszel and Ul Qoma share the same ground, but their citizens are not allowed to react to one another, learning to "unsee" the other city and its inhabitants from a young age. Enforcing this division is a mysterious power called Breach. When an archaeology student is found dead, Inspector Tyador Borl gets caught up in a case that forces him to navigate precariously between the cities, perhaps into the sinister worlds that straddle them. It's a fascinating premise. Unfortunately, the cities, protagonist, and case remain stubbornly in the haze. For all genre fiction collections because Mieville is a trailblazer with a dedicated following, but this work is more an existential thought piece than a reading pleasure. [Library marketing.]-Neil Hollands, Williamsburg Regional Lib., VA Copyright 2009 Reed Business Information.
(c) Copyright 2010. Library Journals LLC, a wholly owned subsidiary of Media Source, Inc. No redistribution permitted.
Publishers Weekly Better known for New Weird fantasies (Perdido Street Station, etc.), bestseller Mieville offers an outstanding take on police procedurals with this barely speculative novel. Twin southern European cities Beszel and Ul Qoma coexist in the same physical location, separated by their citizens' determination to see only one city at a time. Inspector Tyador Borl of the Extreme Crime Squad roams through the intertwined but separate cultures as he investigates the murder of Mahalia Geary, who believed that a third city, Orciny, hides in the blind spots between Beszel and Ul Qoma. As Mahalia's friends disappear and revolution brews, Tyador is forced to consider the idea that someone in unseen Orciny is manipulating the other cities. Through this exaggerated metaphor of segregation, Mieville skillfully examines the illusions people embrace to preserve their preferred social realities. (June) Copyright 2009 Reed Business Information.
(c) Copyright PWxyz, LLC. All rights reserved