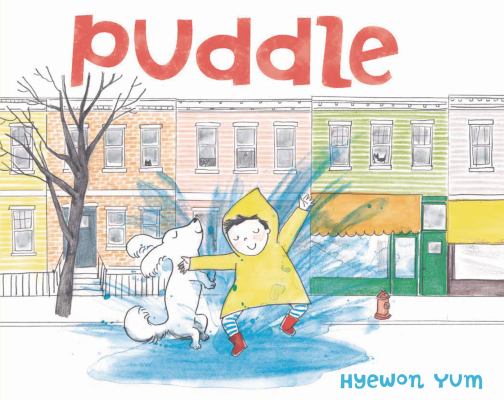 Puddle
by Hyewon Yum


Publishers Weekly It's raining, it's pouring, it's boring. "There's nothing to do. Nothing!" gripes Yum's unnamed hero. The boy sprawls on a chair as if he's being martyred by precipitation, and he refuses even to consider coloring to pass the time. But when his mother picks up his crayons and pencils and draws the boy's blue umbrella, he's intrigued. "Can you draw me holding it?" he asks her, then urges her to draw a story about a family walk in the rain. The picture quickly becomes a collaboration, with the boy adding streaks of blue crayon for rain ("I'm really good at this") and a gloriously smudgy puddle for splashing. Soon he realizes that an actual rainy day walk-culminating with real puddle-splashing-is exactly what he needs. "It's just a picture," mother and son tell one another at various points, but Yum's (This Is Our House) renderings-done in a rough, childlike style that fits the story to a T-and all-dialogue text prove that there's powerful magic in every act of representation, no matter how novice the artist. Ages 4-7. Agent: Sean McCarthy, Sean McCarthy Literary Agency. (Mar.) © Copyright PWxyz, LLC. All rights reserved.
(c) Copyright PWxyz, LLC. All rights reserved
Book list There are tons of reasons not to like rainy days you can't go to the playground; you can't play soccer or ride your bike; you can't do anything. That's according to a little boy stuck inside for the day. But being indoors doesn't mean boredom is guaranteed. A mother liberates herself and her son (along with their dog, Billy) from a blah day inside by drawing pictures of them outside in the rain. The boy helps his mom illustrate their story, thereby experiencing a rainy day outside and discovering that raindrops and puddles aren't so bad. Refreshing yellows and reds brighten the chilly blues and whites of the page and warm the reader's feelings toward activities like puddle jumping. The boy and his pet gradually shift their attitude toward inclement weather, going from aloof lounging and annoyance to rapt attention on Mom's drawings (with the exception of the cat, who remains unconcerned). Though the story takes place in one room, Yum's expressive illustrations transport readers to a whole wide world outside.--Dittmeier, Amy Copyright 2016 Booklist
From Booklist, Copyright © American Library Association. Used with permission.