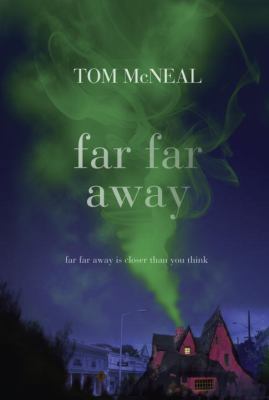 Far far away
by Tom McNeal


School Library Journal Gr 6 Up-McNeal spins a tale fluctuating from whimsy to macabre in such a beguiling voice that-like Hansel and Gretel-readers won't realize they're enmeshed in his dangerous seduction until it's too late. The book is narrated by the ghost of Jacob Grimm (yes, that one), unhappily caught in the Zwischenraum (a plane of existence between life and death). For now, he is the nearly constant companion of Jeremy Johnson Johnson, who can hear Grimm's voice when he presses a finger to his right temple. He's also heard the voices of his dying mother and grandfather. This ability has made him an object of derision for many in his little town, though-thrillingly-not to the electrifyingly vibrant Ginger Boultinghouse, who is more than happy to lure Jeremy into more trouble than he's ever encountered. Grimm tries to be the voice of reason-to keep Jeremy safe-but few things are as they initially seem in the town of Never Better and it's difficult to know the difference between hazard and opportunity. It's also hard to know the good folk from the bad and that's because so many of McNeal's characters are complex and have conflicted motivations. When is a bully not so bad? Where's the line between justifiable grief and parental neglect? Can an older man love a teenager in a way that's not creepy? How do stories nourish us? At what point do they stifle us? All these questions, and many more, are raised in this folklore-inflected, adventurous, romantic fantasy. Whether readers connect more deeply with the suspense, the magical elements, or the gloriously improbable love story, they will come away with a lingering taste of enchantment.-Miriam Lang Budin, Chappaqua Library, NY (c) Copyright 2013. Library Journals LLC, a wholly owned subsidiary of Media Source, Inc. No redistribution permitted.
(c) Copyright Library Journals LLC, a wholly owned subsidiary of Media Source, Inc. No redistribution permitted.
Book list *Starred Review* So it begins: What follows is the strange and fateful tale of a boy, a girl, and a ghost. Ghostly Jacob Grimm, of the famous Brothers, narrates this tale of Jeremy and Ginger and their near-tragic encounter with town baker Sten Blix, whose long-held grudges figure in the disappearance of several village children. Unappreciated as a youngster, Blix has elevated revenge to a sweet art, and he holds Jeremy, Ginger, and an additional victim, Frank Bailey, in a hidden dungeon under the bakery, while Jacob desperately tries to tell parents and friends of the predicament. If he fails, the three may become grist in the baker's next batch of Prince Cakes. Reminiscent of Hansel and Gretel and rife with allusions to the Brothers Grimm tales, this is a masterful story of outcasts, the power of faith, and the triumph of good over evil. McNeal's deft touch extends to the characterizations, where the ritual speech of traditional tales (Listen, if you will) establishes Jacob's phantasmagoric presence amid the modernist American West. There are moments of horror (as there were in the Brothers Grimm original tales), but they are accomplished through the power of suggestion. Details aplenty about Jacob and his famous sibling make this a fiction connector to both fairy tales and Grimm biographies, too.--Welch, Cindy Copyright 2010 Booklist
From Booklist, Copyright © American Library Association. Used with permission.