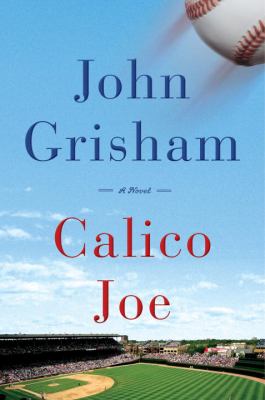 Calico Joe
by John Grisham


Library Journal Growing up in Arkansas, Grisham dreamed of being a professional baseball player. Now, in his 28th novel, this superb storyteller takes his turn at bat in this memorable story of forgiveness and redemption. In the 1973 season, Warren Tracey, an over-the-hill pitcher from the New York Mets, tangles with Joe Castle, a hot new Chicago Cubs rookie from Calico Rock, AR-halting both their careers. Before their confrontation, Joe had demonstrated his stunning skills and earned the admiration of fans nationwide, including Warren's young son. As a little leaguer, Paul Tracey had idolized Joe and tolerated his own philandering father. Thirty years later, Paul challenges Warren, now cancer-ridden, to seek Joe's forgiveness. Verdict Incorporating the jargon and depicting the rituals of America's favorite pastime, Grisham has written a classic story filled with human emotion. General readers, together with Grisham fans, will appreciate this touching tale.-Jerry P. Miller., Cambridge, MA (c) Copyright 2012. Library Journals LLC, a wholly owned subsidiary of Media Source, Inc. No redistribution permitted.
(c) Copyright 2010. Library Journals LLC, a wholly owned subsidiary of Media Source, Inc. No redistribution permitted.
Book list A major change of pace from megaseller Grisham. Joe Castle, from Calico Rock, Arkansas, took the baseball world by storm in 1973. He homered in his first three major league at bats for the Chicago Cubs. Two months later, he was still hitting more than .500. Then, in his next at bat after homering off Warren Tracey, a surly journeyman pitcher, Tracey drilled a fastball at Joe's head. The damage was severe. Joe's right eye socket was destroyed, and he never played again, retreating back to Calico Rock, far from the public eye. Tracey soon retired from the Mets and drifted into booze and a succession of ex-wives. Thirty years later, Tracey's estranged son, Paul, on learning of his father's impending death from cancer, tries to bring Warren Tracey and Joe Castle together. His motive? Closure. But perhaps, more than anything, Paul needs to see his father do one decent thing in a life filled with regrets and bad behavior. Grisham, of course, is known for his courtroom thrillers but has long harbored a desire to write a baseball novel. Inspired by the real-life story of Yankee pitcher Carl Mays, whose fastball struck and killed Cleveland shortstop Roy Chapman in 1920, Grisham tells his own version of a hit-batsman tragedy, but Paul, the narrator, is curiously deadpan given the highly charged emotions at play. The end result is a solid baseball story but one that never delivers the emotional payoff readers will expect. HIGH-DEMAND BACKSTORY: The name Grisham and a 1,000,000-copy first printing say it all.--Lukowsky, Wes Copyright 2010 Booklist
From Booklist, Copyright © American Library Association. Used with permission.