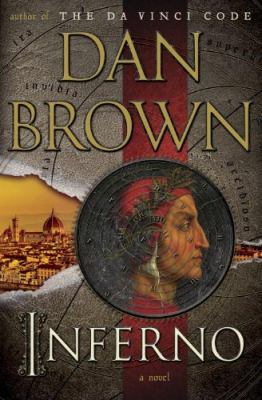 Inferno
by Dan Brown


Library Journal Harvard symbologist Robert Langdon (Angels and Demons; The Da Vinci Code; The Lost Symbol) returns in another thriller that invokes history, architecture, science, and conspiracy. Langdon wakes up in a hospital bed with no memory of the last two days. He's surprised to find himself in Florence, Italy, and even more shocked to discover that someone is out to kill him for something he knows. The doctor treating him helps him to escape from an assassin, and the chase is on. Can Langdon follow clues that tie in to Dante's epic masterpiece, The Divine Comedy, and stop a plot destined to change the world forever? Verdict Brown delivers an amazing and intense read that arguably is the best Langdon thriller to date. Everything a reader expects from Brown is here, plus a well-written thriller with jaw-dropping twists as well. A high demand for the works of Dante plus a surge in Italian tourism is sure to follow. The king of the historical thriller is back, and this book will easily dominate the best sellers lists for quite some time. [See Prepub Alert, 1/15/13.]-Jeff Ayers, Seattle P.L. (c) Copyright 2013. Library Journals LLC, a wholly owned subsidiary of Media Source, Inc. No redistribution permitted.
(c) Copyright Library Journals LLC, a wholly owned subsidiary of Media Source, Inc. No redistribution permitted.
Book list That Robert Langdon. He goes through more machinations in 72 hours than a phalanx of folk would in several lifetimes. This time out, the professor wakes up in a Florence hospital unable to remember the last several days. A bullet has grazed his head, and some bad people are after him, but with the help of the lovely Dr. Sienna Brooks, he's able to escape and escape and escape, as he slowly comprehends that a plague is quite deliberately about to be released, and it's his job to figure out the puzzles and symbols that lead to its location. All of Brown's books have a big idea underpinning them the family of Jesus, freemasonry and here one of them is Dante's Inferno, a theme that will probably resonate more with readers familiar with the work, though many pages are spent explaining the man, his muse, and the influences that shaped the epic poem. The other theme sharing center stage concerns population control and humanity's determination to be fruitful and multiply itself into oblivion. Is it a worthwhile endeavor to cull the human herd in order to save it? In posing this and other troubling questions, Brown weans himself away from the guidebook atmosphere that permeates the story, as Langdon and Brooks race from Florence to Venice to Istanbul, and asks readers to think about their own answers to the overpopulation dilemma. Fans will once more enjoy the through line of the Langdon formula the race to find a find an iconic object at the corner of deadly thrills and plot twists. The negatives are here, too: paper-thin characters and windy descriptions. But for those hungry for more Brown, this has some meat on its bones.--Cooper, Ilene Copyright 2010 Booklist
From Booklist, Copyright © American Library Association. Used with permission.