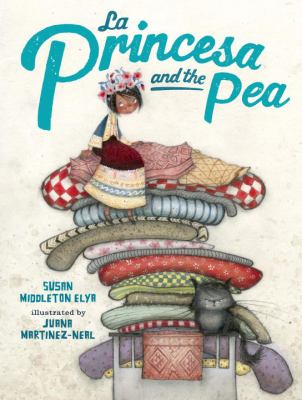 La Princesa and the Pea
by Susan Middleton Elya


School Library Journal PreS-Gr 2-The traditional Hans Christian Andersen tale gets a makeover in this modern version with a twist. In her signature style of stories peppered with a liberal dose of Spanish and humor, Elya relates the account of a prince who wants to marry and his mother, the queen, who takes charge of vetting the possible candidates. In rhyming text, the author describes the lonely prince. Then one day "came a maiden, en route to her castle./She winked at the prince, who fell for her fast./No matter what Mom does, I'll marry this lass!" The endearing and playful illustrations set the story in Peru. The Spanish words sprinkled throughout the text are in a different color and font, and kids will easily understand them through the context. (Those in need of additional help will appreciate the glossary with definitions and pronunciations.) And the pea under the mattresses test? Let's just say that the prince makes sure his chosen one passes with flying colors. VERDICT This engaging read-aloud is a fresh reimagining of a classic. A must for all libraries.-Lucia Acosta, Children's Literature Specialist, Princeton, NJ © Copyright 2017. Library Journals LLC, a wholly owned subsidiary of Media Source, Inc. No redistribution permitted.
(c) Copyright Library Journals LLC, a wholly owned subsidiary of Media Source, Inc. No redistribution permitted.
Book list In this bilingual twist on a classic fairy tale, the mother of a young prince does all she can to make sure that no maiden who is unworthy will win the heart of her son. The prince is very lonely and longs to find his princess, and when a girl comes along looking for a place to rest while on her journey home, the prince instantly falls in love. His mama searches through the garden for an elegant pea that is sure to determine whether this girl is truly the one. When the girl rises after a restless and painful night, the prince rejoices, secretly glad that like his mama he, too, had a trick up his sleeve. Martinez-Neal's illustrations, featuring stylishly exaggerated figures rendered in warm tones and delicate lines, are inspired by the textile designs of the indigenous people of Peru. With eye-catching details on every page, this book is sure to capture the imaginations of young readers. Spanish words are sprinkled throughout, and clever rhymes make this a book to enjoy more than once.--Paz, Selenia Copyright 2017 Booklist
From Booklist, Copyright © American Library Association. Used with permission.