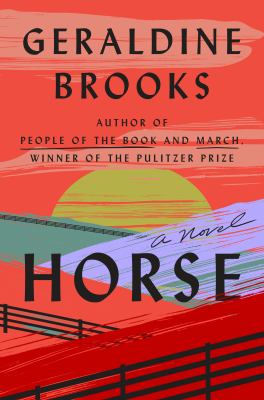 Horse
by Geraldine Brooks


Kirkus A long-lost painting sets in motion a plot intertwining the odyssey of a famed 19th-century thoroughbred and his trainer with the 21st-century rediscovery of the horse's portrait. In 2019, Nigerian American Georgetown graduate student Theo plucks a dingy canvas from a neighbor's trash and gets an assignment from Smithsonian magazine to write about it. That puts him in touch with Jess, the Smithsonian's "expert in skulls and bones," who happens to be examining the same horse's skeleton, which is in the museum's collection. (Theo and Jess first meet when she sees him unlocking an expensive bike identical to hers and implies he's trying to steal it—before he points hers out further down the same rack.) The horse is Lexington, "the greatest racing stallion in American turf history," nurtured and trained from birth by Jarret, an enslaved man who negotiates with this extraordinary horse the treacherous political and racial landscape of Kentucky before and during the Civil War. Brooks, a White writer, risks criticism for appropriation by telling portions of these alternating storylines from Jarret's and Theo's points of view in addition to those of Jess and several other White characters. She demonstrates imaginative empathy with both men and provides some sardonic correctives to White cluelessness, as when Theo takes Jess' clumsy apology—"I was traumatized by my appalling behavior"—and thinks, "Typical….He'd been accused, yet she was traumatized." Jarret is similarly but much more covertly irked by well-meaning White people patronizing him; Brooks skillfully uses their paired stories to demonstrate how the poison of racism lingers. Contemporary parallels are unmistakable when a Union officer angrily describes his Confederate prisoners as "lost to a narrative untethered to anything he recognized as true.…Their fabulous notions of what evils the Federal government intended for them should their cause fail…was ingrained so deep, beyond the reach of reasonable dialogue or evidence." The 21st-century chapters' shocking denouement drives home Brooks' point that too much remains the same for Black people in America, a grim conclusion only slightly mitigated by a happier ending for Jarret. Strong storytelling in service of a stinging moral message. Copyright © Kirkus Reviews, used with permission.
Copyright © Kirkus Reviews, used with permission.
Book list With exceptional characterizations, Pulitzer Prize–winner Brooks (The Secret Chord, 2015) tells an emotionally impactful tale centering on the life and legacy of Lexington, a bay colt who became a racing champion in mid-nineteenth-century America. Present at the horse's birth is Jarret, an enslaved groom on Dr. Elisha Warfield's vast Kentucky farm, and man and horse develop an enduring bond. Jarret's nuanced conversations with traveling equestrian artist Thomas Scott are mutually enlightening. Through Jarret and his father, a free Black man and expert horse trainer, readers encounter a wide range of racial injustices. This perennially and tragically relevant theme extends into the twenty-first century via Theo, a Nigerian American PhD art student. His path intersects with Jess, an Australian-born scientist at the Smithsonian, after Theo saves an old equestrian portrait discarded by his neighbor. Among the most structurally complex of all Brooks' acclaimed literary historical novels, the narrative adroitly interlaces multiple eras and perspectives, including that of 1950s New York gallery owner Martha Jackson, who appears midway through. From rural Kentucky to multicultural New Orleans, Brooks' settings are pitch-perfect, and the story brings to life the important roles fillled by Black horsemen in America's past. Brooks also showcases the magnificent beauty and competitive spirit of Lexington himself.HIGH-DEMAND BACKSTORY: Best-selling and highly regarded Brooks is always a draw, but this many-faceted story of a champion racehorse, art, and hidden Black history will attract even greater interest.
From Booklist, Copyright © American Library Association. Used with permission.
Library Journal In this powerful story from the Pulitzer Prize-winning Brooks, an enslaved groom named Jarrett leads the bay foal he's bonded with to record-shattering racing victories across the 1850s South. During the Civil War, the two meet up dangerously with an itinerant artist who's won fame with his many paintings of the stunning racehorse. A gallery owner in 1950s New York becomes fascinated with the paintings, but it's not until 2019 that a Nigerian American art historian uncovers the true story of the horse and groom and links up with a Smithsonian scientist who's studying the horse's bones to learn the secret of its extraordinary endurance. Based on the true story of a racehorse named Lexington and sure to attract a wide range of readers.
(c) Copyright Library Journals LLC, a wholly owned subsidiary of Media Source, Inc. No redistribution permitted.
Publishers Weekly Pulitzer winner Brooks returns after The Secret Chord with a fascinating saga based on the true story of a famous 19th-century racehorse. In 2019, Theo Northam, a Black graduate student in Washington, D.C., finds a discarded equestrian painting that he decides to research for a Smithsonian magazine article. Meanwhile, Jess, a bone specialist at the Smithsonian, gets a call about an old horse skeleton that's been stored in the museum's attic. Jess and Theo end up meeting, but first Brooks takes the story to 1850s Lexington, Ky., where Jarret Lewis, an enslaved boy, is the groom for a promising colt that his father, Harry, a freedman, has trained. But then the horse, Lexington, is sold and the new buyer sends him along with Jarret to a Mississippi plantation with ruinous consequences. In 1853, Lexington and Jarret end up in New Orleans, where the horse thrills the racing world, and Jarret hopes to buy his freedom, while back in contemporary D.C., a romance blossoms between Jess and Theo. While Brooks's multiple narratives and strong character development captivate, and she soars with the story of Jarret, a late plot twist in the D.C. thread dampens the ending a bit. Despite a bit of flagging in the home stretch, this wins by a nose. Agent: Kristine Dahl, ICM. (June)
(c) Copyright PWxyz, LLC. All rights reserved
Library Journal Pulitzer Prize winner Brooks writes historical fiction (People of the Book; March), but she also writes about our endless fascination with, and abuse of, power. Here, power is literally embodied in Lexington, one of the most successful race horses in history and around whom this novel is centered. Moving across three centuries, the story is told through Jarret, the horse's enslaved handler in the late 1850s; Martha, a gallery owner specializing in horse paintings in the 1950s; Jess, an osteologist interested in the horse's skeleton; and Theo, a budding art historian who comes to possess a painting of the horse in 2019. Brooks illuminates Lexington's illustrious racing history while also detailing the profit reaped from the horse's abilities, likeness, and bones. This history is paralleled with the historical erasure of Jarrett's contributions to the horse's prowess and success. Once again, Brooks probes our understanding of history to reveal the power structures that create both the facts and the fiction. VERDICT Brooks has penned a clever and richly detailed novel about how we commodify, commemorate, and quantify winning in the United States, all through the lens of horse racing. Highly recommended.—Joshua Finnell
(c) Copyright Library Journals LLC, a wholly owned subsidiary of Media Source, Inc. No redistribution permitted.