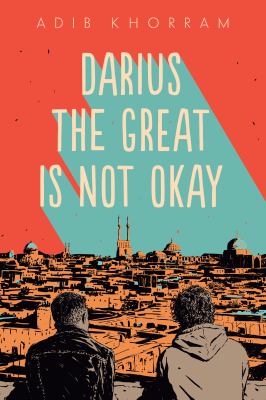 Darius the Great is Not Okay
by Khorram, Adib


Publishers Weekly First-time author Khorram's coming-of-age novel brings to life the sights, sounds, smells, and tastes of a culture steeped in tradition. After learning that her Iranian father is ailing, high school sophomore Darius's mother decides to take the family to visit her father and relatives in Iran. Suffering from chronic depression and bullied at school in America, Darius isn't sure how he'll fare in a country he's never seen. It doesn't take him long to adjust as people welcome him with open arms, however, especially after he meets Sohrab, his grandparents' teenaged neighbor, who invites him to play soccer and quickly becomes Darius's first real friend ever. While the book doesn't sugarcoat problems in the country (unjust imprisonment and an outdated view of mental illness are mentioned), it mainly stays focused on the positive-Iran's impressive landscape and mouthwatering food, the warmth of its people-as it shows how a boy who feels like an outcast at home finds himself and true friendship overseas. Ages 12-up. Agent: Molly O'Neill, Waxman Leavell. (Aug.) © Copyright PWxyz, LLC. All rights reserved.
(c) Copyright PWxyz, LLC. All rights reserved
School Library Journal Gr 8 Up-Darius is a bullied American teenager dealing with numerous stigmas. His mom is Persian and his "‹bermensch" dad is white. He is overweight. He takes medication for depression. He is a devotee of artisanal tea, Star Trek (all seasons), and Tolkien. And there is an unspoken awareness that Darius is gay. He is certain that he is a constant disappointment to his father who also takes antidepressants, which they both consider a weakness. When his family travels to Iran to see his mother's parents because his grandfather (Babou) is dying, Darius experiences shifting perceptions about the country, his extended family, and himself. Debut author Khorram presents meticulous descriptions and explanations of food, geography, religion, architecture, and English translations of Farsi for readers unfamiliar with Persian culture through characters' dialogue and Darius's observations. References to Tolkien, Star Trek, and astronomy minutiae, on the other hand, may be unclear for uninitiated readers. Despite the sometimes overly didactic message about the importance of chronic depression treatment, Darius is a well-crafted, awkward but endearing character, and his cross-cultural story will inspire reflection about identity and belonging. VERDICT A strong choice for YA shelves. Give this to fans for Adam Silvera and John Corey Whaley.-Elaine Fultz, Madison Jr. Sr. High School, Middletown, OH © Copyright 2018. Library Journals LLC, a wholly owned subsidiary of Media Source, Inc. No redistribution permitted.
(c) Copyright Library Journals LLC, a wholly owned subsidiary of Media Source, Inc. No redistribution permitted.
Book list Darius Kellner has more than his share of teen troubles to manage: racist bullies, clinical depression, complications with his father, and feeling like a misfit. So he does not expect much when his family travels to Iran to visit his maternal grandparents. Darius is a keen observer of life and very much aware of his emotional mechanisms. He is loving, sensitive, and a connoisseur of tea: steeping, drinking, sharing with family. He views the world through analogies to Star Trek and the Lord of the Rings trilogy in ways that are sometimes endearing and other times cumbersome. The trip to Iran opens new places of tenderness as Darius connects with people, places, and history that feel simultaneously familiar and new. But most significant is his friendship with Sohrab, which is tinged with an intimacy that suggests it is something more than platonic. This is a refreshing bildungsroman and an admirable debut novel that will leave readers wanting more. Hand to readers of Sara Farizan's Tell Me Again How a Crush Should Feel (2014) and soul-searching teens.--Amina Chaudhri Copyright 2018 Booklist
From Booklist, Copyright © American Library Association. Used with permission.