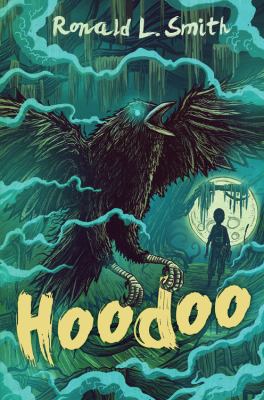 Hoodoo
by Ronald L. Smith


Book list Smith's debut novel introduces readers to Hoodoo, a 12-year-old African American boy living in Alabama in the 1930s. Hoodoo got his name because of the heart-shaped birthmark under his eye, believed to be a mark of his family's talent at folk magic. Unfortunately, Hoodoo is incapable of casting a spell. But that doesn't stop him from being drawn into the supernatural world of talking crows, traveling souls, and the Stranger, who comes into town looking for him specifically. He learns that the Stranger's interest has to do with an inextricable link between Hoodoo and his late father, a link that extends beyond his father's grave. Hoodoo's first-person narrative, which flows beautifully, has an appealing natural cadence, punctuated with the tagline if you didn't know whenever he describes something that might be unfamiliar to the reader. Through his protagonist, Smith demonstrates an eye for detail and a knack for evocative imagery as well as for telling a riveting story with a dollop of southern gothic appeal.--Scanlon, Donna Copyright 2015 Booklist
From Booklist, Copyright © American Library Association. Used with permission.
School Library Journal Gr 5-7-"When I got born, Mama Frances took one look at me and said, `That child is marked. He got hoodoo in him.' That's how I got my name." But, for all that his dead daddy was known as a powerful mojo man, at age 12, Hoodoo Hatcher is the only one of his family who can't do any kind of conjuring or even cast a simple spell. Mama Frances assures him that his time will come, but Hoodoo worries that his grandmamma is just trying to make him feel better. Then the Stranger comes to town-dark-cloaked, red-eyed, and cold-and fearful things begin to happen: swarms of flies, screams in the distance, and corpses in the graveyard dug up with all their hands chopped off. "I saw your daddy, boy. He owes me a debt and I come to collect.... Mandagore. The Hand That Did The Deed," says the Stranger. Hoodoo discovers an old folk magic spell book, and learns what the demonic visitor is seeking-not "Mandagore" after all but "Main de Gloire." The Stranger wants the secret of the Hand of Glory, left hand of a man hanged for murder, with which an evil magician can call and control the dead. When Mama Frances at last tells Hoodoo the tale of his father's terrible death, the boy realizes that it is his father's hand that the Stranger wants. Worse yet, the old curse is reaching out to Hoodoo himself as he notices that his own left hand is growing unaccountably strong. For the first time, he experiences the tempting thrill of occult power-and knows that the Stranger wants his soul as well as his father's. But can Hoodoo find the strength-and the courage-to defy the Devil himself? The chilling supernatural Southern Gothic plot action is enhanced by atmospheric description of rural life in Depression-era Alabama. There are dark hints of racial tensions and the hardships of poverty, balanced by strong family and faith relationships. Readers will particularly enjoy Hoodoo's authentic and engaging narrative voice. The author takes some liberties with historical details and with the obscure but very real folk magic texts that Hoodoo uses, although few readers in the intended audience will be aware of it. VERDICT Reminiscent of the adult horror fiction of the late Manly Wade Wellman, this debut novel will appeal to thoughtful middle grade fans of the supernatural.-Elaine E. Knight, formerly at Lincoln Elementary Schools, IL © Copyright 2015. Library Journals LLC, a wholly owned subsidiary of Media Source, Inc. No redistribution permitted.
(c) Copyright Library Journals LLC, a wholly owned subsidiary of Media Source, Inc. No redistribution permitted.