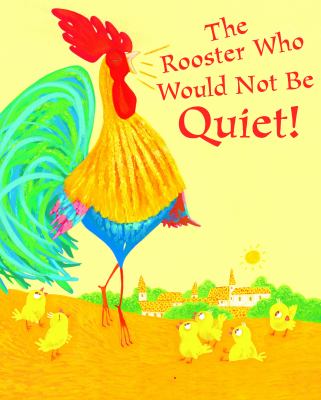 The Rooster Who Would Not Be Quiet!
by Carmen Agra Deedy


Book list In the noisy village of La Paz, a cacophony of baying dogs, crooning mothers, humming engines, musicians, and singers make it hard to hear, hard to sleep, and even hard to think! So Mayor Don Pepe decrees: No Loud Singing in Public, Por Favor. Soon his restrictive laws cause the town to become silent as a tomb. Enter a cocksure rooster with a grandiose blue-and-green tail and an oversize coxcomb, who sings, Kee-kee-ree-KEE! A frustrated Don Pepe throws him in a cage and threatens to kill him, but the rooster refuses to stop singing, encouraging the townspeople to follow suit and drive the disgruntled mayor out of town. Yelchin's colorful and humorous illustrations in mixed media explore folklore traditions replete with quirky whimsy: an oversize Don Pepe tears his hair and gnashes his teeth in frustration at the expressive villagers. Storyteller Deedy's allegorical message reminds us that voices cannot be silenced, and that courageous people who crow out their truth give all of us the freedom to sing.--Gepson, Lolly Copyright 2017 Booklist
From Booklist, Copyright © American Library Association. Used with permission.
School Library Journal K-Gr 2-In the village of La Paz, everyone is constantly singing. So much happy noise eventually causes the townspeople to wish for a little peace and quiet. So they throw out the old mayor and bring in Don Pepe, who guarantees change. In a classic "be careful what you wish for" scenario, Don Pepe delivers on his word and successfully makes singing illegal. For seven years the village remains quiet, until along comes a saucy gallito, who happily crows aloud every morning. Angered, Don Pepe makes it his personal mission to silence the rooster once and for all. He takes away the rooster's food, family, and sunlight and even threatens death, but the gallito still crows, "Kee-kee-ree-KEE!" and eventually inspires the rest of La Paz to join him in his triumphant singing. Don Pepe leaves town, and the villagers return to their loud, joyful ways. Told with a storyteller's flair, the narrative reads like a folktale, while Yelchin's mixed-media illustrations are vibrant and perfectly suit the text. VERDICT A fun read-aloud for any library, especially ones looking for stories with Hispanic influence.-Jasmine L. Precopio, Fox Chapel Area School District, Pittsburgh © Copyright 2016. Library Journals LLC, a wholly owned subsidiary of Media Source, Inc. No redistribution permitted.
(c) Copyright Library Journals LLC, a wholly owned subsidiary of Media Source, Inc. No redistribution permitted.
Publishers Weekly "Seven very quiet years" after new laws turned the noisy village of La Paz into one as "silent as a tomb," a gallito and his family arrive on the scene. The rooster's crowing enrages the mayor, Don Pepe, who imprisons the rooster in a cage, among other escalating punishments. Deedy (14 Cows for America) uses repeating language to powerful effect, ramping up the stakes while underscoring the gallito's steady determination. "And if you have no more corn?" asks Don Pepe, threatening the rooster with starvation. "I may sing a hungrier song," answers the bird. "But I will still sing." Just when it seems as though the rooster's song will cost him his life, the citizens stage a nonviolent (but very noisy) revolution. Yelchin (Elephant in the Dark) amplifies themes of protest and injustice in vivid mixed-media caricatures that emphasize the rooster's humble nobility in contrast to Don Pepe's sneering autocratic airs. Like the gallito's cries of "kee-kee-ree-kee!" Deedy's message about speaking up and speaking out rings as clearly as a bell. Ages 4-8. Author's agent: Brenda Bowen, Sanford J. Greenburger Associates. Illustrator's agent: Steven Malk, Writers House. (Jan.) © Copyright PWxyz, LLC. All rights reserved.
(c) Copyright PWxyz, LLC. All rights reserved