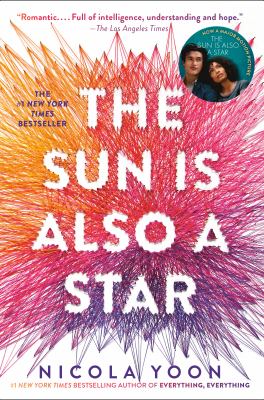 The Sun is Also a Star.
by Yoon, Nicola


Book list *Starred Review* On a summer morning in New York City, Daniel and Natasha wake up as strangers. This is a day that could catapult their lives into entirely new directions that neither of them wants to take. Natasha has only hours left to prevent her family's deportation to Jamaica, after a minor legal infraction jeopardizes their stay in the U.S. Daniel dreads sealing his fate with an alumni interview that will pave his way to a career in medicine, as his Korean family expects. Despite a day packed with Natasha's desperate race against time and a tangled system, and Daniel's difficult tug-of-war between familial pressures and autonomy, love finds a way in, takes hold, and changes them both forever. Yoon's sophomore effort (Everything, Everything, 2015) is carefully plotted and distinctly narrated in Natasha's and Daniel's voices; yet it also allows space for the lives that are swirling around them, from security guards to waitresses to close relatives. It's lyrical and sweeping, full of hope, heartbreak, fate, and free will. It encompasses the cultural specifics of diverse New York City communities and the universal beating of the human heart. Every day like every book begins full of possibility, but this one holds more than others. HIGH-DEMAND BACKSTORY: Yoon's debut became a best-seller, so the publisher is giving this a strong push that includes a national author tour.--Booth, Heather Copyright 2016 Booklist
From Booklist, Copyright © American Library Association. Used with permission.
School Library Journal Gr 8 Up-It is Natasha's last day in New York City, where she has lived for 10 years. Her family, living as undocumented immigrants in a small Brooklyn apartment, are being deported to Jamaica after her father's arrest for drunk driving. Natasha is scouring the city for a chance to stay in the United States legally. She wants the normal teen existence of her peers. Meanwhile, poetic Daniel is on his way to an interview as part of his application process to Yale. He is under great pressure to get in because his parents (who emigrated from South Korea) are adamant that he become a doctor. Events slowly conspire to bring the two leads together. When Daniel and Natasha finally meet, he falls in love immediately and convinces her to join him for the day. They tell their stories in alternating chapters. Additional voices are integrated into the book as characters interact with them. Both relatable and profound, the bittersweet ending conveys a sense of hopefulness that will resonate with teens. VERDICT This wistful love story will be adored by fans of Rainbow Rowell's Eleanor & Park and by those who enjoyed the unique narrative structure of A.S. King's Please Ignore Vera Dietz.-Kristin Anderson, Columbus Metropolitan Library System, OH © Copyright 2016. Library Journals LLC, a wholly owned subsidiary of Media Source, Inc. No redistribution permitted.
(c) Copyright Library Journals LLC, a wholly owned subsidiary of Media Source, Inc. No redistribution permitted.
Publishers Weekly Is it fate or chance that brings people together? This is the question posed in this impressively multilayered tale of a one-day romance featuring practical Natasha, whose family is facing deportation to Jamaica, and Daniel, a first-generation Korean American with a poet's sensibility. The teens' eventful day begins at a New York City record store, where they see someone shoplifting. It's the first of many significant moments that occur as Natasha desperately seeks aid to stay in America and Daniel prepares for a college interview with a Yale alum. Drawn together, separated, and converging again, both teens recognize with startling clarity that they are falling in love. With a keen eye for detail and a deep understanding of every character she introduces, Yoon (Everything, Everything) weaves an intricate web of threads connecting strangers as she delves into the personal histories of her protagonists, as well as the emotions and conflicts of others who cross their paths. A moving and suspenseful portrayal of a fleeting relationship. Ages 12-up. Agent: Sara Shandler and Joelle Hobeika, Alloy Entertainment. (Nov.) © Copyright PWxyz, LLC. All rights reserved.
(c) Copyright PWxyz, LLC. All rights reserved