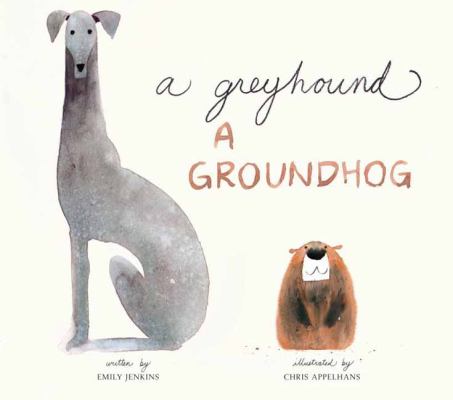 A Greyhound, a Groundhog
by Emily Jenkins


Publishers Weekly Dedicated to picture book icon Ruth Krauss, this elegant pas de deux between two unlikely creatures recalls the sense of uninhibited play that Krauss brought to her own work. "A hound./ A round hound./ A greyhound," Jenkins (Toys Meet Snow) starts, accompanied by Appelhans's watercolor of a curled-up dog, its abstract form captured in a few graceful strokes. "A hog./ A round hog./ A groundhog," she continues, as Appelhans (Sparky!) paints a fat, furry fellow with tiny ears and a shy smile poking its head up aboveground. For "a greyhound, a groundhog,/ a found little/ roundhog," the artist shows the dog approaching the startled rodent, and the two soon make friends: "Around, round hound./ Around, groundhog!" The animals play, the words play, and the faster the creatures circle, scamper, and bound, the more mixed up the words get ("A greyhog,/ a ground dog,/ a hog little hound dog"). Appelhans paints the dog and hog cavorting through an idyllic world ("Astound!" Jenkins exclaims, as they surprise a group of butterflies), and their adventure celebrates the sounds of words, the lure of rhythm, and the joy of movement. Ages 3-7. Illustrator's agent: Judith Hansen, Hansen Literary. (Jan.) © Copyright PWxyz, LLC. All rights reserved.
(c) Copyright PWxyz, LLC. All rights reserved
Book list *Starred Review* With impressive economy of language, Jenkins (Toys Meet Snow, 2015) crafts an energetic, guileless story about the camaraderie between a greyhound and a groundhog. Much as Emily Gravett did in Orange Pear Apple Bear (2007), Jenkins uses a handful of words (round, ground, hog, dog) that she combines, splices, and rearranges on each page. On one spread, the groundhog watches as the greyhound chases its tail in a circle: A groundhog, a greyhound, / a grey little / round hound. This repetition is ideal for young readers and listeners, who will also be swept up by the abundant wordplay. As the two start to run in gleeful, dizzying circles, the text becomes jumbled into nonsensical phrases that pleasurably trip off the tongue. Words arc and swoop over the pages, mimicking the animals' antics, until an awe-inspiring moment stops them in their tracks. This simple story is elevated by Appelhans' watercolor-and-pencil illustrations, which capture the dog and hog's joie de vivre with dynamic streaks and swooshes. In moments of stillness, readers can appreciate the greyhound's graceful lines and dappled, opaline coat, or the coconut-shaped groundhog's cheery grin. This unusual duo will make a heartwarming addition to any read-aloud collection.--Smith, Julia Copyright 2016 Booklist
From Booklist, Copyright © American Library Association. Used with permission.
School Library Journal PreS-Gr 2-In a picture book that demands to be read aloud, a greyhound and a groundhog spin in visual and verbal circles. A limited gray and brown watercolor palette-and an equally limited selection of consonant and vowel sounds-characterize this phonologically clever, fundamentally joyful, and subtly unified picture book. Words, text, and creatures begin in simple lines (the words "A hound. A round hound" are printed in a straight line above a sleeping greyhound on the first page), but all three increasingly start to rotate (the sentence, "The ground and a hog and some grey and a dog" later curves around the page, accompanied by a whirling, tongue-lolling canine). Just as readers grow accustomed to the muted colors and tongue twisters ("Around, round hound/Around, groundhog!"), both begin to change: "around and around" becomes "and astound" as the greyhound-fully facing readers for the first time-notices one butterfly, and then more, come into the visual field, bringing with them the latent pinks, blues, and purples that an observant viewer will have seen hiding in the grays all along. The butterflies soon fly off the edge of the page, but the amazement lingers as the eponymous animals, finally worn out, settle in for a nap. Accompanied by newly restraightened, resimplified text. VERDICT A lovely, lyrical paean to the natural order, with an element of wonder and grace. Perfect for one-on-one and group sharing.-Jill Ratzan, Congregation Kol Emet, Yardley, PA © Copyright 2016. Library Journals LLC, a wholly owned subsidiary of Media Source, Inc. No redistribution permitted.
(c) Copyright Library Journals LLC, a wholly owned subsidiary of Media Source, Inc. No redistribution permitted.