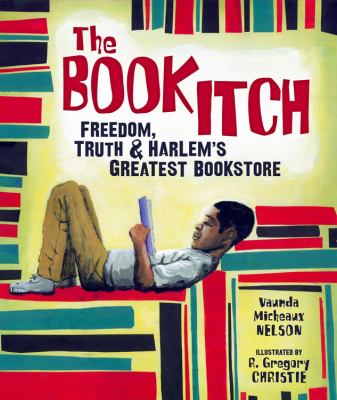 The Book Itch: Freedom, Truth, and Harlems Greatest Bookstore
by Vaunda Micheaux Nelson


School Library Journal Gr 1-4-Taking an imaginative leap into the past, Nelson describes the role of the National Memorial African Bookstore in Harlem, which opened in the 1930s and became a place where all kinds of people came to read, talk, and buy books about African American history. Told from the point of view of Lewis Michaux Jr.-the bookstore owner's son and the author's relative-this title clearly explains what made this bookstore unique. Lewis Michaux Sr. had a passion for sharing books with others, which was reflected in his words "Knowledge is power./You need it every hour./READ A BOOK!" He welcomed his customers and allowed them to stay as long as they wanted to and made a platform available outside the store so that people could speak their minds; among the speakers were Malcolm X and Michaux himself. Christie's bold, colorful paintings help readers envision this landmark bookstore and the surrounding neighborhood. Back matter includes additional information about Lewis Michaux Sr. and an author's note in which Nelson describes her interest in the subject, the sources she used for her research, and her use of perspective. Nelson and Christie's Coretta Scott King Honor No Crystal Stair: A Documentary Novel of the Life and Work of Lewis Michaux, Harlem Bookseller (Carolrhoda, 2012) is aimed at older readers; this picture book explores Michaux for a slightly younger audience. VERDICT A strong endorsement of the power of books and reading, an excellent choice for history and biography collections, and a strong choice for educators emphasizing the importance of community.-Myra Zarnowski, City University of New York © Copyright 2015. Library Journals LLC, a wholly owned subsidiary of Media Source, Inc. No redistribution permitted.
(c) Copyright Library Journals LLC, a wholly owned subsidiary of Media Source, Inc. No redistribution permitted.
Publishers Weekly Nelson and Christie bring the story of Harlem's storied National Memorial African Bookstore to picture book readers in this companion to their 2012 YA collaboration, No Crystal Stair. The shop was opened in the 1930s by Nelson's great-uncle, Lewis Michaux, who "started out with five books... and a mission." Writing in the voice of Michaux's admiring son, Nelson illuminates Lewis's generosity (he invited those who couldn't afford books into his shop to read) and his fervent belief in the power of words and books to change lives. Michaux's love of words comes through in his catchy aphorisms and sales pitches ("Knowledge is power. You need it every hour. Read a book!"), which appear throughout, as well as his nickname for the shop, "The House of Common Sense and Home of Proper Propaganda." Christie's paintings powerfully contrast the idea of the bookstore as a refuge with the tensions of the day, particularly during a section of the book about Michaux's friendship with Malcolm X and his anguish following the activist's assassination. It's an emotive tribute to Michaux's personal and professional legacy. Ages 7-10. Author's agent: Tracey Adams, Adams Literary. (Nov.) © Copyright PWxyz, LLC. All rights reserved.
(c) Copyright PWxyz, LLC. All rights reserved
Book list *Starred Review* This companion to No Crystal Stair (2012) introduces younger readers to Nelson's great-uncle, Lewis Michaux Sr., owner of Harlem's National Memorial African Bookstore. Michaux's young son, Lewis Jr., narrates; he recalls helping his father with the day-to-day operation of the shop; visits from the famous, including Muhammad Ali and Malcolm X; and the devoted community patronage that helped the store thrive for nearly four decades. Nelson highlights Michaux's dedication to his calling (he financed the business with his own money and often slept at the store when customers stayed late) as well as his determination to educate his clientele. She also notes the political climate the store fostered, detailing a missed meeting with Malcolm X on the night he was shot, which probably saved Michaux's life. Christie, who also illustrated the earlier volume, here uses a bold color palette and realistically rendered figures. He incorporates many of Michaux's slogans (Don't get took! Read a book!) into the art, especially on the endpapers and in depictions of the storefront. Appended with generous back matter, including a list of sources, this moving tribute should be a welcome addition to almost any collection.--Weisman, Kay Copyright 2015 Booklist
From Booklist, Copyright © American Library Association. Used with permission.