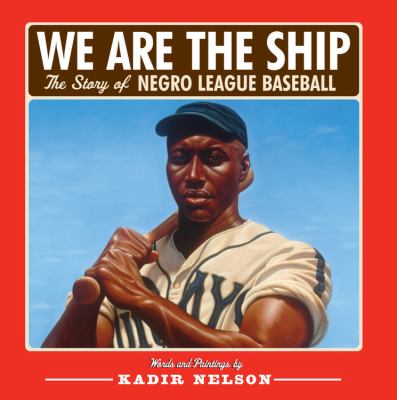 We are the ship : the story of Negro League baseball
by words and paintings by Kadir Nelson ; foreward by Hank Aaron.


Publishers Weekly In his first outing as author as well as illustrator, Nelson (Ellington Was Not a Street) delivers a history of the Negro Leagues in a sumptuous volume that no baseball fan should be without. Using a folksy vernacular, a fictional player gives an insider account of segregated baseball, explaining the aggressive style of play ("Those fellows would bunt and run you to death. Drove pitchers crazy!") and recalling favorite players. Of Satchel Paige, he says, "Even his slow stuff was fast." As illuminating as the text is, Nelson's muscular paintings serve as the true draw. His larger-than-life players have oversized hands, elongated bodies and near-impossible athleticism. Their lined faces suggest the seriousness with which they took their sport and the circumstances under which they were made to play it. A gatefold depicting the first "Colored World Series" is particularly exquisite-a replica ticket opens from the gutter to reveal the entire line-ups of both teams. And while this large, square book (just a shade smaller than a regulation-size base) succeeds as coffee-table art, it soars as a tribute to the individuals, like the legendary Josh Gibson, who was ultimately elected to the National Baseball Hall of Fame without ever playing in the major leagues. As Nelson's narrator says, "We had many Josh Gibsons in the Negro Leagues.... But you never heard about them. It's a shame the world didn't get to see them play." Ages 8-up. (Jan.) Copyright 2008 Reed Business Information.
Copyright © Reed Business Information, a division of Reed Elsevier Inc. All rights reserved.
School Library Journal Gr 3 Up-In this attractive, oversized book, Nelson offers an appreciative tribute to the Negro Leagues. Adopting the perspective and voice of an elderly ballplayer, he offers a readable account that is infused with an air of nostalgic oral history: "Seems like we've been playing baseball for a mighty long time. At least as long as we've been free." With African Americans banned from playing in the major leagues, Rube Foster organized the Negro Leagues in 1920 and grandly proclaimed: "We are the ship; all else the sea." From 1920 through the 1940s, they offered African Americans an opportunity to play ball and earn a decent living when opportunities to do so were scarce. Nine chapters offer an overview of the founding and history of the leagues, the players, style of play, and the league's eventual demise after Jackie Robinson broke major league baseball's color barrier in 1947. Nelson's brilliant, almost iconic paintings vividly complement his account. Starting with the impressive cover painting of a proud, determined Josh Gibson, the artist brings to light the character and inherent dignity of his subjects. Hank Aaron, who started his Hall of Fame career in the Negro Leagues, contributes a heartfelt foreword. This work expands on the excellent overview offered in Carole Boston Weatherford's A Negro League Scrapbook (Boyds Mills, 2005). It is an engaging tribute that should resonate with a wide audience and delight baseball fans of all ages.-Marilyn Taniguchi, Beverly Hills Public Library, CA Copyright 2008 Reed Business Information.
Copyright © Reed Business Information, a division of Reed Elsevier Inc. All rights reserved.
Book list *Starred Review* Award-winning illustrator and first-time author Nelson's history of the Negro Leagues, told from the vantage point of an unnamed narrator, reads like an old-timer regaling his grandchildren with tales of baseball greats Satchel Paige, Josh Gibson, and others who forged the path toward breaking the race barrier before Jackie Robinson made his historic debut. The narrative showcases the pride and comradery of the Negro Leagues, celebrates triumphing on one's own terms and embracing adversity, even as it clearly shows the us and them mentality bred by segregation. If the story is the pitch, though, it's the artwork that blasts the book into the stands. Nelson often works from a straight-on vantage point, as if the players took time out of the action to peer at the viewer from history, eyes leveled and challenging, before turning back to the field of play. With enormous blue skies and jam-packed grandstands backing them, these players look like the giants they are. The stories and artwork are a tribute to the spirit of the Negro Leaguers, who were much more than also-rans and deserve a more prominent place on baseball's history shelves. For students and fans (and those even older than the suggested grade level), this is the book to accomplish just that.--Chipman, Ian Copyright 2008 Booklist
From Booklist, Copyright © American Library Association. Used with permission.