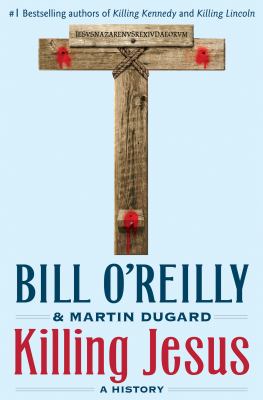 Killing Jesus: A History
by Bill O'Reilly


Kirkus Conservative commentator O'Reilly, working with frequent collaborator Dugard (Killing Kennedy, 2012, etc.), settles on yet another liberal victim of politically motivated killing. Though O'Reilly has protested that Jesus Christ is above politics when the question turns uncomfortably to giving away everything to the poor, he's quite happy to suggest that Jesus was killed because, among other things fiscal, "he interrupted the flow of funds from the Temple to Rome when he flipped over the money changer's tables." It probably didn't help that he proclaimed himself to be the son of God, but, write the authors, it's more that the lineage of Jesus and Annas the bad priest had been bound up for generations, the one hardworking and steadfast, the other a debauched class of bureaucrats who took a cut of the temple action in the form of "taxes extorted from the people of Judea," sending a hefty cut back to the bosses in Rome. Jesus was the original tea party protestor, and never mind all that rendering unto Caesar business (or, for that matter, the Sermon on the Mount). O'Reilly has said that the Holy Spirit directed him to write this book, and we must suppose that that particular tine of the Trinity has it in for the Pharisees, whom religious historians are inclined these days to treat more sympathetically than do the authors. A virtue of the book is that O'Reilly and Dugard employ a broad range of ancient sources; a detriment is that they seem to regard these sources overly credulously and follow them into long asides (including enough of a recap of events to break this book into two: Killing Jesus and Killing Julius Caesar). Otherwise, the book has some novelistic, noirish touches, as if the New Testament had been mashed up with some lost pages of Erle Stanley Gardner. A pleasing read if you're inclined toward the authors' selective views. Otherwise, the four Gospels will do just fine.]] Copyright Kirkus Reviews, used with permission.
Copyright © Kirkus Reviews, used with permission.
Publishers Weekly Bill O'Reilly and Dugard team up again for the third installment in their series on the murders of major cultural and historical icons. This time around, the authors deliver a thorough account of the crucifixion of Jesus Christ by the Romans. With years of broadcasting experience, O'Reilly is the perfect choice to narrate his own work, which he did for the two previous audio editions in the series. O'Reilly's familiarity with the text is clear, and he reads it seamlessly in a powerful voice that captures listener attention. However, at times, his clipped cadence and emphatic reading may wear on listeners. Still, the many fans of these extremely popular audiobooks will likely enjoy his narration and engaging subject matter. A Henry Holt hardcover. (Sept.) (c) Copyright PWxyz, LLC. All rights reserved.
(c) Copyright PWxyz, LLC. All rights reserved