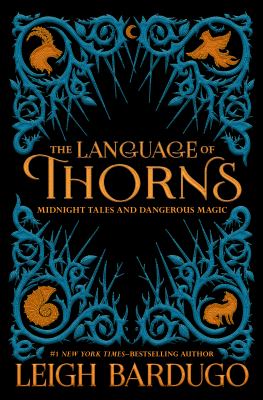 The Language of Thorns: Midnight Tales and Dangerous Magic.
by Bardugo, Leigh


Book list *Starred Review* With this lushly designed and wonderfully rendered offering, Bardugo (Six of Crows, 2015) returns to her Grishaverse with a collection of six stories. In an ending note, Bardugo mentions that her intention was to craft stories her characters might have heard as children, and indeed, no knowledge of her previous works is necessary for enjoying this. The stories are framed as coming from four of her Grishaverse nations three from Ravka and one each from Kerch, Fjerda, and Novyi Zem and flavors and morals change from culture to fictional culture. At their heart, these are tales built from the eeriest elements of fairy tales we know. Though readers may recognize certain components a girl with a wolfskin cape, a house that smells like gingerbread, a mermaid with a silver voice the stories here are entirely, luminously new. Bardugo doesn't twist familiar tales so much as rip them open, and the magic of the collection is enhanced by Kipin's otherworldly artwork: borders that grow ominously longer and more detailed with each page, and culminate in a final double-page spread for each story. Bardugo may be best known for her exemplary world building, but here more than anything, it is her language, lovely and unsettling, that is on display, as well as the accompanying characters who, like the stories themselves, are never what they seem. HIGH-DEMAND BACKSTORY: Bardugo's already got two acclaimed, best-selling Grishaverse series under her belt, and this release in the same world isn't likely to slow the momentum.--Reagan, Maggie Copyright 2017 Booklist
From Booklist, Copyright © American Library Association. Used with permission.