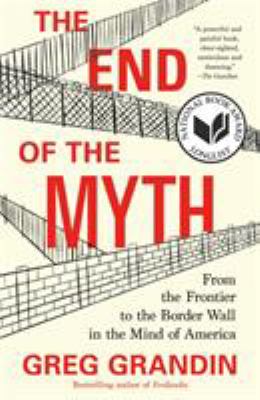 The End of the Myth: From the Frontier to the Border Wall in the Mind of America
by Greg Grandin


Publishers Weekly As New York University historian Grandin observes, President Trump's aim of building a wall along the American border with Mexico breaks the nation's tradition of "fleeing forward" to a supposedly ever-expanding frontier, in the hope of "avoid[ing] a true reckoning with its social problems." He recounts that, in the 1760s, the British Crown's refusal to allow white settlers to move across the Appalachian Mountains became one of the many grievances that sparked the American Revolution. As the U.S. became ever more industrial and capitalist, the supposedly empty lands to the west promised prosperity and freedom for poor white men and expansionary opportunities for the sons of Southern planters, as well as new uses for surplus slaves. In the wake of the Civil War, white Americans could look westward to rejuvenate the nation, and some African-Americans created new lives in all-black farming communities isolated from the threat of racism. To Grandin, Trump's rhetoric about physically closing the southern border symbolizes the end of centuries of belief that ongoing geographical or trade-based expansion will ensure resources are plentiful enough that "everyone can be free"; without that mind-set, he argues, there's nowhere in the U.S. for Americans to go to escape the country's internal problems. This is a deeply polemical work, and should be read as such, but it offers a provocative historical exploration of a contentious current issue. (Mar.) © Copyright PWxyz, LLC. All rights reserved.
(c) Copyright PWxyz, LLC. All rights reserved
Book list From the first English settlements, which clung to the Atlantic coast, inhabitants of the so-called New World felt a strong westward pull. The ensuing American frontier movement, coinciding with territorial acquisition, led to the crystallization of the myth about the west as a freer, more democratic, and more egalitarian region. Historian Grandin (Kissinger's Shadow , 2015) revisits the oft-studied paradoxes of the frontier, then expands the concept to embrace the larger sense of American exceptionalism, which in turn led to a growing role in the world and a different form of American expansionism. This outward view, Grandin argues, had negative consequences, including the failure to confront persistent racial and economic inequality. In this he sees the roots for the current retraction of American engagement and the rise in xenophobia, reactionary populism, and racist nationalism. These forces brought about Trump's election and promise to erect a border wall. Grandin's provocative analysis of the frontier myth and its revocation and his fresh perspective on America in the wake of the 2008 financial crisis and under Trump will engender much debate.--Jay Freeman Copyright 2010 Booklist
From Booklist, Copyright © American Library Association. Used with permission.
Choice Focusing on US domestic and foreign policy, this is Grandin's most "American" book. A true hemispheric and international historian (e.g. Fordlandia, CH, Jun'10, 47-5822), he is well-qualified to place America's frontier mythology in global context. The End of the Myth is both timeless and timely. It traces understandings of the frontier over the full course of US history, and is relevant to current debates over immigration, national identity and security. Grandin describes how Americans viewed and used the frontier as a safety valve relieving internal conflicts; encouraging individuals' rights to migrate helped to avoid recognizing broader social rights. Americans also extended their frontier through expansion beyond US borders; overseas imperialism mirrored domestic conquest of indigenous peoples and exploitation of minorities, with racial prejudice as driving force. Grandin (NYU) precisely documents this bleak view of history. He is less persuasive arguing that the border wall has replaced the frontier as defining myth. Despite heated contemporary rhetoric, it's less universal, more contested than frontier mythology. Nevertheless, his sense that constricted pessimism now substitutes for expansive optimism is acute. The myth has yet to end, but this revealing history stimulates productive debate. Summing Up: Highly recommended. Lower-division undergraduates through faculty; general readers. --Thomas Pyke Johnson, University of Massachusetts, Boston
Copyright American Library Association, used with permission.
Kirkus A history of how America's conception of its borders reflects its changing identity.From the time of the country's founding, the frontier has had mythical significance, symbolizing limitless opportunity and grand ambition. Today, that expansive idea has been replaced with that of an isolating border wall. In an authoritative and compelling analysis, Bancroft Prize winner Grandin (History/New York Univ.; Kissinger's Shadow: The Long Reach of America's Most Controversial Statesman, 2015, etc.) traces America's evolution from the 18th century to the present, as expressed in the metaphorical meaning of frontier. "Where the frontier symbolized perennial rebirth, a culture in springtime," he contends, the wall now reflects "a conspiratorial nihilism, rejecting reason and dreading change." The author locates the mythology of the frontier in an essay by historian Frederick Jackson Turner, who "emancipated the concept of frontier,' unhitched it from its more mundane earthbound meansused to indicate a national border or a military frontand let it float free as an abstraction" that signified "an aspiration." The vast, open West portended political equality and unlimited natural resources, independence and individualism: deeply heldthough idealistic and overly romanticvalues. Democratic values surely did not shape pioneers' treatment of Native Americans, who were slaughtered, displaced, and forcibly segregated; nor of African-Americans, who never shared in the apparently bountiful economic and political rewards of westward expansion. Virulent racism infected the concept of frontier during the presidency of Andrew Jackson, which was characterized by the brutal campaigns of the Indian Removal Act. At a time of fast-paced change, urban growth, and economic volatility, Jackson promised to rein in government intrusion and restore "primitive simplicity and purity." Throughout the 19th century, Grandin amply shows, the nation became involved in wars in Mexico, the Caribbean, Central America, the Pacific, and Southeast Asia that redefined the relationship of frontier to domination, exploitation, and "the panic of power." Trump's border wall, writes the author, "is a monument to disenchantment," resentment, and rage.An engaging and disquieting analysis of America's recurring choice between "a humane ethic of social citizenship" and barbarism. Copyright Kirkus Reviews, used with permission.
Copyright © Kirkus Reviews, used with permission.
Library Journal Throughout American history the frontier has been as much a place as an idea. In a broad and sweeping history stretching from the founding of the nation through the election of Donald Trump, Bancroft Prize winner Grandin (history, New York Univ.; The Empire of Necessity) examines what he calls the "expansionist imperative" of the frontier and what happens when that expansion comes to a halt. The extending boundaries of the United States provided a sense of freedom as land opened for settlement and acted as a safety valve against the increasingly populated and industrialized east. Grandin shows how the frontier deflected outwardly economic and political conflicts at the often violent expense of Native Americans and those who occupied lands that came under new control. After the closure of the frontier, Grandin demonstrates how the term took on an ideological meaning related to social and scientific progress and describes how President Trump's call to build a wall signaled the end of the frontier with its promise of growth and prosperity. -VERDICT Grandin's own ideas are in plain view; however, that should not distance readers interested in American history and the frontier from this insightful book. [See Prepub Alert, 9/10/18.]-Chad E. Statler, Westlake Porter P.L., Westlake, OH © Copyright 2019. Library Journals LLC, a wholly owned subsidiary of Media Source, Inc. No redistribution permitted.
(c) Copyright Library Journals LLC, a wholly owned subsidiary of Media Source, Inc. No redistribution permitted.