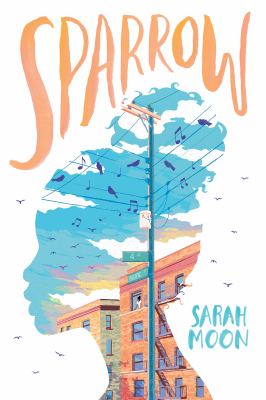 Sparrow
by Moon, Sarah


School Library Journal Gr 7 Up-Fourteen-year-old Sparrow Cooke is believed to have nearly taken her own life on her school's roof. She begins to see a therapist. The teen refuses to open up during her initial sessions with Dr. Katz, but the therapist slowly gets through to Sparrow by introducing her to rock music. However, Sparrow wants to fly away from dealing with issues, such as the death of her favorite school librarian Mrs. Wexler, the loss of her kindergarten best friend Chocolate, popular mean girls like Monique, nearly flunking the eighth grade, her inability to socialize with other kids, and her distance from her mom. Their relationship becomes more strained after a parent-teacher conference with Sparrow's teachers. With Dr. Katz's help, the girl's world is opened up and she gets the opportunity to attend the Gertrude Nix Rock Camp for Girls for the summer. She reluctantly leaves her comfort zone and befriends three unlikely dorm mates. Readers will quickly identify with this protagonist; Sparrow speaks to those who may have difficulty dealing with loss, making friends, and feeling alienated. Librarians will appreciate the nod to the Brooklyn Public Library and the significant role Mrs. Wexler played in Sparrow's life. Moon brilliantly weaves the intersections of race, class, sexual orientation, body image and women's contributions to rock and pop music histories into the narrative. Rock music fans will love the homage to the diverse artists, musicians, and bands within the genre. VERDICT This novel will inspire readers to find their own voices through literary and musical expression. A good choice for most YA collections.-Donald Peebles, Brooklyn Public Library © Copyright 2017. Library Journals LLC, a wholly owned subsidiary of Media Source, Inc. No redistribution permitted.
(c) Copyright Library Journals LLC, a wholly owned subsidiary of Media Source, Inc. No redistribution permitted.
Book list When eighth-grader Sparrow wakes up in the hospital, she can't convince the doctors or her mother that she wasn't attempting suicide on the roof of her school. Once she starts seeing her therapist, she reveals that when she experiences anxiety, she becomes a real sparrow and flies with other birds. Moon's debut novel deftly normalizes therapy and prioritizing one's mental health. In lyrical, minimalist prose that resounds with authenticity, Moon tracks Sparrow's relatable experience with trauma and anxiety. The recurring therapy sessions never come across as manufactured or heavy-handed, nor do they present a singular, correct way to cope with anxiety. After opening up to her therapist, Sparrow takes a brave step and enrolls in a month-long music camp. There she finds unexpected validation and a community of women who build her up. An elegantly told and important novel about learning to cope, live, and be happy with depression and anxiety.--Kling, Caitlin Copyright 2017 Booklist
From Booklist, Copyright © American Library Association. Used with permission.