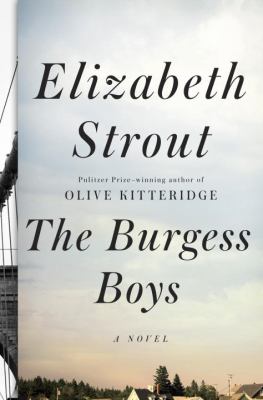 The Burgess Boys
by Elizabeth Strout


Publishers Weekly Strout's follow-up to her 2009 Pulitzer Prize winner Olive Kitteridge links a trio of middle-aged siblings with a group of Somali immigrants in a familiar story about isolation within families and communities. The Burgesses have troubles both public and secret: sour, divorced Susan, who stayed in the family's hometown of Shirley Falls, Maine, with her teenage son Zachary; big-hearted Bob, who feels guilty about their father's fatal car accident; and celebrity defense lawyer Jim, who moved to Brooklyn, N.Y. When Zachary hurls a bloody pig's head into a Somali mosque during Ramadan, fragile connections between siblings, the Somalis, and other Shirley Falls residents are tested. Jim's bullish meddling into Zach's trial hurts rather than helps, and Susan's inability to act without her brothers' advice cements her role as the weakest link (and least interesting character). Finally, when Jim's neurotic wife, Helen, witnesses the depth of her husband's indifference and Bob's ex-wife, Pam, finds the security of her new life in Manhattan tested by nostalgia for Shirley Falls, Zach's fate-and that of the Somalis-becomes an unfortunate afterthought. Strout excels in constructing an intricate web of circuitous family drama, which makes for a powerful story, but the familiarity of the novel's questions and a miraculously disentangled denouement drain the story of depth. Agent: Lisa Bankoff, ICM. (Apr.) (c) Copyright PWxyz, LLC. All rights reserved.
(c) Copyright PWxyz, LLC. All rights reserved
Book list Pulitzer Prize-winning Strout (Olive Kitteridge, 2008) delivers a tightly woven yet seemingly languorous portrayal of a family in longtime disarray. Brothers Jim and Bob Burgess, and sister Susan, are mired in a childhood trauma: when he was four, Bob unwittingly released the parking brake on the family car, which ran over their father and killed him. Originally from small Shirley Falls, Maine, the Burgess brothers have long since fled to vastly disparate lives as New York City attorneys. Egoistic Jim is a famous big shot with a corporate firm. Self-effacing Bob leads a more low-profile career with Legal Aid. High-strung Susan calls them home to fix a family crisis: her son stands accused of a possible hate crime against the small town's improbable Somali population. The siblings' varying responses to the crisis illuminate their sheer differences while also recalling their shared upbringing, forcing them finally to deal with their generally unmentioned, murky family history. Strout's tremendous talent at creating a compelling interest in what seems on the surface to be the barest of actions gives her latest work an almost meditative state, in which the fabric of family, loyalty, and difficult choices is revealed in layer after artful layer. HIGH-DEMAND BACKSTORY: This is the first novel from Strout since her Pulitzer Prize-winning, runaway best-seller, Olive Kitteridge, and anticipation will be high.--Trevelyan, Julie Copyright 2010 Booklist
From Booklist, Copyright © American Library Association. Used with permission.
Library Journal The Burgess siblings are in disarray. Decades earlier, the "boys," Jim and Bob, fled their childhood home of Shirley Falls, ME, to practice law in New York City. Jim is a flashy uptown defense attorney who once won a high-profile celebrity murder case. His meek younger brother, Bob, the ultimate agent of conciliation, is a Legal Aid lawyer. When Bob's twin sister, Susan, calls from Shirley Falls to say her odd teenage son, Zachary, has thrown a pig's head into the mosque of the community's Somali population, an unspeakably offensive violation of the Muslim faith, the brothers scramble to throw down legal cover. Events spin out of control, Zachary's crime goes national, tensions rise, and charges against the boy escalate. Meanwhile, the abrasive relationship among Jim, Bob, and Susan erodes as the shattering moment of their childhood-the death of their father, which was blamed on four-year-old Bob-bubbles to the surface. VERDICT Pulitzer Prize-winner Strout (Olive Kitteridge) takes the reader on a surprising journey of combative filial love and the healing powers of the truth. [See Prepub Alert, 11/12/12.]-Beth Andersen, Ann Arbor Dist. Lib., MI (c) Copyright 2013. Library Journals LLC, a wholly owned subsidiary of Media Source, Inc. No redistribution permitted.
(c) Copyright Library Journals LLC, a wholly owned subsidiary of Media Source, Inc. No redistribution permitted.