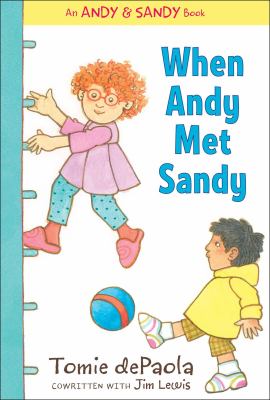 When Andy Met Sandy.
by Tomie dePaola


Book list In this first Andy and Sandy book, geared toward emerging independent readers, Andy arrives at the playground thinking, Today I have the place to myself! Meanwhile, someone new appears Sandy, who's thinking, I've never been to this playground before. Initially, they each play separately (Andy thinks, I bet she has lots of friends, while Sandy wonders, He probably wants to play by himself). But, gradually, they both realize that certain activities, like kicking the ball and swinging, might be more fun together. It's when they spy the seesaw, however, that those thoughts become spoken words, and Sandy asks Andy if he'd like to play. He does, and after enjoying their seesaw ride, they announce simultaneously, We are friends! Spare, uncomplicated text makes this easy to read for little ones starting out on their own, and dePaola's ever-appealing multimedia illustrations subtly reinforce the concept through Andy's and Sandy's varying, sometimes overlapping perspectives. The scenario and supportive, insightful approach will likely resonate with many kids, especially shyer ones, highlighting how reaching out can bring rewards like fun and friendship.--Rosenfeld, Shelle Copyright 2016 Booklist
From Booklist, Copyright © American Library Association. Used with permission.
Publishers Weekly DePaola and Muppets writer Lewis kick off a picture-book series with a sunny story of first friendship, which follows a short, brown-skinned boy named Andy as he gets to know Sandy, a girl with round eyeglasses and a mop of curly red hair. The narrative bounces effortlessly between the children's perspectives. "She is new here," thinks Andy, as Sandy returns his gaze, wondering, "Is this his playground?" Rather than have the two connect instantly, dePaola and Lewis credibly portray each child's tentativeness, while emphasizing what they have in common through parallel phrases. "I bet she has lots of friends," thinks Andy; "I bet he wants to play by himself," muses Sandy. After each child imagines the benefits of playing together, they enjoy a playground activity that requires trust and cooperation: a seesaw. The acrylic and colored-pencil illustrations are classic dePaola, with spare lines, rich colors, and facial expressions that transmit heaps of personality and heart. Short sentences, large type, and the early-reader trim size will give beginning readers' confidence a boost. Simultaneously available: Andy & Sandy's Anything Adventure. Ages 4-8. (Mar.) © Copyright PWxyz, LLC. All rights reserved.
(c) Copyright PWxyz, LLC. All rights reserved