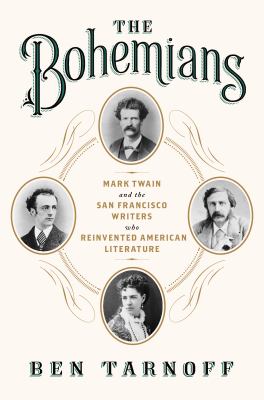 The Bohemians : Mark Twain and the San Francisco writers who reinvented American literature
by Ben Tarnoff


Publishers Weekly Tarnoff's (A Counterfeiter's Paradise) glimmering prose lends grandeur to this account of four writers (Mark Twain, Bret Harte, Charles Warren Stoddard, and Ina Coolbrith) who built "an extraordinary literary scene" in the frontier boom town of 1860s San Francisco. Twain gets the most page time, but is the least delicately handled; Tarnoff reserves his affection for the city itself and its "community of fellow misfits" who, drawing on the unique energy of young California and the language, humor, and mythology of the West, create a "native national literature, liberated from the cultural imperialism of the Old World." While the revolutionary claims are ambitious-Twain's jumping frog of Calaveras County is "the Fort Sumter of American letters," his The Innocents Abroad "a bullet in the heart of America's literary establishment"-Tarnoff thoughtfully situates the rise of "a unique American vernacular" in a confluence of economic, geographic, and historical forces. The impacts of the self-styled Bohemians emerge most clearly in the nostalgic reflections of the chief characters only after they have left San Francisco for parts abroad. Nevertheless, the lively historical detail and loving tone of the interwoven biographies make a highly readable story of this formative time in American letters, starring San Francisco as the city that lifted Twain "to literary greatness." Photos. Agent: Joy Harris, Joy Harris Literary Agency. (Mar.) (c) Copyright PWxyz, LLC. All rights reserved.
(c) Copyright PWxyz, LLC. All rights reserved
Library Journal San Francisco-based Tarnoff (A Counterfeiter's Paradise) chronicles the lives of four American writers-a young Mark Twain falls in with rising literary star Bret Harte, poet Charles Stoddard, and dark poetess Ina Coolbirth-living in the Bay Area from the early 1860s to 1878, a tumultuous time of boom and bust. Together, these "so-called Bohemians" carouse, chase fame, and heavily influence one another's work. Harte eventually takes on a mentorship role, becomes editor of The Overland, but ultimately his self-absorbed personality effectively dissolves the group. In the book's first half, Tarnoff successfully paints a grand portrait of San Francisco, bringing to life the friendship and rivalry of the writers. While the latter half of this title lacks the spirit infused into its beginning, Tarnoff describes admirably Twain's growth following his departure from the West Coast and his courtship of Olivia Langdon. Particular attention is paid to Twain's evolution from story writer to star author, with his publication of The Innocents Abroad in 1869. VERDICT Readers hoping for a work wholly dedicated to the writers living in San Francisco during the period may be somewhat disappointed, as two of the four are not in the city for half of the years covered in the book. Recommended for fans of the authors, particularly Harte and Twain, and readers of American history, biography, and American literary history. [See Prepub Alert, 10/1/13.]-Benjamin Brudner, Curry Coll. Lib., Milton, MA (c) Copyright 2014. Library Journals LLC, a wholly owned subsidiary of Media Source, Inc. No redistribution permitted.
(c) Copyright Library Journals LLC, a wholly owned subsidiary of Media Source, Inc. No redistribution permitted.
Book list California was always crawling with scribblers, Tarnoff remarks, while San Francisco, a promising metropolis far from the horrors of the Civil War, engendered a thriving publishing culture supported by voracious, opinionated readers. Four very different writers who just so happened to share contempt for custom and a taste for satire ended up joining forces as the Bohemians: young, bold Mark Twain; Bret Harte, whose dandyish appearance belied courageous defiance (though he did hide his Jewish heritage); the vulnerable, lovable, and clandestinely gay Charles Warren Stoddard; and independent Ina Coolbrith, who concealed her family's Mormon connection and the horrors of her brief marriage. These creative, hardworking, under-stress literary Bohemians turned two journals, Golden Era and Overland Monthly, into nationally renowned forums for fresh, probing, irreverent writing. Tarnoff energetically portrays this irresistible quartet within a vital historical setting, tracking the controversies they sparked and the struggles they endured, bringing forward an underappreciated facet of American literature. We see Twain in a revealing new light, but most affecting are Tarnoff's insights into Harte's downward spiral, Stoddard's faltering, and persevering Coolbrith's triumph as California's first poet laureate.--Seaman, Donna Copyright 2014 Booklist
From Booklist, Copyright © American Library Association. Used with permission.
Choice Tarnoff has written a tremendously important analysis of the emergence of Mark Twain as a major American humorist. Comments by Twain on Bret Harte's importance are frequently noted but rarely addressed fully by scholars; here, they fit into a compelling mosaic comprising Harte, Twain, and lesser writers C. W. Stoddard, Ina Coolbrith, and Ambrose Bierce. Convincingly demonstrating how this coterie shaped a rough-hewn vulgar comic into a world-class writer of frontier American humor, Tarnoff first establishes the ethical status of San Francisco's frontier traits through Jessie Benton Fremont and Thomas Starr King. He then leaps into the middle of Harte's position as a literary craftsman capable of honing Twain's style. Twain's wife, Livy, and William Dean Howells are given their true place in making Twain the major writer he needed to be to reach a worldwide popular audience; Harte's unlikely relationship with Twain is carefully and convincingly documented to prove the point. Tarnoff melds the Bohemian group into a unified movement representing San Francisco's literary aspirations, and he provides careful documentation--50 pages of thorough source annotations, mostly from the authors themselves. This study of post-Civil War American literature, Mark Twain, and American humor is not to be missed. --David E. E. Sloane, University of New Haven
Copyright American Library Association, used with permission.