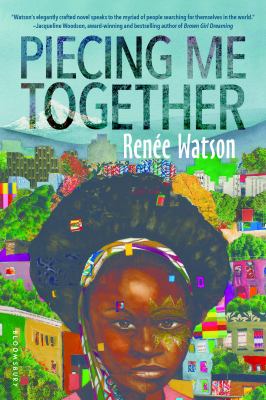 Piecing Me Together
by Watson, Renee


Book list Who owns the river and the line, and the hook, and the worm? wonders Jade, a scholarship kid at Portland's prestigious St. Francis High. Through her first two years of school, she's had to balance her home life in a poor neighborhood with her life at a school populated mostly by rich white kids. When offered a mentorship for at-risk girls (which includes a full college scholarship), she jumps at the opportunity to learn how to be a successful black woman. However, she soon suspects that her mentor, Maxine, may only have a superficial understanding of Jade's challenges and that there may be things Jade can teach her. Watson is unafraid to show Jade as a young woman who is resilient and mature for her age, but also plagued by self-doubt. The book itself is a balancing act between class, race, and social dynamics, with Watson constantly undercutting stereotypes and showing no fear in portraying virtues along with vices. The book's defiance of a single-issue lens will surely inspire discussion and consideration.--Suarez, Reinhardt Copyright 2016 Booklist
From Booklist, Copyright © American Library Association. Used with permission.
School Library Journal Gr 7 Up-High school junior Jade is an "at-risk" student from a rough neighborhood in Portland, OR. She is also a talented collage artist, and she attends an elite private school on scholarship. More than anything, she wants to go on a study abroad week offered at her school to use her Spanish skills. Instead, she is given an invitation to join Woman to Woman, a mentorship program for young women like her: poor and black. Her mentor, Maxine, is from a more privileged background, and Jade doesn't see what she can learn from her. But in spite of her early resistance to Maxine, Jade begins to open up and gain confidence, and, eventually, she is able to express the importance of her family, her community, and her art. The two strong female characters and the ways in which they struggle with and support each other form the center of this tale. Most young people will relate to Jade's search to find her voice and learn to advocate for herself in appropriate ways. The lack of a romantic lead may leave some young teen readers disappointed, but there is a real, refreshing strength in a fully fleshed-out female character whose story is her own. This is a memorable novel that demonstrates that a happy ending doesn't require a romantic subplot. VERDICT This unique and thought-provoking title offers a nuanced meditation on race, privilege, and intersectionality. A first purchase for YA collections.-Kristin Anderson, Columbus Metropolitan Library System, OH © Copyright 2017. Library Journals LLC, a wholly owned subsidiary of Media Source, Inc. No redistribution permitted.
(c) Copyright Library Journals LLC, a wholly owned subsidiary of Media Source, Inc. No redistribution permitted.
Publishers Weekly Jade Butler, an African-American artist-in-the-making, lives with her mother in Portland, Ore., and travels by bus to private school, where she is both grateful for and resentful of the opportunities presented to her. In short, poetic chapters, Jade ponders her family, school, and neighborhood relationships, wondering where she fits in: "How I am someone's answered prayer but also someone's deferred dream." Watson (This Side of Home) weaves collage imagery throughout the story as Jade ruminates over historical figures such as York, the slave who traveled with Lewis and Clark, and distressing current events, including police violence against a neighborhood girl: "I am ripping and cutting. Gluing and pasting. Rearranging reality, redefining, covering, disguising. Tonight I am taking ugly and making beautiful." Jade's narrative voice offers compelling reflections on the complexities of race and gender, class and privilege, and fear and courage, while conveying the conflicted emotions of an ambitious, loyal girl. Teeming with compassion and insight, Watson's story trumpets the power of artistic expression to re-envision and change the world. Ages 12-up. Agent: Rosemary Stimola, Stimola Literary Studio. (Feb.) © Copyright PWxyz, LLC. All rights reserved.
(c) Copyright PWxyz, LLC. All rights reserved