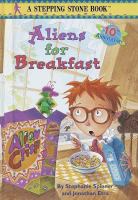 School Library Journal
(c) Copyright Library Journals LLC, a wholly owned subsidiary of Media Source, Inc. No redistribution permitted.

ea vol: 62p. (Stepping Stone Bks.). CIP. Random. 1988. PLB $5.99; pap. $1.95. Gr 2-4-- In the first book, three self-appointed private investigators decide to search their small town for criminals. Julian, his younger brother, and their friend Gloria read the wanted posters in the post office and then set out to investigate the hospital, the local bar, the supermarket, and a restaurant. At the supermarket they convince a man that he should rescue his dog from a hot car, and at the hospital they save a young child from drowning. Considering the length of the book, the plot is well developed and interesting, and the characters are aptly drawn. A quick and interesting read--and one that will surely draw in less-able readers. Aliens for Breakfast is a science fantasy story. Richard meets an alien when he eats a sample box of new breakfast cereal. Together they strive to find the secret weapon which will destroy the enemy alien (who is in Richard's class as the new boy). If not stopped in time, the enemy alien will clone himself and overtake the earth. The drawings are sketchy but adequate to set the mood of the events in a helter-skelter manner. The plot is simple but satisfying. It will be enjoyed by older readers who need simple fare but want something a little out of the ordinary. In Pioneer Cat, nine-year-old Kate Purdy and her family find themselves moving West on the Oregon Trail. The characters ward off a buffalo stampede and an Indian attack and deal with a stowaway cat and her surprise kittens, all the while chronicling the trip itself and the developing friendship between Kate and Rosie Murphy. Robinson's black-and-white illustrations are just detailed enough to add some depth to the text but not so overwhelming as to give a ``too young'' look to the book. The print is easy to read but not oversized (a factor that often turns away older reluctant readers). While the brevity does not allow for substantial character or plot development, Hooks does give the essence of Kate's sensitive and cunning nature while portraying Rosie as a self-sufficient young girl and a faithful friend. The fast-moving plot helps readers along. --Sharron McElmeel, Cedar Rapids Community Schools, Iowa (c) Copyright 2010. Library Journals LLC, a wholly owned subsidiary of Media Source, Inc. No redistribution permitted.