by Marc Cameron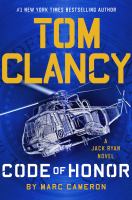 Library Journal
(c) Copyright Library Journals LLC, a wholly owned subsidiary of Media Source, Inc. No redistribution permitted.

President Jack Ryan can't intervene directly when Father Pat West, S.J., an old friend working with the poor in Indonesia, is arrested for blasphemy against Islam. So he really needs the clandestine moves of the Campus team. Meanwhile, he discovers a message from Father Pat on his private cell phone warning about an attack on the United States.
---
Kirkus
Copyright © Kirkus Reviews, used with permission.

Jack Ryan is a hands-on president in Cameron's latest Tom Clancy techno-thriller (Oath of Office, 2018, etc.).Developers have built artificial intelligence into a computer application called Calliope. Nearly sentient and thought of as female, she's "no ordinary gaming software" and can take over any connected electronic device and perform any mission asked of her. But don't call her just a virus. Calliope is a predator, "fairly bursting at the seams as she sought new challenges." Of course the Chinese military lusts after her like Dr. Strangelove lusted after nukes, so their spies are "all over the damn place." Meanwhile, Sen. Michelle Chadwick, who harbors a "visceral hatred of all things Jack Ryan," is shown a video of herself in the sack with a Chinese agent (oops!) and is persuaded to get close to Ryan. That's a bit awkward, but she agrees to approach the president with an olive branch and then politically destroy him. The Chinese plot spreads a wide net, entrapping Father Pat West, an ex-CIA agent and friend of Ryan's, who's thrown in jail in Indonesia. The poor guy is falsely accused of proselytizing Muslims and faces an uncertain future, and Ryan wants to go to Indonesia and personally get him released. First lady and ophthalmologist Dr. Cathy Ryan plays an important role by assisting on a little girl's eye surgery. And somewhere out in the field Jack Junior does his bit, making this a Ryan family affair. Of course the story is fun, as the Clancy yarns always are, but some backstories feel like filler necessary to reach 500 pages. Cameron's writing channels the great man's style to a T, but one day maybe Calliope will get the mission to take over the series and continue it forever. Imagine three generationshell, fourof Ryans in the White House.This one's as good as all the others and those to come. Read and enjoy, Clancy fans. 'Til next time. Copyright Kirkus Reviews, used with permission.
---
Book list
From Booklist, Copyright © American Library Association. Used with permission.

President Jack Ryan has his hands full in Cameron's latest dive into the world of Tom Clancy's iconic characters. It starts with a thumb drive that holds the key to a bold plot to to attack the U.S. A close friend of President Ryan, Father Pat West, who works with the underprivileged in Indonesia, happens to meet the man with the thumb drive, and soon that brief encounter leads to Father Pat being accused of a crime against Islam. Ryan's relationship with Father Pat makes the situation personal, and he asks friends to investigate. Cameron does an admirable job making Clancy's world his own. Characters are fleshed out convincingly, and while the narrative sticks closely to the familiar Clancy formula, the action plays out in some entertainingly unexpected ways. Fans will find that the Clancy brand is in good hands with Cameron.--Jeff Ayers Copyright 2019 Booklist
---
Publishers Weekly
(c) Copyright PWxyz, LLC. All rights reserved

The senior Jack Ryan, who's the U.S. president, takes center stage in Cameron's solid third entry in Tom Clancy's Jack Ryan franchise (after 2018's Tom Clancy: Oath of Office), which also features Jack Ryan Jr., who now works for the Campus, a secret agency. Geoff Noonan, a brilliant software engineer at a computer games company, has come up with artificial intelligence software known as Calliope that promises to revolutionize the AI industry. Chinese agents in Indonesia murder Noonan and steal the software. There, an American priest, Fr. Pat West, is witness to Noonan's death. West, a former CIA agent, is taken prisoner, but he manages to send an email about what's happening to his old friend, President Jack Ryan. When Jack finds West has been seized, he shows what a very angry man can do with unlimited resources, even when he's not allowed to throw a punch. All the regular members of the Campus gang perform to their usual standards, and the plot unreels smoothly as it always does with Cameron at the helm. Readers will look forward to the further adventures of Ryan father and son. Agent: Jennifer Rudolph Walsh, WME. (Nov.)