by Clive Cussler and Boyd Morrison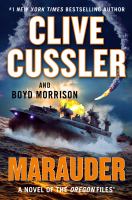 Book list
From Booklist, Copyright © American Library Association. Used with permission.

Juan Cabrillo and the crew of the high-tech vessel Oregon swing back into action in this exciting adventure. On his deathbed, a billionaire bequeaths a terrible chemical poison to a group of terrorists. To find an antidote, Cabrillo and his colleagues must solve an ancient historical mystery and do battle with modern-day assassins. As installments of the Oregon Files series go, this one is entirely typical: lots of action, characters fleshed out just enough to get the job done, dialogue that often feels like first-draft material. (The book's most noteworthy aspect is probably that it is one of the last books Cussler worked on before his death in February 2020.) Still, there is enough action and suspense here to keep adventure fans turning the pages; even though we know Cabrillo and associates will emerge triumphant, we want to see exactly how it all works out. A solid entry in a reliable action series.
---
Publishers Weekly
(c) Copyright PWxyz, LLC. All rights reserved

In 2019's The Final Option, Juan Cabrillo, the captain of the Oregon, was forced to sink his beloved ship in a dire emergency. Now, in the late Cussler's suspenseful 15th Oregon Files novel, also coauthored with Morrison, Cabrillo, the chairman of the organization known as the Corporation, is taking the rebuilt Oregon on a sea trial in the Strait of Malacca when he gets a report of a tanker under terrorist attack. Cabrillo and crew rush to the rescue. Meanwhile, April Jin and her husband, Angus Polk, who each recently spent time in an Australian prison for treason, receive a posthumous message from their one-time employer, Chinese industrialist Lu Yang, asking them to continue a mission he was involved in shortly before his death. Jin and Polk, operating from a trimaran that's armed with an experimental plasma weapon and a new paralyzing gas, set out to achieve Lu's goal of taking over Australia. Only Cabrillo and the fabulous new Oregon with its cutting-edge weaponry stand in their way. Readers will race through the pages to see what happens next. Fans will hope this isn't the last adventure from Cussler (1931–2020). Agent: Peter Lampack, Peter Lampack Agency. (Nov.)