by Delia Owens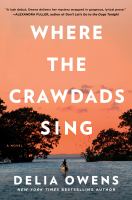 Library Journal
(c) Copyright Library Journals LLC, a wholly owned subsidiary of Media Source, Inc. No redistribution permitted.

Owens (The Eye of the Elephant: An Epic Adventure in the African Wilderness), an experienced nature writer, puts her background to good use in her debut novel. Her descriptions of the Carolina coastal marsh add vibrancy to this story of Kya Clark, known as the Marsh Girl, who has survived alone there for years. Kya's story is intertwined with a 1969 murder mystery in which Kya is the chief suspect. The nature writing is lyrical, and narrator Cassandra Campbell does it justice. Unfortunately, the somewhat implausible mystery plot does not measure up to the quality of the nature prose, but the characters will keep listeners engaged. -Verdict A selection of Reese Witherspoon's book club, this should be a popular addition for most fiction collections despite its flaws.-Cynthia Jensen, Gladys Harrington Lib., Plano, TX © Copyright 2019. Library Journals LLC, a wholly owned subsidiary of Media Source, Inc. No redistribution permitted.
---
Kirkus
Copyright © Kirkus Reviews, used with permission.

A wild child's isolated, dirt-poor upbringing in a Southern coastal wilderness fails to shield her from heartbreak or an accusation of murder."The Marsh Girl," "swamp trash"Catherine "Kya" Clark is a figure of mystery and prejudice in the remote North Carolina coastal community of Barkley Cove in the 1950s and '60s. Abandoned by a mother no longer able to endure her drunken husband's beatings and then by her four siblings, Kya grows up in the careless, sometimes-savage company of her father, who eventually disappears, too. Alone, virtually or actually, from age 6, Kya learns both to be self-sufficient and to find solace and company in her fertile natural surroundings. Owens (Secrets of the Savanna, 2006, etc.), the accomplished co-author of several nonfiction books on wildlife, is at her best reflecting Kya's fascination with the birds, insects, dappled light, and shifting tides of the marshes. The girl's collections of shells and feathers, her communion with the gulls, her exploration of the wetlands are evoked in lyrical phrasing which only occasionally tips into excess. But as the child turns teenager and is befriended by local boy Tate Walker, who teaches her to read, the novel settles into a less magical, more predictable pattern. Interspersed with Kya's coming-of-age is the 1969 murder investigation arising from the discovery of a man's body in the marsh. The victim is Chase Andrews, "star quarterback and town hot shot," who was once Kya's lover. In the eyes of a pair of semicomic local police officers, Kya will eventually become the chief suspect and must stand trial. By now the novel's weaknesses have become apparent: the monochromatic characterization (good boy Tate, bad boy Chase) and implausibilities (Kya evolves into a polymatha published writer, artist, and poet), yet the closing twist is perhaps its most memorable oddity.Despite some distractions, there's an irresistible charm to Owens' first foray into nature-infused romantic fiction. Copyright Kirkus Reviews, used with permission.
---
Publishers Weekly
(c) Copyright PWxyz, LLC. All rights reserved

In Owens's evocative debut, Kya Clark is a young woman growing up practically on her own in the wild marshes outside Barkley Cove, a small coastal community in North Carolina. In 1969, local lothario Chase Andrews is found dead, and Kya, now 23 and known as the "Marsh Girl," is suspected of his murder. As the local sheriff and his deputy gather evidence against her, the narrative flashes back to 1952 to tell Kya's story. Abandoned at a young age by her mother, she is left in the care of her hard-drinking father. Unable to fit in at school, Kya grows up ignorant until a shrimper's son, Tate Walker, befriends her and teaches her how to read. After Tate goes off to college, Kya meets Chase, with whom she begins a tempestuous relationship. The novel culminates in a long trial, with Kya's fate hanging in the balance. Kya makes for an unforgettable heroine. Owens memorably depicts the small-town drama and courtroom theatrics, but perhaps best of all is her vivid portrayal of the singular North Carolina setting. (Aug.) © Copyright PWxyz, LLC. All rights reserved.
---
Book list
From Booklist, Copyright © American Library Association. Used with permission.

Owens' (Secrets of the Savanna, 2006) first novel is a leisurely, lyrical tale of a young woman growing up in isolation in the 1950s and 60s, in a marsh on the North Carolina coast. Kya is abandoned by her troubled mother when she is only six. Soon after, her four, much-older siblings leave, as does her alcoholic father a couple of years later. As Kya matures and teaches herself to be a naturalist, she is torn between two slightly older boys: kind, observant Tate and rascally, attractive Chase. Chase dies falling from a fire tower in his twenties, and the investigation of his possible murder, which alternates with the story of Kya's coming-of-age, provides much of the novel's suspense. Because the characters are painted in broad, unambiguous strokes, this is not so much a naturalistic novel as a mythic one, with its appeal rising from Kya's deep connection to the place where she makes her home, and to all of its creatures.--Margaret Quamme Copyright 2018 Booklist