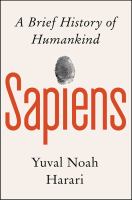 Publishers Weekly
(c) Copyright PWxyz, LLC. All rights reserved

Writing with wit and verve, Harari, professor of history at the Hebrew University of Jerusalem, attempts to explain how Homo sapiens came to be the dominant species on Earth as well as the sole representative of the human genus. He notes that from roughly two million years ago until about 10,000 years ago, we were not the only humans on the planet; many species preceded us, and some overlapped our tenure. Harari argues persuasively that three revolutions explain our current situation. The first, the cognitive revolution, occurred approximately 70,000 years ago and gave us "fictive" language, enabling humans to share social constructs as well as a powerful "imagined reality" that led to complex social systems. The second, the agricultural revolution, occurred around 12,000 years ago and allowed us to settle into permanent communities. The third, the scientific revolution, began around 500 years ago and allowed us to better understand and control our world. Throughout, Harari questions whether human progress has led to increased human happiness, concluding that it's nearly impossible to show that it has. Harari is provocative and entertaining but his expansive scope only allows him to skim the surface. (Feb.) (c) Copyright PWxyz, LLC. All rights reserved.
---
Choice
Copyright American Library Association, used with permission.

In this well-written, fascinating study of the human saga--from the earliest members of the genus Homo until the present day--Harari (Hebrew Univ. of Jerusalem) discusses the major factors that influenced the course of human history. In particular, he considers the importance of the cognitive, agricultural, industrial, and scientific revolutions and ways these pivotal points in history shaped human culture, society, and humans' impact on the world around them. The book emphasizes the overall influence of these major turning points in human history on the development of religion, nations/empires, economic systems, government bureaucracies, imperialist aggression, and the growth of a global human society--and on whether they "set humankind on the road to prosperity and progress" or "led to perdition." The author also offers a sobering vision of humanity's future, one based on the growing capacity to implement evolutionary change based on intelligent design. His insightful, informative discussion on these facets of human history offers considerable food for thought. Harari writes in a clear, conversational tone, with little reliance on jargon or needlessly complicated concepts. This book will be of considerable interest to students of history, anthropology, and human culture. Summing Up: Essential. All library collections. --Danny A. Brass, independent scholar
---
Library Journal
(c) Copyright Library Journals LLC, a wholly owned subsidiary of Media Source, Inc. No redistribution permitted.

Starred Review. This title is one of the exceptional works of nonfiction that is both highly intellectual and compulsively readable. Originally published in Israel in 2011, it has been translated into over 20 languages, including this polished English version. Harari (history, Hebrew Univ. of Jerusalem) takes the reader on a journey that begins with the dawn of Homo sapiens around 200,000 BCE and ends with the scientific revolution. The author covers the cognitive revolution, which allowed Homo sapiens, unlike our predecessors, to imagine what the author terms fictions-gods, laws, the idea of money, and so on. These concepts made it possible for large groups of the species to work together for their greater good. The author goes on to reveal the consequences of the agricultural revolution (beginning around 10,000 BCE) and the scientific revolution in the 16th and 17th century, which include everything from bureaucracy and slavery to the endless search for happiness. VERDICT Although Harari's ideas may be controversial for some readers, those who are interested in history, anthropology, and evolution will find his work a fascinating, hearty read.-Jennifer Stout, Virginia Commonwealth Univ. Lib., Richmond (c) Copyright 2014. Library Journals LLC, a wholly owned subsidiary of Media Source, Inc. No redistribution permitted.
---
Book list
From Booklist, Copyright © American Library Association. Used with permission.

*Starred Review* It's not often that a book offers readers the possibility to reconsider, well, everything. But that's what Harari does in this sweeping look at the history of humans. Beginning before the beginning of Homo sapiens, the book introduces the other members of the genus Homo, who have lived on the planet for millions of years, and shows how sapiens endured while others died out. Then, with both wit and intellectual heft, Harari moves briskly through the important stages of human development: the harnessing of fire, the emergence of language, the agricultural revolution, the ongoing development of religion, the emergence of commerce and empires, and the industrial and scientific revolutions. He then discusses where humans are today and where (if anywhere) they may be tomorrow. There is something to ponder on almost every page. Particularly fascinating is Harari's consideration of whether people were happier in the past, when they had less but expected little, or today, when possibilities are endless but expectations are often not met. Part of the book's genius is not only that it organizes human history into understandable patterns, but also that those patterns are so fresh and fascinating. For instance, there is the idea that the way society has kept itself organized is through the use of fictions religion, obviously, but the idea applies equally to the concepts of money, laws, and human rights: None of these things exists outside the stories that people invent and tell one another. This ability to believe in fictions has also allowed sapiens to give loyalty to everything from nations to corporations. Readers of every stripe should put this at the top of their reading lists. Thinking has never been so enjoyable.--Cooper, Ilene Copyright 2015 Booklist