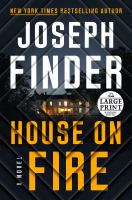 Publishers Weekly
(c) Copyright PWxyz, LLC. All rights reserved

Nick Heller takes on big pharma in Thriller Award–winner Finder's excellent fourth novel featuring the Boston PI (after 2016's Guilty Minds). Sean Lenehan, who saved Heller's life when they were in Afghanistan as members of a Special Forces team, has died from an overdose of the painkiller Oxydone. At Lenehan's funeral, Heller is approached by Sukie Kimball, daughter of Conrad Kimball, the head of Kimball Pharma, which produces Oxydone. She explains that she attends the funerals of many of those who have died as a result of her family's product in order "to bear witness to the victims of the drug that made us all rich." Sukie hires Heller to find and steal the smoking gun that will bankrupt Kimball Pharma and send Conrad to prison—a study that demonstrated Oxydone's addictive nature suppressed before the drug was put on the market. Heller agrees. The stakes rise when he goes undercover as Sukie's boyfriend at Conrad's Katonah, N.Y., home, where a copy of the study might be hidden, and ends up investigating a murder. Fans of timely, thoughtful page-turners will be richly rewarded. Five-city author tour. Agent: Dan Conaway, Writers House. (Jan.)
---
Kirkus
Copyright © Kirkus Reviews, used with permission.

Private investigator Nick Heller uncovers disturbing truths about a big pharmaceutical company after the fatal overdose of a war buddy addicted to its hugely profitable opioid, Oxydone.Heller's introduction to Kimball Pharmaceutical comes through Sukie Kimballthe conscience-stricken daughter of the company's founderwho approaches him at his friend Sean's funeral. Sukie hires Heller to break into her billionaire father Conrad's home office after his retirement party and lift documents that reveal Oxydone failed its clinical trialsproof that the drug was put on the market with full knowledge of its dangers. Heller, who attends the party in the family's house as Sukie's boyfriend, is surprised to meet someone he knowsMaggie Benson, a one-time flame from his stint in Afghanistan, who's tonight wearing a wig and calling herself Hildy. When he sneaks down the hallway at 2 a.m. to try to find the papers, he finds Maggie on a similar mission, having been hired by another Kimball sibling to steal Conrad Kimball's will. Following a murder on the grounds and other setbacks, Sukie calls him off the case. But, determined to avenge Sean, who saved his life in Afghanistan, Heller puts himself in harm's way in continuing his pursuit of those responsible for serial Oxydone deaths. Though Finder's latest thriller is well timed and well intended, it lacks the punch of his best efforts. The plot, usually his strong suit, is wobbly (wouldn't Heller be more than mildly surprised by Maggie's presence?), leading one to believe that sticking to what Heller refers to as "the Agatha Christie aspect" of the case might not have been a bad thing.A drug thriller with too few thrills. Copyright Kirkus Reviews, used with permission.
---
Library Journal
(c) Copyright Library Journals LLC, a wholly owned subsidiary of Media Source, Inc. No redistribution permitted.

At the funeral of an army friend who had saved his life and later succumbed to opiate addiction, private investigator Nick Heller encounters a member of a family whose fortune derives from opiates. She wants to turn whistleblower, revealing that the family's pharmaceutical company knew how dangerously addictive Oxydone was, and Nick signs on to help.