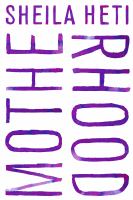 Publishers Weekly
(c) Copyright PWxyz, LLC. All rights reserved

The subject of the new novel from Heti (How Should a Person Be?) is neither birth nor child-rearing, but the question of whether to want a child, which the unnamed narrator calls "the greatest secret I keep from myself." To find the answer, she practices techniques cribbed from the I Ching, consults a psychic and Tarot cards, contemplates her mother's experiences as a woman, counts her periods, and considers freezing her eggs. In the meantime, she and her partner, Miles, are going through a rough patch, only partly due to her indecision, which is exacerbated by visits with her friends (all of whom seem to have newborn babies), recurrent and bittersweet fantasies of raising a family, and her knowledge that she is reaching the end of the window when maternity is possible. A book of sex (the real, unsensational kind), mood swings, and deep feminist thought, this volume is essentially a chronicle of vacillating ruminations on this big question. Although readers shouldn't go in expecting clean-cut epiphanies, this lively, exhilaratingly smart, and deliberately, appropriately frustrating affair asks difficult questions about women's responsibilities and desires, and society's expectations. (May) © Copyright PWxyz, LLC. All rights reserved.
---
Kirkus
Copyright © Kirkus Reviews, used with permission.

Canadian fiction writer Heti (How Should a Person Be?, 2012, etc.) delves into the vexed question of motherhood and what the choice between having or not having a child means, culturally and personally.The novel opens with a series of questions that are answered by the flipping of three coins in an I Ching-based technique. A note at the beginning assures the reader that "while not everything in books is true, in this book, all results from the flipping of coins are true." Worryingly, the first question posed is: "Is this book a good idea?" "Yes," the coins reply. The narrator is a published writer filled with anguish and uncertainty about the possibility of motherhood, among other things. In addition to flipping coins for the answers to questions such as "What should I be worried about? My soul?" and "Should I begin to personify this demon that brings me bad dreams?" she consults a psychic, has a tarot reading, and talks with friends, reporting every mood, dream, worry, and conversation. There are photographs and descriptions of the writing process. The author is a writer and so is the narrator! What is fiction, and what is truth?! But no amount of metafictional smoke and mirrors can make up for the absence of a compelling story. Eventually she goes on medication. "The drugs really seem to be working....Yet I fear I don't have the right to speak anymore, given these drugs. I can't pretend I have come to any answers, or any great realizations, because I am taking these drugs. I think the drugs are the reason I am feeling less bad." "Am I annoyed?" she continues. "Am I disappointed? A little bit, yes. I wanted my own magic to get rid of the pain." Some readers may find this unfiltered self-absorption helpful. Others will remember the question posed at the book's beginning and conclude that the I Ching is not the best arbiter of literary merit. "What kind of story is created when a person goes down, down, down and down—but instead of breaking through and seeing the truth and ascending, they go down, then they take drugs, and then they go up?" If you have to ask....It's one thing to have the reader's sympathy and another to hold the reader's interest.
---
Book list
From Booklist, Copyright © American Library Association. Used with permission.

*Starred Review* Heti's (How Should a Person Be?, 2010) novel of a woman pondering what's perhaps life's most essential and most endlessly debatable decision is a provocative, creative, and triumphant work of philosophical feminist fiction. The narrator, in her late thirties, begins writing a new book while in thrall to the question of whether to have a child. As she works, she consults a method inspired by an ancient Chinese divination system, the I Ching, asking questions about these two paths of potential creation and flipping three coins for a yes or no answer to them. (Her first two: Is this book a good idea? yes; Is the time to start it now? yes.) In more narrative sections, the writer explores her relationship with her boyfriend, who's unconflicted in his lack of a desire for a child with her, and with her mother, an accomplished doctor whose mothering angst the narrator recalls acutely and whose sorrow she believes she inherited. As her character seeks and ultimately chooses, as she must, the aspects of life and art she'll lay claim to, Heti writes with courage, curiosity, and uncommon truth: To go along with what nature demands and to resist it both are really beautiful impressive and difficult in their own ways. --Bostrom, Annie Copyright 2018 Booklist