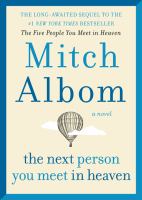 Book list
From Booklist, Copyright © American Library Association. Used with permission.

Fifteen years after the publication of his blockbuster best-seller, The Five People You Meet in Heaven (2003), Albom returns with a sequel set 20-odd years into the future. Annie, the little girl Eddie sacrificed his own life in order to save, has grown up. Life has not been without its struggles for Annie, who was left with both a disability and an overly protective mother after the accident at Ruby Pier Amusement Park. However, things appear to be on the upswing as she reunites with and marries Paolo, her childhood sweetheart. Of course, there are no simplistic, happily-ever-after endings in the Albom universe, and Annie and Paolo prove there are no exceptions to that rule. After a horrific accident on her wedding day, Annie is whisked up to heaven, where she not only meets up with Eddie but also four others whose lives she touched and impacted in meaningful ways. As Annie learns her lessons about the meaning and value of both life and death, Albom wraps up this heartfelt fable with a totally unexpected twist. Order plenty of copies and warn readers to keep their hankies handy! HIGH-DEMAND BACKSTORY: Albom's many-millions-sold hit, The Five People You Meet in Heaven (2003), ensures a large and ready audience for this much-heralded sequel.--Margaret Flanagan Copyright 2018 Booklist
---
Kirkus
Copyright © Kirkus Reviews, used with permission.

Albom (The Magic Strings of Frankie Pesto, 2015, etc.) returns to the scene of previous literary crime: heaven, that is, and the realm of departed folks who are only too glad to dispense advice."This is a story about a woman named Annie, and it begins at the end, with Annie falling from the sky." In this sequel to The Five People You Meet in Heaven (2003), gruff Eddie the maintenance man gets to have a little chat with the aforementioned Annie, for whom he gave up his life in a freak roller-coaster accident in the first book, sparing her from death. So what's she doing up in the afterlife? Well, it seems Annie has fallen in love, married, and then honored the event by going up in a hot air balloon. What is it with her and divergent modes of transportation? And now, thanks to high-tension wires, Annie has bitten the big oneor maybe notand is wandering around in the clouds reliving past mistakes and holding self-discovery sessions with, yes, five of her predecessors in the dirt nap. You'd think Eddie would be a little ticked that he lost a decade to a woman who seemed destined for the express checkout lane in any case, especially because, Albom writes, "She never thought about heaven." He adds, helpfully, "But heaven is always thinking about us." Yep, and yuck. There's more than a little of The Little Prince here ("A vast brown desert surrounded her. / And she was alone") and more than a little too much wisdom ("We don't realize who else we punish while we're punishing ourselves"). A question: Isn't it a cheat when one of the dead quintet is a dog? And further: If you avoid death proper but have met your allotted five people in the great fluffy cloud beyond during your near-death experience, do you have to meet five other people when your time actually does come? Isn't that fudging the numbers?For those who prize fortune-cookie philosophy and sticky-sweet resolutions, this is just the ticket to ride. Copyright Kirkus Reviews, used with permission.
---
Library Journal
(c) Copyright Library Journals LLC, a wholly owned subsidiary of Media Source, Inc. No redistribution permitted.

Annie's life has never been easy, especially after the tragic incident at Ruby Piers amusement park. As a little girl, then as a teen, she struggles with the physical and emotional issues regarding her reattached hand. Annie blames herself for every bad incident in her life. The winds shift as she reconnects with Paulo, her best friend from high school, after years apart. Now Annie and Paulo have just begun a new chapter as a wedded couple. Excitement turns to fear as a terrible tragedy sends them both to the emergency room just hours after the ceremony. When Annie wakes up in heaven, she encounters the five beings that most influenced the course of her life. They skillfully guide her past her self-recriminations to show her the beauty and grace of our interconnected lives. VERDICT Albom's gift for storytelling continues to shine in this sequel to his best-selling The Five People You Meet in Heaven. With true-to-life characters, this quick parable serves as a reminder that through empathy and forgiveness, we can survive our losses. In turn, our troubles are mere beginnings to a future of wonderful possibilities. [See Prepub Alert, 4/23/18.]-Joy Gunn, Paseo Verde Lib., Henderson, NV © Copyright 2018. Library Journals LLC, a wholly owned subsidiary of Media Source, Inc. No redistribution permitted.
---
Publishers Weekly
(c) Copyright PWxyz, LLC. All rights reserved

In this simplistic follow-up to The Five People You Meet in Heaven, Albom tells the story of Annie as she finds herself at the pearly gates and imparts five more lessons on readers from five more people. Albom's readers will remember Annie as the child Eddie the maintenance worker saved from a grisly death in the first book, but his sacrifice didn't do much to turn her luck around. Sweet, unassuming Annie takes a hot air balloon ride with her new husband, and both are nearly killed when their balloon runs into power lines. Annie insists on giving her battered husband one of her lungs. The next thing she knows, she's meeting her first person in heaven. What ensues is a series of travels through episodes in Annie's depressing life, and the lessons she has learned from them. But did Annie's sacrifice save her husband? Now that she's in Heaven, is there any way for her to know if he lived? Between misunderstandings with her mother and heavy-handed heartbreaks, readers will see these seeds of wisdom coming from miles away. Just as Albom's themes are rarely morally ambiguous, his prose style is also straightforward, though it's surprisingly unsentimental. Newcomers to Albom might find his goodness cloying, but fans of the first book will have plenty to appreciate here. (Oct.) © Copyright PWxyz, LLC. All rights reserved.