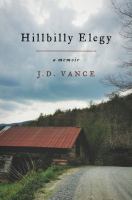 Library Journal
(c) Copyright Library Journals LLC, a wholly owned subsidiary of Media Source, Inc. No redistribution permitted.

Growing up in Appalachia may leave a person open to harsh criticism and stereotype, yet Vance delves into his childhood and upbringing to make a clear distinction between perception and reality. Born in Kentucky and shuffling among homes in Ohio, the author ended the cycle of poverty, abuse, and drug use after becoming a U.S. Marine and Yale Law School graduate. His memoir is less about his triumph and more about exposing the gritty truth of how a culture fell into ruin. Using examples from his own life with references to articles and studies throughout, Vance's intent is to show that what was once the fulfillment of the American Dream-moving to the Rust Belt for a better life-has now left families in peril. His plea is not for sympathy but for understanding. Both heartbreaking and heartwarming, this memoir is akin to investigative journalism. While some characters seem too caricaturelike, it is often those terrifyingly authentic traits that make people memorable. Vance is careful to point out that this is his recollection of events; not everyone is painted in a positive light. -VERDICT A quick and engaging read, this book is well suited to anyone interested in a study of modern America, as Vance's assertions about Appalachia are far more reaching.-Kaitlin Malixi, formerly at Virginia Beach P.L. © Copyright 2016. Library Journals LLC, a wholly owned subsidiary of Media Source, Inc. No redistribution permitted.
---
Book list
From Booklist, Copyright © American Library Association. Used with permission.

Things could have so easily turned out differently for Vance. Growing up in a working-class family riven by strife and seemingly incapable of escaping its rural Kentucky roots, Vance spent his youth bouncing between homes, a succession of father figures, and ever more explosive situations. The story of how he overcame his upbringing to graduate from Yale Law School and embark on a stable and happy adulthood poses the bigger question of how the obstacles facing other such hillbillies can be surmounted. Vance compellingly describes the terrible toll that alcoholism, drug abuse, and an unrelenting code of honor took on his family, neither excusing the behavior nor condemning it. Instead, he pulls back to examine the larger social forces at work for white, working-class Americans with ties to Appalachia. The portrait that emerges is a complex one, where die-hard cultural beliefs contribute to a downward spiral for Vance's family and those like them. Unerringly forthright, remarkably insightful, and refreshingly focused, Hillbilly Elegy is the cry of a community in crisis.--Thoreson, Bridget Copyright 2016 Booklist
---
Choice
Copyright American Library Association, used with permission.

J. D. Vance is from a working-class, Scots-Irish background who, by his own admission, "grew up poor, in the Rust Belt, in an Ohio steel town that has been hemorrhaging jobs and hope for as long as I can remember." A self-described hillbilly, he was able to rise above his impoverished circumstances to graduate from college and then go on to earn a law degree from Yale. Though the memoir sometimes lapses into overwrought descriptions of dysfunctional relationships and seemingly hopeless situations, Vance provides in-depth, unforgiving descriptions of the working-class culture of Appalachia. He explains the more positive aspects of his culture, such as the fierce loyalty to family, tradition, and country, as well as the more negative aspects, such as the high rates of substance abuse, domestic violence, and unemployment--even when jobs remain open not for a lack of potential employees but because of a lack of interest. Vance also explains how he defied statistics and tradition by rising to the level of the middle class. Summing Up: Recommended. General, public, and undergraduate collections. --Carol Apt, South Carolina State University
---
Kirkus
Copyright © Kirkus Reviews, used with permission.

A Yale Law School graduate's account of his traumatic hillbilly childhood and the plight of America's angry white working class. "Americans call them hillbillies, rednecks, or white trash," writes Vance, a biotech executive and National Review contributor. "I call them neighbors, friends, and family." In this understated, engaging debut, the author reflects on his stormy journey from the coal-country Kentucky hollers of Appalachia to the declining Rust Belt to life among the Ivy League-educated elite. Born into a poor Scots-Irish familywith a pill-addicted mother and "revolving door of father figures"Vance was raised in Ohio by his beloved and newly middle-class grandparents, hardworking believers in the American dream who married in their teens and never shook the trappings (abuse, addiction, and constant fighting and screaming) of their native Kentucky's hillbilly culture. Mamaw, his grandmother, once set her husband on fire when he came home drunk; Papaw, a violent grouch, tossed a Christmas tree out the back door. In scenes at once harrowing and hilarious, we come to know these loud, rowdy gun-toters as the loyal and loving family whose encouragement helped the author endure "decades of chaos and heartbreak." In the Marines and at Yale, Vance learned to make responsible adult choices and overcame the learned helplessness that characterizes many in the working class. Pointedly identifying the cynicism and willingness to blame others endemic among that class, he describes the complex malaiseinvolving sociology, psychology, community, culture, and faiththat has left so many bereft of connections and social support and unable to find high-quality work. The solution, he believes, is not government action but in people asking themselves "what we can do to make things better." Declaring that he survived with the help of caring family and friends, he writes, "I am one lucky son of a bitch." An unusually timely and deeply affecting view of a social class whose health and economic problems are making headlines in this election year. Copyright Kirkus Reviews, used with permission.